Much has happened in the decade since The Coup released their last album, Sorry to Bother You. The record came out when Barack Obama was still in office — years before anyone imagined that Donald Trump would ever occupy the White House, years before insurrectionists would attack the U.S. Capitol, and years before a pandemic would change our lives. A longtime fan of The Coup's '90s agit-pop and front man Boots Riley's political worldview, I reviewed the album for an alt-weekly in Charlotte. In it, I alluded to the fact that the themes in Sorry to Bother You constituted a narrative — something that could be made into a film. Six years later, Riley did just that: He turned this terrific album into a terrific movie set in Oakland. I was living in Oakland by then, and I was thrilled. Here's my review of the album that inspired the film.
Sorry to Bother You is the soundtrack of our lives
By Mark Kemp, Creative Loafing, October 29, 2012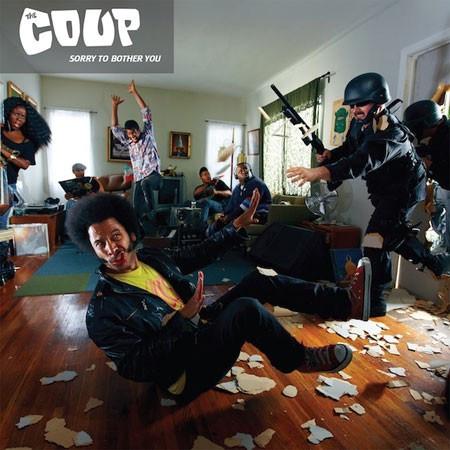 When Public Enemy sounded its dire alarms in the late '80s, the group's political messages came over dense layers of air-raid sirens, screeching subway-station noise, clashing samples and booming bass. It wasn't exactly dance music; it was more the kind of music you stood in awe of. You could chant along to "Don't Believe the Hype," but forget getting jiggy with "Black Steel in the Hour of Chaos" or "Prophets of Rage." Busting a move wasn't P.E.'s priority — this was music intended to foment revolution.
Enter the Coup. From the bouncing beat and cool Doors sample driving "Dig It," on the trio's 1993 debut Kill My Landlord, to the rubbery jazz bass lines of "Liberation of Lonzo," Boots Riley's uber-political crew from Oakland, California, came out of the gate at the end of hip-hop's golden era with early 20th-century anarchist Emma Goldman's famous line in mind: "If I can't dance, I don't want to be part of your revolution."
Two decades later, the Coup continues to create danceable manifestos for the masses. And Riley remains one of the few contemporary rappers who's kept the spirit of both Public Enemy and Bay Area punk rockers the Dead Kennedys alive through years that have watched rappers and rockers alike nearly sap punk and hip-hop of their searing social commentary.
Riley sets the tone for the Coup's new Sorry to Bother You immediately and with utmost urgency. "Come on, kids," he announces in "The Magic Clap," over slamming hip-hop garage rock that marries the zaniness of Outkast's "Hey Ya" with the ominous, tick-tock countdown vibe of the Chambers Brothers' "Time Has Come Today." After a series of lyrical zingers including "This is the last kiss Martin ever gave to Coretta" and "We wanna breathe fire and freedom from our lungs," Riley zeros in on the album's mission statement: "I got scars on my back, the truth on my tongue … Tell Homeland Security we are the bomb."
"The Magic Clap" kick-starts the Coup's first set of new songs since the Bush administration with a dead-equal balance of rock and rap. And the album doesn't let up one iota as it segues into the New Wave-y "Strange Arithmetic," which begins with a Bootsy Collins-like "hay-AAAY" before Riley proceeds to excoriate U.S. educators for becoming useless lemmings. "Teacher, my hand's up, please don't make me a victim," he sings over the buzz of herky-jerky electronics and staccato percussion. "Teacher, stand up. You need to tell us how to flip this system." In "You Are Not a Riot" — which may be the pile-driving shout-along punk-rap anthem of the year — he takes on radical posturing in lines like, "You, you are not a riot / You are a condo complete with wall-to-wall carpet bomb" and, "You, you are not rebellion / You're a well-funded beat-down in the boss's washroom."
The Coup expands its instrumental palette in all directions throughout Sorry to Bother You, incorporating jug-band kazoo on "Your Parents' Cocaine" (featuring a guest spot from Justin Sane of Anti-Flag), about spoiled rich kids; a shredding accordion on "We've Got A Lot To Teach You, Cassius Green," whose apocalyptic tale of selling out features a cast of corporate executives as grotesque beasts; and a warm string quartet on "Violet," a wistful snapshot of street life told from a prostitute's perspective.
Easily the Coup's strongest work — even surpassing its dazzling 1998 homage to Abbie Hoffman, Steal This Album — Sorry to Bother You not only turns serious socio-political themes into a big fat dance party, but from beginning to end, it's a full-on narrative, with songs and instrumentation matching its characters and situations. It may not be louder than Public Enemy's bomb, but we suspect Emma Goldman and her commie buddy John Reed would be getting jiggy with it.