The following are links to some of the journalism — much of it music-related, but also a few political and business news stories — that I've done in my three decades of reporting and writing news, features, criticism, and commentary. Below those stories are links to other content, including TV shows I've scripted, produced or developed, as well as some short marketing blurbs.
Magazine feature stories
Whispers in the Wood — Our State, March 2021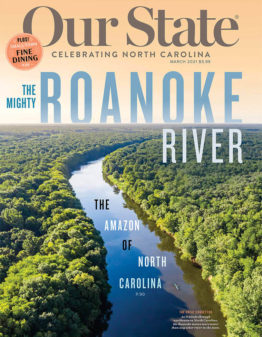 A couple of years into my current job as senior editor at Our State magazine in North Carolina, I received a book of photographs of a guitar maker, Freeman Vines, who lives in the eastern part of the state. His guitars aren't just functional instruments, but pieces of art. Art that echoes through time, back to when Black people in the South were brutalized, their voices left unheard. Vines tells stories through instruments that he makes from old wood that has history — dark history. For Our State, I had to figure out a way to tell his story in a narrative that emphasized the positive nature of his work. It was a tall order, but it was doable. Because what Freeman Vines has done is take darkness and turn it into light. A floodlight onto a difficult period in the history of our state.
Black Alternative Musicians Do It Themselves  — Creative Loafing, Oct. 11, 2017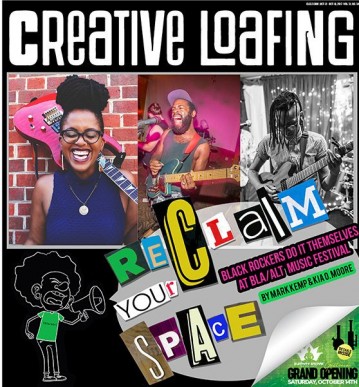 One woman — LeAnna Eden — was responsible for providing the space in 2017 for countless artists of color to make names for themselves in Charlotte, NC. And it all culminated in the Black Alternative Music Festival, or Bla/Alt, that October.
I wrote about Eden and her festival during the week the event took place. In it, I provided the context of the Afropunk movement that had been gaining steam over the previous decade in New York, Atlanta and the U.K. This was one of three award-winning pieces at the 2018 Association of Alternative Newsmedia Conference in San Diego.
The Circle, Unbroken: 50 Years of The Nitty Gritty Dirt Band — Acoustic Guitar, Feb. 2016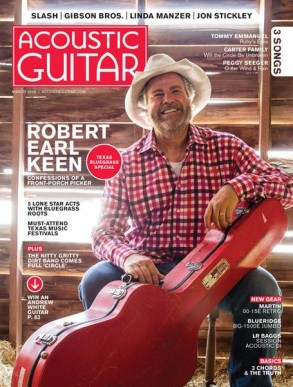 In 2016 the Nitty Gritty Dirt Band — a group of Southern California artists who loved Deep South country and Appalachian music — celebrated its 50th anniversary. The band would never have become iconic had it not recorded one of the most influential collaborations of the rock era: Will the Circle Be Unbroken. It was an unprecedented achievement: A group of young hippies invited some of Nashville's royalty — Mother Maybelle Carter, Earl Scruggs, Doc Watson and others — into a studio to do a relaxed set of classic songs. In this reported essay, I wrote of my personal experience of hearing this album for the first time as a pre-teen with my mother, who had been born and raised in Nashville, and grew up attending the Grand Ole Opry every Saturday night.
Beck, The Rolling Stone Interview with Beck — Rolling Stone, April 17, 1997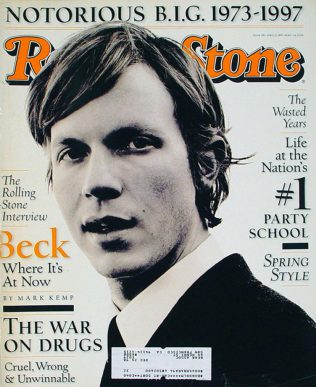 In 1997 I flew to London as Rolling Stone's music editor to interview Beck, who'd just won a Grammy for his breakthrough album Odelay. The story would be the singer's first RS cover. It was part of the magazine's rich history of extended Q&As known as "The Rolling Stone Interview." Beck was quiet, contemplative, and wary of being saddled with the baggage of rock stardom. "To me," he told me, "rock star conjures up something like a mystic: someone who sees himself as above other people, someone who has the key to the secret that people want to know. The cliché of what a rock star is — there's something elitist about it. I never related to that. I'm an entertainer. I think of it as, you're performing for people. It's not a self-glorification thing.
Sublime's Bradley Nowell: Life After Death — Rolling Stone, Dec. 25, 1997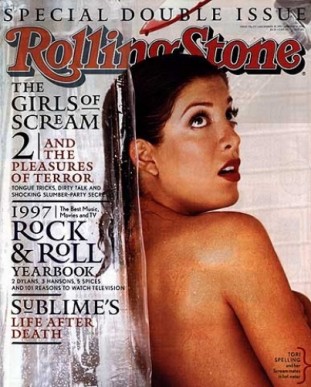 Brad Nowell became one of the biggest rock stars in the world when his band's self-titled album, Sublime, rocketed up the Billboard charts in April of 1997. Problem was, Nowell had been dead for almost a year. He'd died of a heroin overdose in May 1996. The following September, his two surviving band mates had to pick up the MTV Video Music Award Sublime had won for its catchy acoustic hip-hop hit "What I Got." In December, I flew out to Long Beach, California, to talk with Nowell's widow, his parents, and his band mates about the talented young singer who had everything to live for when he chose to take one final shot of dope in a San Francisco hotel room.
"In the beginning I was real accepting of his behavior, but then there was much more at stake," his widow Troy told me of Nowell's drug addiction. "It scared the hell out of me. And the thing that was so horrible is that when he would get high, he'd be so euphoric and so happy. I was like, 'Why can't you be this happy when you're not on it?'"
Paradise Found: Coolio Completes His Fantastic Voyage —Rolling Stone, Dec. 14, 1995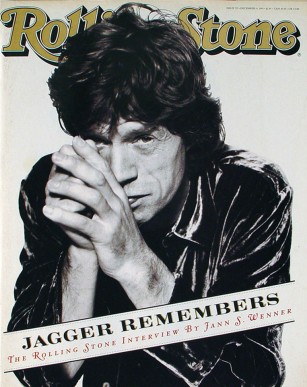 Shortly after this issue with my feature on Coolio came out, I got a call from the rapper, who at the time was known for a video that had him cruising Los Angeles on a Big Wheel.
"It's Coolio."
"Hi Coolio. What did you think of the story?"
"I hated it. Why'd you have to tell the world where I live?"
Coolio's home, in the upscale Ladera Heights neighborhood, didn't exactly say "street," and the rapper was pissed.
"Where are you right now?" Coolio asked, faux threateningly.
"In my office," I spat back, like a teenager.
When I got home, I told my girlfriend that Coolio had faux-threatened me. She replied in her signature husky monotone: "What's he gonna do, come after you on his Big Wheel?"
Meat Puppets: The Morning After — Option, July 1995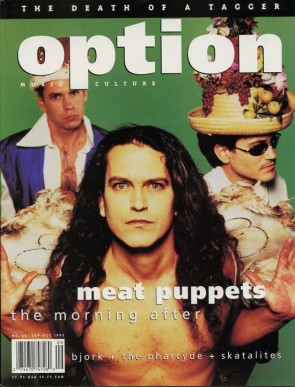 I first wrote about the Meat Puppets in 1986. The Tempe, Arizona, band's EP Out My Way had just come out on SST Records and I was a huge fan. The band scratched the itch I had for both the ragged, indie punk of the Minutemen and the psychedelic excursions of the Grateful Dead. Before then, you were either a hippie or a punk — there was little crossover. The Meat Puppets, whose ramshackle songs always seemed on the edge of falling apart, provided a bridge. They were loud and fast, but front man Curt Kirkwood could also deliver spacey guitar jams that took you to another world.
By the time of their 1995 album No Joke, the Meat Puppets been carried into the mainstream by fan Kurt Cobain, who invited them to appear on Nirvana's MTV Unplugged performance. Then Cobain killed himself and Meat Puppets bassist Cris Kirkwood fell into a nasty drug addiction. All was not good in the Puppets camp. I didn't know some of what was going on when I traveled to Tempe to meet them for this Option cover story. Talking to the Pups was weird, humorous, dark — and wholly satisfying.
Yoko Ono Reconsidered — Option, July, 1992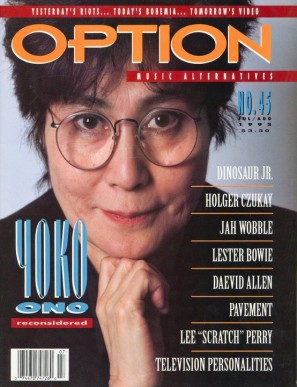 If you can't beat 'em, join 'em. I begin with that cliche because this link to my Option story on Yoko Ono goes to a page where some dude illegally posted it. I sent an email asking him to take it down and he replied, "Sorry, I didn't know I did anything wrong. I did it out of admiration. I'll take it down." He never took it down. So now I'm driving traffic his way. You're welcome!
In 1992 I interviewed Yoko inside her home at the Dakota. She'd just compiled a boxed retrospective of her mostly avant-garde music and was making a comeback after years in seclusion following the murder of her husband, John Lennon. At one point in our long interview, she even shed a few tears.
"In an awkward moment right at the end of our conversation," I wrote, "Yoko's eyes begin to well up slightly. Suddenly, very quietly, and without any prompting, she murmurs, 'I guess I'm still living in a lot of pain…like, just the other morning in London I woke up in a hotel and was very frightened. I'm thinking: What am I frightened of? And then I'm thinking: Well, I guess I'm just frightened of being me.'"
Morrissey: Inside Looking In — Option, May 1991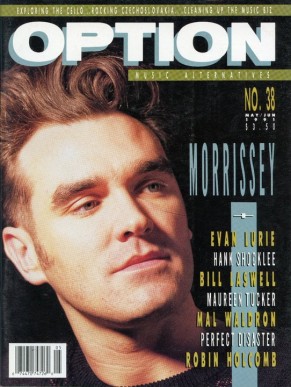 I'd been a fan of the Smiths in the mid-'80s, so getting the opportunity to take the redeye from New York to London, board a train and shoot up to Manchester to meet and talk to the band's eccentric front man, Morrissey, was a huge treat in my early years as a music journalist. Morrissey was exactly as I imagined him to be: wry, mocking, critical, and as humorous as a human being could possibly be. That element is often missing from both his overly earnest fans and his harsh critics. Morrissey is very, very funny.
I had hoped to bring that out in him. I think I did.
I also brought out his deep obsession with pop music. My favorite moment in the interview came when Morrissey looked very seriously at me, got very quiet, and described the overwhelming feelings he got as a young pop-music fan listening to Patti Smith and the New York Dolls— it was a powerful longing based soley on hearing them sing. "I did fall in love with the voices I heard, whether they were male or female," Morrissey told me. "I loved those people; I really, really did love those people."
Lou Reed and John Cale: 15 Minutes with You — Option, July 1990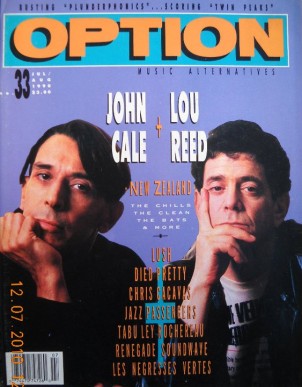 In 1989, the two longtime sparring members of the legendary Velvet Underground reunited to write a requiem for their late friend and mentor, the pop artist Andy Warhol. Lou Reed and John Cale had not worked together in decades. The album and stage performance of their concept album, Songs for Drella, turned out to be spectacular.
I was a budding music journalist who'd grown up idolizing Reed and had read his confrontational interviews with the late rock critic Lester Bangs in the 1970s. I was terrified going into the interview, but it  remains one of the high points of my career. At one point during a combative part of the interview, Reed bums a cigarette off me and tells me, "You can just say that John Cale was the easygoing one and Lou was the prick." The link here goes to a reprinted version of the piece posted to this blog site following Reed's death on Oct. 27, 2013.
Criticism
Radiohead, OK Computer — Rolling Stone, July 10, 1997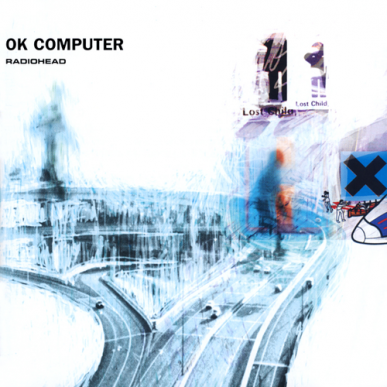 The month Radiohead released its breakthrough album, we put Spice Girls on the cover of Rolling Stone. Radiohead, which previously had been known as a group that couldn't decide whether it wanted to be dreampop or the second coming of Nirvana, would have to wait a few more years for their cover. I gave OK Computer a glowing review but didn't let readers forget about the band's earlier, less-than-original sound.
"The days of whine and poses may be over, but don't tell that to Radiohead singer Thom Yorke," I wrote. "He has survived the demise of grunge with all of his anxiety and disillusionment intact." But then later, I called it "a stunning art-rock tour de force," and wrote, "OK Computer is evidence that [Radiohead] are one rock band still willing to look the devil square in the eyes."
Fugazi, Red Medicine — Rolling Stone, July 13, 1995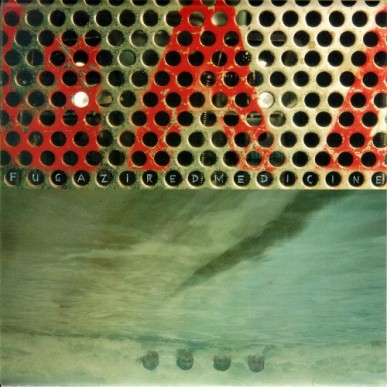 I'd followed Ian MacKaye from his early days in D.C. as front man for hardcore pioneers Minor Threat up to his more musically complex and sophisticated band, Fugazi. I was a big fan of his passion both as a performer and as a politically minded, staunchly independent artist with heart and soul. But as good as they were, Fugazi began to paint themselves into a corner. None of their albums were ever bad or even mediocre, but by 1995 they needed to expand, just as MacKaye expanded from the loud-fast hardcore of Minor Threat to the more nuanced Fugazi.
On Red Medicine, Fugazi did just that, and it was a fantastic album. It felt like Fugazi was not just writing and bashing out songs but locking together more closely as musicians. I had written about Fugazi for the indie mag Option and was thrilled to be able to review them for Rolling Stone's larger audience.
News/Commentary
Heath Shuler: Straining at the Leash — The Washington Examiner, March 21, 2009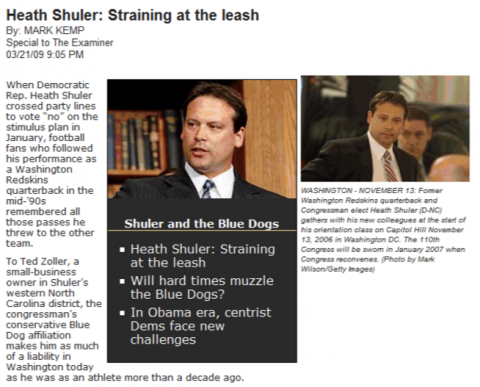 In the late-aughts I took a break in between my two stints as editor-in-chief of the newsweekly Creative Loafing to work as a freelancer, reporting business, legal, political, and music news to publications ranging from Bloomberg.com and Business North Carolina to Rolling Stone and Spin. When the Washington Examiner called to see if I'd be interested in reporting on the fate of the conservative Blue Dog Democrats in the age of Obama, I jumped at the chance. The story at this link–on Heath Shuler, the former Redskins quarterback who went on to serve as a U.S. Representative from North Carolina–is part of a larger cover package I did for the paper. In it, I shamelessly milk the football metaphors for all they are worth.
Mind Matters — Business North Carolina, Dec. 16, 2013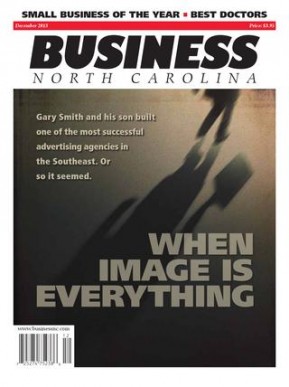 In 2013 I wrote profiles of three successful small North Carolina companies for Business North Carolina magazine's special issue on the state's top small businesses of the year. One was on a rural paving company founded by a tiny, 5'11" Latina with big ideas; another was on a young commercial real estate developer in the eastern part of the state; and then there was this one — on a startup hatched by two tech-savvy Charlotte buddies over beers at a tennis club.
Business North Carolina was a regular outlet for me in the 2000s and early 2010s. I wrote big features on small record labels and manufacuring companies, and a string of short profiles. These stories involve lots of numbers crunching and getting financial information from business owners who don't like to give out financial information. And that's the most satisfying part about it. Business writing can be awfully fun when all your ducks line up.
The Death of Sampling — Option, Mach/April, 1992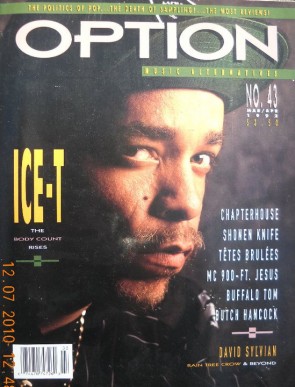 In 1991, a New York judge handed down a landmark decision about the sampling of music among the burgeoning hip-hop scene of the period. I wrote a detailed, heavily reported legal piece on the implications of this decision for hip-hop musicians. Many of the concerns raised in the piece have, in the decades since, come to fruition and made an indelible impact on music-making in the digital age.
This story was so detailed that it is now part of a college textbook on music history called The Rock History Reader, compiled and edited by Syracuse University professor Theo Cateforis. This link takes you to a copy of that story published in the book. After pressing on to the link, the hotlink at the top that reads "page 269" will take you to the report.
Amendment One: Vote No — Creative Loafing, May 1, 2012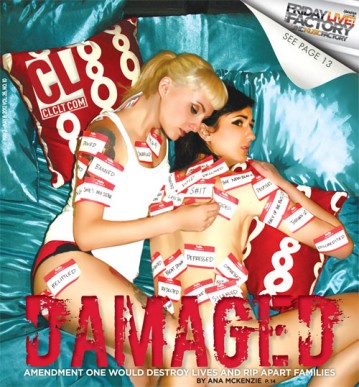 In 2012, religious conservatives put a vote to the people of North Carolina regarding an amendment that would make gay marriage illegal. It was all political posturing, as gay marriage at that time was already not permitted. What it sought was to write bigotry into the state's constitution. I was editor-in-chief of the Charlotte, N.C., alternative weekly Creative Loafing, and my staff and I vigorously fought passage of the amendment. In the weeks leading up to the vote, we ran two cover stories on the issue.
In this edition, I wrote in my editor's note, "Bringing up this amendment now, with all of the bullying and stereotyping it promotes, is a calculated ploy on the part of [its] supporters to demean, ostracize and marginalize an entire group of North Carolina citizens." The amendment passed, although in years since, it's been rendered null by the strides made nationwide among LGBT people.
Television/Video
At MTV, I served as Vice President of Music Editorial. My main job was to ensure quality and accuracy in the writing of documentaries and scripts for on-air talent. I headed up a team of writers, but sometimes I wrote documentaries myself. The following is the first act of an episode I wrote for the MTV series 'Ultrasound,' Rock & Roll Feuds.
I was part of a team at Acoustic Guitar that developed the magazine's online interview and performance series 'Acoustic Guitar Sessions.' As one of two hosts of the show, I interviewed numerous musicians including Ani DiFranco, Valerie June, Richard Thompson and, in the episode below, two-time Grammy-winning pop star Ed Sheeran, who talked with me about his songwriting and guitars, and performed his hit "Thinking Out Loud."
We excerpted the following clip from an episode of 'Acoustic Guitar Sessions' featuring Ani DiFranco, as a news brief for the AG website, shortly after the protest singer had been sharply criticized for what was seen as her racially insensitive decision to hold a songwriting retreat at a former plantation in Louisiana.
Marketing Content
Some of my lower-profile work has been in the marketing of products — writing blurbs for new issues of magazines, or in the follow cases, descriptions of guidebooks and lessons we offered online at String Letter Publishing, parent company of Acoustic Guitar magazine.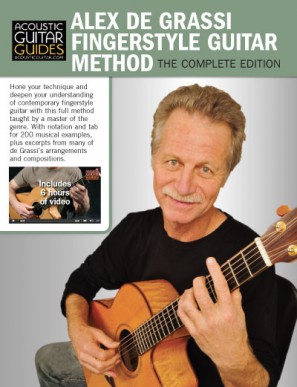 Alex de Grassi Fingerstyle Guitar Method: Complete Edition
The Alex de Grassi Fingerstyle Guitar Method is a complete course in learning to play contemporary steel-string guitar, taught by a master of the instrument. Alex de Grassi carefully guides players through 29 in-depth lessons with definitive advice on fingerstyle technique, tone, phrasing, and arranging, and over 200 musical examples, exercises, and songs.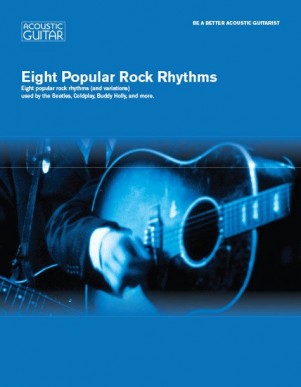 Be a Better Acoustic Guitarist: Eight Popular Rock Rhythms
Playing effective rhythm guitar is more complicated than simply learning how to strum along with a beat. It involves finding the unique groove that fits each song. In this lesson, you'll learn eight ways in which the Beatles, Buddy Holly, Bo Diddley, and others have added nuance to their rock rhythms.
Purchase your copy of