Former Big Brother and the Holding Company guitarist Sam Andrew died on Feb. 15, 2015, and I wrote his obituary for SF Weekly. Last month, SF Weekly ceased publication after decades as a leading alternative voice in San Francisco. Its demise, following the 2014 shuttering of the Bay Guardian, leaves the city with no alternative weekly. In case their digital archives disappear, I've decided to store some of the stories I wrote when I was editor of the paper. This is one of those stories.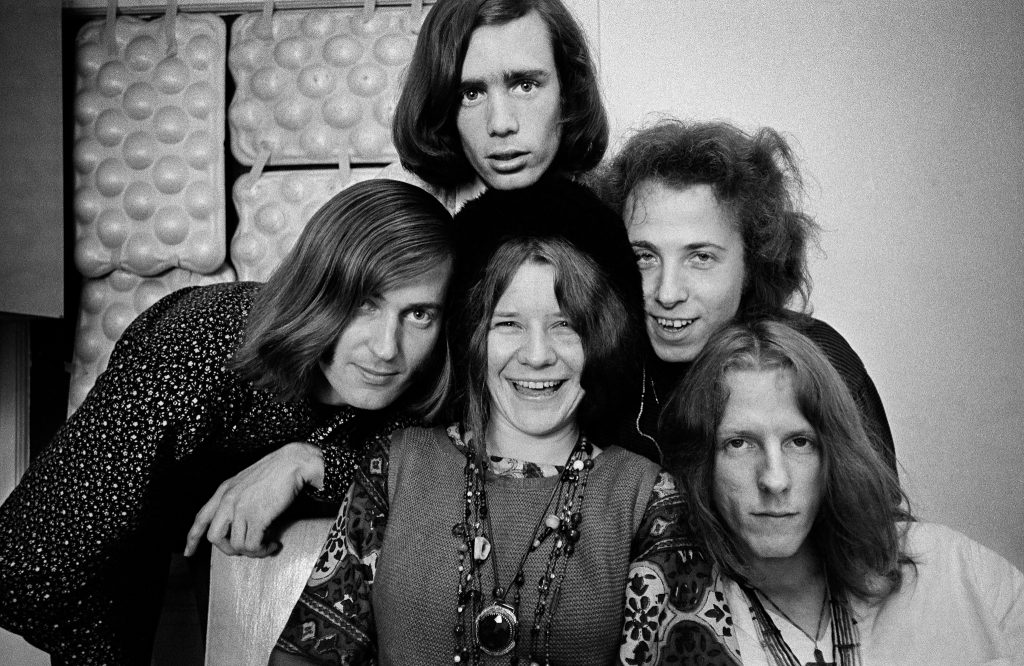 Guitarist Sam Andrew of Big Brother and the Holding Company Dies at 73
By Mark Kemp, SF Weekly, February 15, 2015
The first time I heard "Summertime," it wasn't Ella Fitzgerald and Louis Armstrong's version from Porgy and Bess. It was an 8-track tape of Big Brother and the Holding Company's Cheap Thrills that I'd dug out of a bargain bin at the Roses department store in my small North Carolina hometown. And it was magical. In the mid-1970s, Big Brother's "Summertime" sparked an obsession with the late-'60s San Francisco psychedelic sound that would steer me to albums by Moby Grape, Jefferson Airplane, Quicksilver Messenger Service, and Country Joe and the Fish.
At the emotional center of "Summertime" was Janis Joplin's bluesy rasp, but it was the guitars — two fuzzy, distorted electric guitars whose notes bended and curled and weaved together in a swirling, lysergic dance — that transformed the moody Gershwin standard into noisy chaos. Guitarists Sam Andrew and James Gurley were firing on all cylinders, redefining the accepted musical backdrop for the gritty voice of a female soul singer. Without Andrew and Gurley, Joplin may never have become a defining voice of '60s rock.
Sam Andrew died Thursday in San Rafael — where he often spent his mornings sipping coffee at the Aroma Cafe — from complications of the open-heart surgery that he underwent after suffering a heart attack in early December. He was 73. His death follows those of Joplin, who famously died from a heroin overdose during her prime in 1970, and Gurley, who died of a heart attack in 2009.
A year and a half before his death, Andrew's latest iteration of Big Brother performed at Ohio's Fur Peace guitar camp, run by fellow architect of the San Francisco Sound, former Jefferson Airplane guitarist Jorma Kaukonen. "It was great to reconnect after all those years," Kaukonen said Saturday. "It had been so long since we had seen each other, but there he was: Sam Andrew, playing better than ever — and he was good back then. I was so sad to hear of his passing."
Andrew formed Big Brother along with bassist Peter Albin in 1965, and the group soon gained a following as an instrumental psychedelic powerhouse at the Avalon Ballroom. But manager Chet Helms thought the group needed a singer, and he knew of a woman in Austin, Texas, whose bluesy twang would ground Big Brother's experimental tendencies. Joplin moved to the Bay Area and joined the band in 1966.
"Big Brother may have been the first psychedelic band," said Barry Melton, whose own bursts of bluesy guitar with Country Joe and the Fish also helped define San Francisco's psychedelic era. "I remember hearing the band before Janis joined. They played a version of 'In the Hall of the Mountain Kings," from Grieg's Peer Gynt, for half an hour or 45 minutes. It was a long instrumental version, and it was really, really psychedelic. They were miles beyond the Grateful Dead or the Airplane or us. In a lot of ways, they were out there before anybody else; they were the true psychedelic pioneers."
"They were miles beyond the Grateful Dead or the Airplane or us." — Barry Melton, former Country Joe and the Fish guitarist
With Joplin, Big Brother released a pair of early classics, Big Brother and the Holding Company and, a year after the band's legendary set at the 1967 Monterey International Pop Festival, Cheap Thrills. In late 1968, Andrew and Joplin left Big Brother and formed the Kozmic Blues Band, releasing I Got Dem Ol' Kozmic Blues Again Mama! in 1969. Andrew eventually rejoined Big Brother and Joplin moved on to put together the Full Tilt Boogie Band for her final album, Pearl.
Big Brother continued performing in various lineups for decades, but it was the band's early lineup that featured Andrew's greatest contributions to music along with Gurley, Albin, and drummer Dave Getz. "One of the really distinguishing characteristics of Big Brother and the Holding Company was the way the arrangements brought together those two guitars — and it wasn't a traditional lead guitarist and rhythm guitarist, which is the way it often still is in rock bands," said Bay Area music historian Richie Unterberger. "James Gurley and Sam Andrew's guitars were so closely intertwined that sometimes you actually couldn't tell who was playing lead and who wasn't, and it kind of didn't matter.
"Gurley tended to have a more spontaneous and eruptive sound, like you hear at the beginning of 'Ball and Chain' — the feedback and the really wild gonzo things — and Sam was responsible for the more rigorously methodical guitar riffs that kind of served as an anchor. But they were both equally important in what they brought to the group. It was like they were riding a wild animal and just keeping it in check."
In 2011, Andrew opened up in an interview with AARP magazine about the survivor's guilt he felt following Joplin's death. "There were a couple of times I was lying blue-faced on the floor, and in fact, one of those times Janis saved my life," Andrew said. "I'd overdosed, I'd fell down on the floor and I was turning blue. She did cardiopulmonary resuscitation. It was just sheer chance." After she died, Andrew said, "I was like, 'Wait a minute, now: Here's this really talented person who dies and I'm still alive. What's wrong here?' … You're gonna have survivor guilt or at least survivor twinges of conscience. It's a good question, you know: Why am I here?"
Some questions are not answerable, but it's a good guess that Andrew had not finished exploring the psychedelic-blues sound he helped pioneer with the other surviving members of Big Brother. Now, it seems, his work is done. "Our little company dwindles each year, as it must," said Kaukonen. "We are the poorer for having lost Sam."