I'd seen Smitty spin records around Charlotte for years, but I particularly loved his sets at Common Market in my old neighborhood of Plaza Midwood. There have been several great DJs in Charlotte over the decades, each one bringing their intelligence and personalities into their sets. But there was something special about Smitty. If DJs generally wander the earth incognito, Smitty does so even more. He's never called attention to himself, even though he is eminently recognizable. Smitty is modest, friendly, helpful — and absolutely terrific. At Common Market, Smitty spliced sounds into his sets that came to define the ambiance at the popular hangout. He gave the place its character. When I became editor of Creative Loafing for the third time in the late 2010s, I decided it was time to put That Guy Smitty on the cover — celebrate his legacy while also celebrating a bit of the history of Charlotte's electronic dance music scene. Smitty still spins records today. If you're in Charlotte, go check him out.
You Know His Name And You've Seen His Face. But Who Is That Guy Smitty?
By Mark Kemp, Creative Loafing, May 23, 2018
HE WAS JUST ANOTHER GUY in March of 1996. That's when Anthony "Smitty" Smith took a road trip with a friend from Charlotte to Winston-Salem to attend an early Beyond rave featuring the Florida-based electronic trio Rabbit in the Moon.
It had been two years since Smitty returned home from England, where he was stationed during the latter part of his seven-year stint in the U.S. Air Force. While there, he experienced the waning years of the acid jazz movement at London clubs like the legendary Wag in Soho.
He was there when Jamiroquai dropped their classic first album Emergency on Planet Earth. He was there when Bjork discovered electronics, left the Sugarcubes and went solo on Debut. He saw Incognito, 808 State and the big, Jamaican-inspired U.K. sound systems of the era like Soul II Soul. He was there for the infancy of Massive Attack's trip-hop scene to the west in Bristol.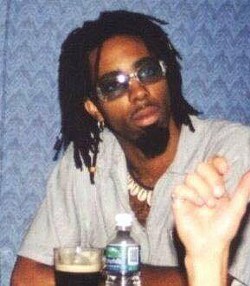 Those were heady times for Smitty, and he was looking to get fired up again back home. On that Saturday night, Rabbit in the Moon was performing in an upper-level space at the Millennium Center, a dilapidated, 90-year-old post office being restored for use as a ballroom and performance venue. But it was in the lower-level space that Smitty saw the performance that would change his life.
"They had a basement, and Mark Farina was playing down there," Smitty remembers.
Farina, the San Francisco-by-way-of-Chicago DJ, had just released his first house mix album Seasons One, as well as the initial set in his now-famous downtempo series Mushroom Jazz. "I saw him play and it blew my mind what he was doing with records," Smitty remembers. "He was the first person I'd ever seen where I said to myself, 'Man, that dude is an artist.' He wasn't just matching beats and stuff — he was remixing on the fly, he was taking this record and that record and creating a whole 'nother bed of music in between.
"It wasn't like hip-hop, where you're just cutting and scratching to a record," Smitty continues. "He was doing this deep mixing where, at certain periods, both records were on for minutes at a time."
Smitty shakes his head and lets out an audible sigh. He's sitting at a picnic table outside Birdsong Brewing Co. on North Davidson Street, talking about the old days of electronic dance music in Charlotte, while behind him the fuzzy guitar intro to the Beatles' "Revolution" buzzes across the patio. Smitty, who's been spinning records in Charlotte as That Guy Smitty now for more than two decades, had an epiphany that night in Winston-Salem.
"I was like, 'That's what I want to do. That's the kind of DJing I want to do. If I can get to be half as good as this guy right here, I'll be all right.'"
TWENTY-TWO YEARS and a gazillion DJ sets later, That Guy Smitty is one of the last of the old-school, analog DJs still standing in Charlotte. Sure, a number of great DJs from the city's early-'90s house-music heyday continue spinning today, but Smitty's commitment to adventurous music remains as steadfast as it was the night he first saw Farina play. And Smitty's seen Farina play many times since. Just last month, That Guy Smitty opened for Farina at a sold-out Crown Station show in NoDa.
"He was my hero," Smitty says, "and now I've gotten to play with him like five times over the years."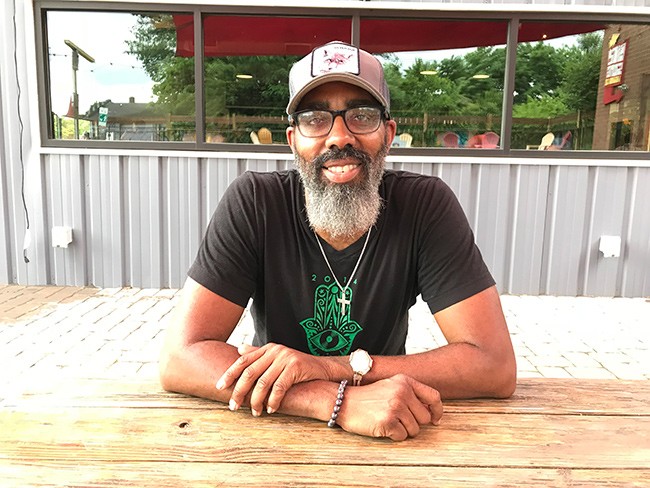 These days, you'll find That Guy Smitty behind the turntables at Common Market, where he's held down a regular spot on the first and third Fridays of each month for the past 13 years. More recently, he's begun playing the second Friday of each month at Camp North End. And he spins for events at places ranging from Morehead Tavern to the big Charlotte museums and other institutions. Beginning in June, That Guy Smitty will be doing a new Saturday residency at 204 North on North Tryon Street.
At his residencies, Smitty says, he plays exactly what he wants to play, with no regard for whatever hits are on the radio at any given time. He likes to call what he does "eclectic mixes of really good music for your ear holes."
That Guy Smitty is also a part of the trio Muchacho, along with Jason Herring and Jason Cooper — a group with no leader, he says. "We just creatively keep each other in check, but there's no real boss, we're not a band — there's no lead singer, nothing like that. We're a collective," Smitty says. "The three of us just get together in a room and hopefully music happens."
Younger DJs in Charlotte say they've been heavily inspired by That Guy Smitty. "He's basically my DJ godfather," Justin "Aswell" Blackwood, the ringmaster of the popular Monday night Knocturnal parties at Snug Harbor, says. "I've known him since I was a little kid. He literally calls me his little brother."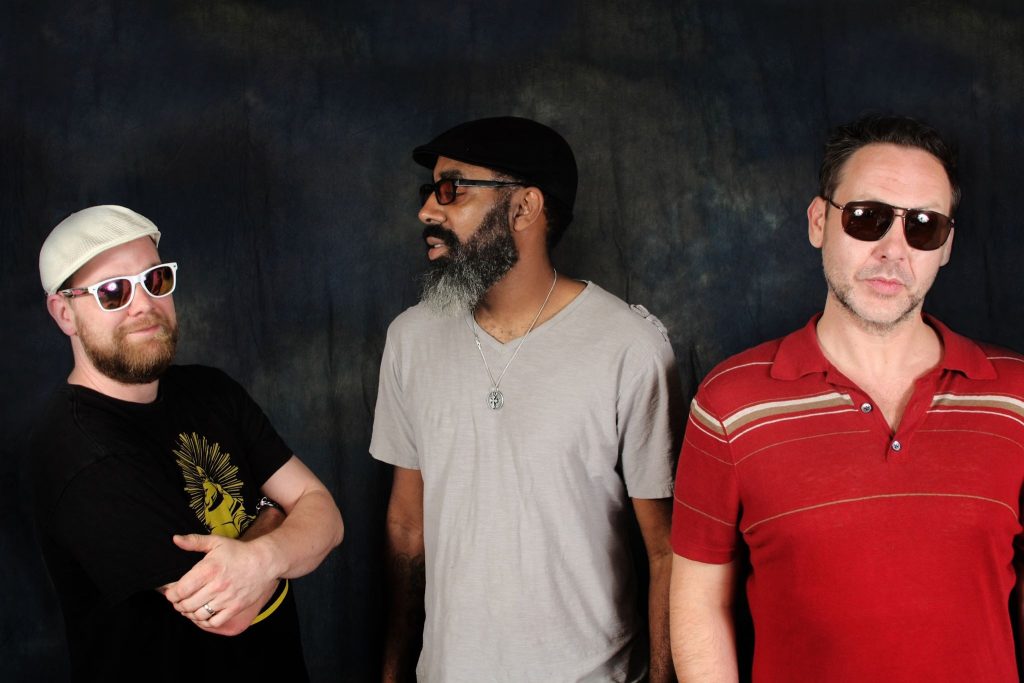 Older DJs in Charlotte say they respect Smitty's commitment to quality music over shifting commercial whims. Veteran DJ Andy Kastanas, owner the legendary, now-shuttered Uptown house-music club Mythos, helped kick-start Smitty's career. When Kastanas was still spinning at an earlier legendary club, Park Elevator, he gave Smitty his first crate of vinyl to spin. "It was downtempo stuff that I couldn't really use, but good stuff," Kastanas says. "And with that crate, he created a unique set and sound for himself."
It is that kind of mutual respect among DJs that has long fueled a creative dance music culture in Charlotte, but recently Smitty has been concerned that competition — not the healthy kind, but the destructive kind that involves artists trash-talking each other — is threatening the local DJ scene. In April, Smitty posted a challenge to other DJs and promoters on his Facebook page that read, in part, "This shit needs to stop. We need to do better for ourselves, and [for] the community that wants to support us. If you're dope, you're dope. Period. Nobody can take that away from you. Talking badly about the next guy won't make you any better."
The post got 13 shares, an "amen" from Justin Aswell, and a lengthy string of other comments and GIFs from local DJs, promoters, rock musicians and fans. Smitty says he brought up the topic on social media because, "I'm kind of neutral on the scene. I'm not in any particular crew of DJs, nor do I hold any allegiances to any particular set of musical folks or locations. I'm like the hired gun at all these places — I go in, play my set, and roll out."
He'd like to see younger musicians take up the banner of unity on the DJ scene. "I think somebody who's currently vested in the culture should be encouraging it — somebody who's got a lot more time ahead of them than behind them. They're the ones who need to pull this thing together — to mediate and to bring cohesion within the scene," he says. "And there's a couple of cats out there who are trying to do that."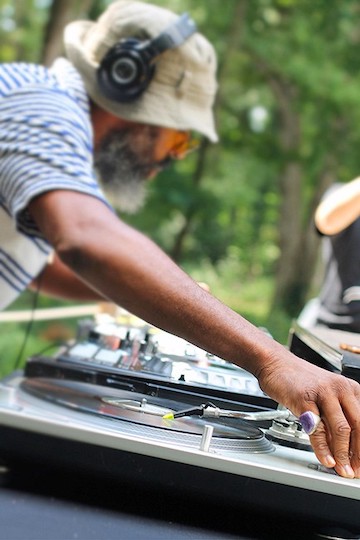 He laughs. "I mean, I'm gonna be 50 this year," he says. "Most of the people who come out specifically to see me play have to get babysitters. They know me from 25 years of spinning records in Charlotte. So I'm just here to offer my observations on the situation at hand."
"A lot of DJs, young cats, come to my shows, and they get inspired by me and by what I do — my technical abilities and my skill," Smitty says. "They come to my shows to hear classic hip-hop, funk, R&B and rock 'n' roll all blended together. So these younger cats take what they need from me and then go and apply it to their trap sets or whatever. They're inspired by me, but they're not necessarily looking to me for direction." He pauses and laughs. "I mean, they still wanna hear Lil Uzi Vert."
That Guy Smitty may be from another dance-music era, but he has plenty of millennial fans, largely because he's a fixture at hotspots like Common Market, and one of the friendliest guys you'll ever meet.
ANTHONY SMITH WAS BORN in 1968 — more than a quarter-century before Lil Uzi Vert was even a sparkle in his parents' eyes — in Charlotte's Grier Town, since re-branded as Grier Heights. He grew up around the music his parents, aunts and uncles danced to. And though he was inspired by their old Motown, funk and disco records, Smitty preferred the house music and burgeoning hip-hop coming out of Chicago and New York.
"By the time I got to junior high school we'd moved out of the hood and into Shannon Park, which at the time was a very middle-class neighborhood," Smitty remembers. "I was the only black boy-kid in my neighborhood at the time."
He attended what was then Cochrane Junior High School (now Middle School) and later bused to West Charlotte High. By the mid-1980s, hip-hop was entering its golden age, with Run-DMC changing the game on records like King of Rock and Raising Hell. That was the music that made Smitty want to dig deeper into the sounds of his own generation.
"So I can respect younger cats wanting to hear the music they like, because your music is your music. I was the same way," Smitty says. "My music — the music I discovered on my own — were artists from the first wave of what was the alternative, new wave and hip-hop scenes of the late '70s and early '80s. House music, the music that happened during my lifetime — Frankie Knuckles, all those guys from Chicago — and then Derrick May, Juan Atkins — all those guys from Detroit — and then Afrika Bambaataa's eletrofunk. All that was my stuff. That stuff wasn't my parents' music."
By his teen years, Smitty had developed a serious vinyl habit. "I always loved collecting records," he says. "I had a lot of handed-down records from my aunts and uncles, and there were a lot of great record stores in Charlotte back then." When he graduated in 1987, Smitty enlisted in the Air Force and went overseas. During that period, hip-hop was well into its golden age in the U.S., and Smitty kept up with it, listening to Public Enemy, Eric B. and Rakim and A Tribe Called Quest. By the time he got to England in the early 1990s, different sounds were mixing it up all across that country, from Manchester in the north, Bristol in the south and of course, London.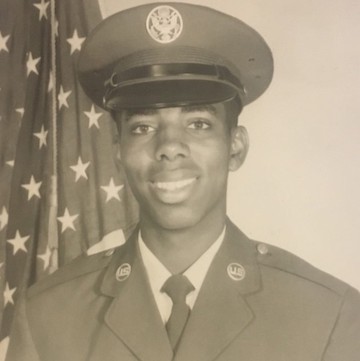 "I was buying underground records in the U.K. all the time," he says. "Even the record store on the Air Force base was great."
He saw concerts by U.S. acts — Lenny Kravitz at Brixton Academy, Prince at Wembley Stadium — but spent most of his time at the Wag. "That was the place to hear underground house and techno music, and upstairs was dancehall," Smitty remembers. "I was there when Shabba Ranks and Shaggy first came out, and Buju Banton — all those dudes were huge over there. And in rock, you had the Inspiral Carpets, you had the Soup Dragons, you had the Happy Mondays. The U.K. was a lot of fun back then. It was such a great time for music."
When Smitty got out of the Air Force in 1994 and came home, Charlotte seemed dull by comparison. He'd go see Kastanas spin at Park Elevator, got a job bartending at Tutto Mondo, but generally laid low. "Nobody was playing the soulful, deep house that I'd been hearing over in the U.K.," Smitty says. "It seemed like everybody was playing trance and progressive stuff, and I was like, 'Man, that shit just doesn't have any soul.'"
AFTER THAT HAZY NIGHT seeing Mark Farina at the rave in Winston-Salem, Smitty was on a mission. The following Monday, he got himself a pair of Technics 1200 turntables at a pawn shop and a Vestax 05 mixer from a friend. Then he began to practice.
"I sat down on the living room floor of my girlfriend's house while she painted," he says, "and I taught myself how to mix records."
With the crate of records Kastanas gave him, Smitty proceeded to learn how to mix both house and downtempo stuff — just like Farino had done at the Millennium Center. "I was like, 'I'm gonna do what he does, because both [house and downtempo music] was very soulful' — he was playing really soulful, groovy house — a lot of jazz loops, a lot of soul stuff — as well as some really dope downtempo, like underground hip-hop and downtempo soul, which is sort of like the end of acid jazz, when acid jazz started getting more hip-hoppy."
By then, Smitty was working at a little punk dive in NoDa called Fat City. When the club's owner decided to open a dance club called Ling Ling Palace, Smitty was tapped as DJ. He brought along two friends to back him up for his debut performance, because he didn't yet have enough music for a full night.
"Ling Ling was very underground. It didn't even get started until around 11 at night and it went on to some ungodly time in the morning," Smitty remembers. He laughs. "Man, I saw things that I shall never repeat," he says. "But it was cool. I would just sit there and smoke a joint and DJ at the same time."
That gig landed him spots at Tutto Mondo and later Tonic. "By then I had enough records to make it a whole night. I'd expanded my record collection exponentially," he says. It was at Tonic that he began to make a name for himself as That Guy Smitty. "I'd called myself that before, but that's when I sort of became known," he says. "And I put on some legendary sets there. That was the place that fit me. Everything about that place made me want to be as classy and as good as I possibly could be, and it was fucking great, man."
In 1999, Smitty got a job as an audio architect at Muzak, where he would work until 2007, and then continue working as an independent contractor until 2013. It taught him the value of branding, and today he's adamant about correctly branding his DJ moniker. When Creative Loafing once referred to him as DJ Smitty, he fired back at us: "I go by DJ That Guy Smitty. The DJ part is optional. The That Guy part isn't."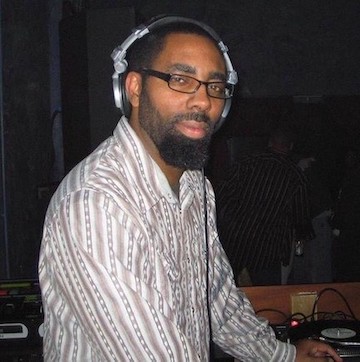 By the late '90s, Kastanas was asking Smitty to open shows for him at Mythos. "Andy's the one who always told me, 'You can do this.' And he told me, 'If you get good enough, I'll give you a gig at my club.' He kept his word. I was a resident at Mythos for three years," Smitty says. "I would play from 9 to midnight and then Andy would come on."
From there, Smitty went to Liquid Lounge and then HOM, where he performed wild sets of original mixes in a little downstairs lounge. "I was the resident DJ down there. It was all mine," he says. "I literally ruled that place. That was my spot."
But by the mid-2000s, things were changing on Charlotte's electronic dance scene. More and more people were flooding into the city's new, revitalized Uptown, and those folks wanted to hear the hits. DJing in Uptown clubs got boring. Besides, Smitty was by then married to his longtime wife Christy, with whom he's had three beautiful kids, Logan, 16, Dylan, 13 and Ella, 10. His priorities had shifted.
"The music and scene just sort of died," Smitty says. "Everybody started pandering, trying to get into the [then-new] Epicentre and Music Factory, but they had to conform. They were telling DJs to take requests."
Smitty wasn't interested in that. "I'm a nonconformist by nature. I'm ex-military, so I promised myself when I got out of the military that I would never put myself in a situation where I had to follow anybody else's orders but mine and God's," he says. "So when the market died for house music, I segued my skill set to what I'm doing now."
THAT GUY SMITTY BEGAN his process of reinvention in 2005, spinning at Common Market in Plaza Midwood, and then later at breweries. "When I started playing in breweries, nobody was trying to play in breweries," he says. "And when I started playing in restaurants and lounges, nobody was doing that."
He doesn't fault his fellow early house DJs for playing Uptown gigs. "There's still a lot of really good DJs over there getting down, but they're playing shitty music," Smitty says. "And I understand why. They did what they had to do to be able to bring home a check, so they play Top 40 and they get paid well to do it. If you go down to the Epicentre right now, there's still 600 or 700 kids in the place, so you can make $400 or $500 a night spinning."
Smitty sighs. "That's just not what I want to do," he says. "There may not be a lot of money in playing at Common Market, but it's a lot of fun, and I get treated well there. I get to do whatever I want to do. I've known [owner] Blake Barnes since the '80s. He's one of the oldest relationships I have in this town."
Lots of current fans of That Guy Smitty don't even know about his past as a house music king in Charlotte. "There are people who have heard me play for 10 years and freak out when they hear me play house music now," he says, and laughs. "I'm like, 'Dude, that's what I was known for — for years!'"
The minor-key chord progression of the Animals' version of "House of the Rising Sun" begins playing over Birdsong's sound system just as the light rain on the patio threatens to become a downpour. Smitty's eyes, framed by a "Silver Fox" fishing cap and his own, silver-specked beard, have taken on a pensive stare behind his black-frame glasses. He begins reflecting nostalgically on his long career as a DJ in Charlotte.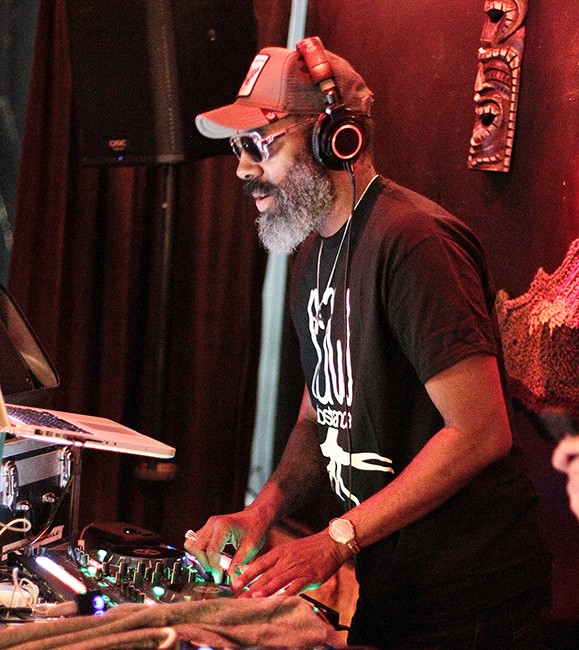 "Mixing records came naturally to me from the beginning," he says, and motions to the music coming from the speakers. "I could hear a song away from my turntables and know exactly how I would mix it. I still do that now. It's a background process that just happens. It's like multitasking. I already know sonically where I would put in something, and how I would put in something else."
He feels sad for DJs today who came up in the post-vinyl era. "A lot of people don't develop that kind of an ear nowadays because everything's quantized to the beat," he says. "It's all hit-driven and it's all mechanical and they all have sync buttons and shit. I feel blessed to have come up in an era when you had to have records and you had to be able to figure out how to piece things together on something that's analog, you know, it's living and breathing. You got drift, you got live drummers, you got this, that and the other, and you have to keep all those things in sync." He laughs. "The worst thing that can happen to you as a DJ is for someone to look up at the booth and be like, 'What the fuck was that?'"
These days, Smitty is sometimes that person. "Yeah, I do that. I look at somebody on a controller and I go, 'Holy crap, that mix is horrible,'" he says. "And then I'm like, 'How the hell are you doing horrible mixes with all the advantages you have these days? You have all that shit and you're still fucking up."
You don't often hear That Guy Smitty fuck up. Even the legendary Kastanas considers Smitty one of the best DJs Charlotte's ever produced. "He has matured into a masterful programmer that is in full control of his room at all times," Kastanas says. "His music selection is infectious, and his transitions flawless. What I've always said about him is that he can mix oil and water, and if Smitty can't make you dance, you're either deaf or dead."