One day in 1991, when I was the editor of Option magazine in Los Angeles, I received a hand-written note and CD from a woman named Lisa Germano, who explained to me that she was John Mellencamp's violinist and that she had recorded and self-released a collection of her own music. She wondered if we might consider reviewing it. The album, On the Way Down from the Moon Palace, was a solid set of rootsy songs backed by Germano's violin and the unmistakable hard drumming of Mellencamp drummer Kenny Aronoff. But it didn't really stand out in the crowd of other records by '90s singer-songwriters. Within three years, though, Germano would transform into one of the era's most interesting and adventurous musicians, although today, for some reason, she's a mere footnote in the history of '90s rock — an unsung heroine. While grunge rockers and riot grrls from Courtney Love to Kathleen Hanna were screaming out their rage over distorted noise, Germano was quietly working through her emotional trauma in more hushed and experimental tones. After releasing a much stronger second album, Happiness, on Capitol Records, she signed with the experimental pop label 4AD and really began to open up her creative soul. I got the opportunity to profile Germano for Rolling Stone in 1994, just after the release of her third album, Geek The Girl. She and I hiked up to the iconic Bronson Cave (also known as the Bat Cave for its role in the '60s TV series Batman) in Hollywood's Griffith Park, where we spent the afternoon dodging the sun.
Stepping Out From John Mellencamp's Shadow, Singer and Violinist Lisa Germano Hits a Nerve On Geek The Girl
By Mark Kemp, Rolling Stone, Dec. 15, 1994
"IT DOESN'T FEEL GOOD to be stuck," Lisa Germano says, as she surveys the opening of a dark tunnel that cuts a 30-foot passageway through a giant hunk of rock in Hollywood's Griffith Park. She peeps a little farther inside at the debris left behind by weekend picnickers, and the late-afternoon sun casts a vertical shadow down her babyish face. On the hike up the dusty canyon road leading here, Germano has been talking about relationships gone sour, depression, her feelings of geekiness — the stuff that makes life really suck sometimes.
Three years into a solo career, Germano is trying to make sense of all that stuff. Her quest began when her former employer John Mellencamp encouraged the violinist to complete an entire album of her own songs. On the Way Down from the Moon Palace was a solid debut, but nothing like the ethereal music she's become known for more recently. Now, on her third album, Geek the Girl, Germano confesses her previously bottled-up feelings with a raw, almost uncomfortable measure of honesty. She aims her emotional darts deep, probing the dark side of male-female relationships with remarkable acuity.
"The record is basically about the things men do to girls," Germano says. "It's about how when a girl — or a guy, for that matter — hides and doesn't know herself, that's when she gets manipulated and abused."
Germano glances back over her shoulder, and the shadow disappears. "You don't have to be stuck, though," she continues, furrowing her brow and closing one eye to block out the orange rays. "I learned a lot from my depression years about being a victim and, like, how you stay stuck in situations because it feels safer. I don't want to be in that place ever again."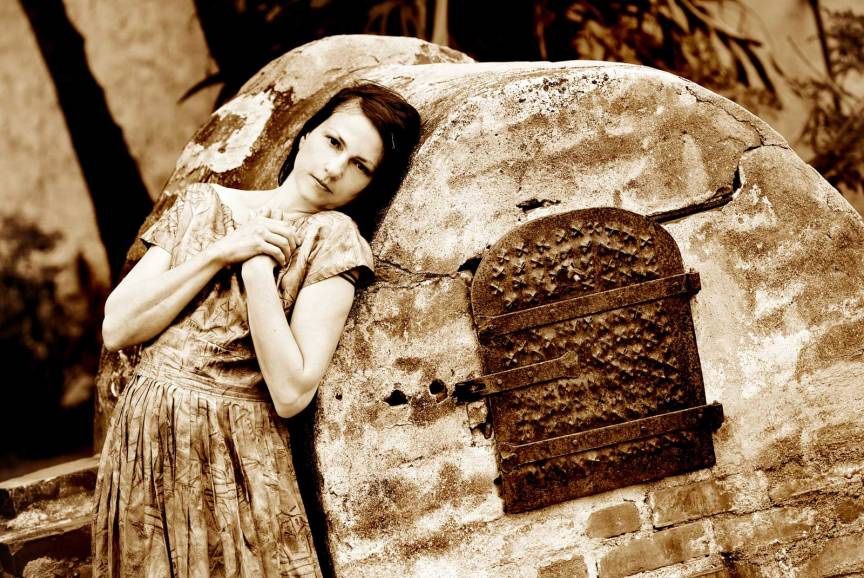 The singer has found herself on so many unbearable emotional treadmills in her 36 years that she finds it hard to appreciate solid ground these days. Germano was stuck in an eight-year marriage that ended in divorce, suffered through three years of debilitating depression, walked away from a major label, has been stalked by a psychopathic fan and was plagued by her own brutal feelings of self-doubt. Today she is more content with herself, her recent signing to the arty UK label 4AD and her devastatingly beautiful new album. Aside from her continued harassment by the stalker, who began contacting Germano during a Mellencamp tour, she feels freer than ever.
For one thing, she has worked through many of her emotional issues by dealing with them head on in her songs. On Geek The Girl's "Cry Wolf," a woman's feelings of fear and obligation force her into bed with a man she doesn't want to have sex with. The harrowing ". . . A Psychopath" finds Germano delivering a cool, emotion-less account of how the stalker's attempts to control her life drove her to sleep with "a baseball bat beside her bed." "Stalkers take your life," she says, "and they win. Whether you like it, you're in a relationship with them." On "Geek the Girl," she sings about feeling "angry and dumb but not too cool" in a breathy, childlike and resigned voice.
"I've never been cool enough in any situation," Germano says. "I'm not enough of a druggie to be with the druggies, I'm not enough of a cheerleader to be with the cheerleaders. And that's what Geek The Girl is all about: You're a geek because you sleep with someone 'cause you're too scared to leave; you're a geek because you have dreams of a relationship that will probably never happen. And yet you'd like to believe that maybe your very geekness — your weirdness, what makes you strange — might also be your gift."
BORN IN THE small town of Mishawak, Indiana, home of the Uniroyal rubber plant, Germano is the second youngest of three girls and three boys. "I grew up in a colorful environment — very Italian, lots of passion, lots of fighting, lots of food, lots of music." Her father, Rocco, is a choir leader and conductor; her mother, Betty, is a school principal. At 7, Lisa picked up the violin, and by 10 she was performing in symphony and chamber orchestras. In her 20s she played in rock, jazz and bluegrass bands.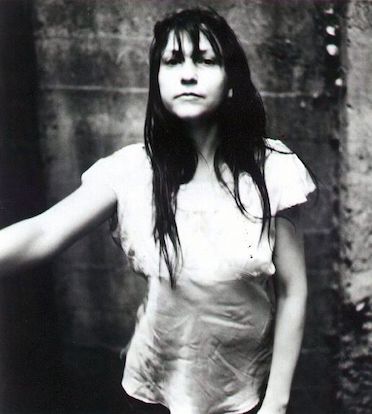 From early childhood, however, Germano's negative self-image kept her from realizing her dreams. "When I was little and would write, I felt so free. But then somebody, somewhere — whether it was a teacher or brother, I don't know — but all of a sudden it was like, 'You're a piece of shit. You can't write. You're irritating people.' So I found it easier to just go upstairs and cry. I never finished anything."
Things began to change around 1985, when Mellencamp asked Germano to join his band for the Scarecrow tour. "I was scared to death," she says of her early days with Mellencamp. "So I started getting therapy. I realized that if I wanted to move forward, I had to take a look at myself." Six years later she mustered the courage to cut her first album: On the Way Down from the Moon Palace was released on her own tiny Major Bill label (named for the major bill she received when it was done). A collection of fearlessly personal songs, it was a far cry from Mellencamp's populist anthems.
"John's music is about wanting to make people feel good about themselves," Germano explains. "At the end of a John Mellencamp concert you have 30,000 people out there singing along to the song. I have no desire to do that, but it's a cool, very powerful thing."
Now that she's moving in alternative music circles, Germano is subjected to trendy disses of her former boss. "I get upset when people cut him down and say, 'What a bunch of crap music. How did you deal with it?' I mean, it's fine if you don't like his music, but John does what he does great. And I respect him for it."
Germano's music is different. It's gauzy and atmospheric: Layers of distorted guitars, droning violin, haunting synthesizer, tape loops and percussion all swirl around her whispered singing voice. She creates textures that can be grungy and gritty at times or moody and ethereal at others. Her songs take you on an emotional roller-coaster ride that twists and turns from fear and sorrow to anger and bitter sarcasm. With help from her former boyfriend, producer Malcolm Burn, she created a sound that pits the experimentation of British dream-pop bands like Lush and My Bloody Valentine against her more down-to-earth Midwestern worldview.
None of this came easy. In 1993, Capitol released Germano's second album, Happiness. After a company shake-up — and despite glowing reviews — Germano was almost immediately released from her contract. Ivo Watts-Russell, head of 4AD, heard Happiness, liked it and worked out a deal whereby he could re-release the album with new artwork, remixes and a revised sequence. Unfortunately, the two versions wound up competing with each other on CD shelves, and both stiffed.
Feeling stuck again but more determined than ever to keep moving forward, Germano retreated to her Bloomington home and began composing and recording, just for herself, on a DAT machine. With the Happiness fiasco still working itself out, she had no immediate plans to release the new material. But when she noticed a theme running through the songs, she decided to take her homemade tapes to the people at 4AD, who released Geek The Girl exactly as it was.
"A few people have already not wanted to talk to me about Geek The Girl because they think it's too disturbing," Germano says. "And that's too bad. I mean, Nine Inch Nails make me look like milquetoast. But people just don't like for women to make them feel bad. If you're a woman who makes people feel anger or makes people feel like fucking, fine. But we don't want women to make us feel uncomfortable."
Germano realizes that her songs, focusing as they do on the victim, might be considered a step backward by those who regard the more aggressive music of Liz Phair or Courtney Love as empowering.
"I was on KCRW, in Santa Monica [California]," she says, "and this man faxed a letter to the station, saying, 'I love your show, but what's with this "You Make Me Want to Wear Dresses" song by Lisa Germano? Why would you play a song that portrays such a weak woman who has given over all of her power to someone else and is glorifying it?' My response was that the guy understood the song more than most people; most people thought it was a love song. What he didn't get was that of course it's stupid. When I sing a line like, 'You make me think about nothing/It feels good like that,' it's not a happy sentiment. And that's the point. The cool thing is that he realized this isn't a good situation for a woman to be in."
She pauses, and a breeze whips up a cloud of dust on the canyon floor. Then she recounts a story about a woman who approached her during the Happiness tour: "She was so sincere. She was this really cute girl who you would never think might be depressed. She looked me right in the eye and said, 'I want to thank you, because I've listened to your record every day for the past two months just to get me through the day.' At that moment I felt so successful."
© Mark Kemp, 1994
Listen to Geek The Girl