Last week, my friend Whitney suggested I write an essay on the (Grateful) Dead's incessant trolling of America in 2015.
We'd been talking about the monumentally misguided Dead & Company's announcement in August that they were bringing John ("My dick's a white supremacist") Mayer along for another reconfigured Grateful Dead tour as a stand-in for the late Jerry ("At least we weren't racist misogynists, we were free-wheelin' misogynists") Garcia. Whitney had reminded me of an offhand comment I'd made around the time the Dead Machine announced in mid-January that the band would be reuniting — minus, of course, dead Dead members Pigpen, Keith Godchaux, Brent Mydland, and Garcia, and still-living Dead genius Tom Constanten — for one "final" series of shows in July at Chicago's Soldier Field. The event, celebrating the 50th anniversary of the Dead's formation in 1965, was to be dubbed "Fare Thee Well."
"Fare thee well, my ass," I said at the time. "You know they'll be doing it in the Bay Area."
Sure enough, as soon as Deadheads everywhere had scrambled to pay exorbitant prices for tickets and airfare(thee well) for the band's Chicago swan song, the Grateful Dead Machine announced — on my birthday, April 10 (woo-hoo!) — that the Dead would be doing one more really "final" "Fare Thee Well" series (we swear!) at Levi Stadium in Santa Clara, just south of the band's old Summer of Love stomping grounds.
"Since we made the decision to go back to Chicago to say our final goodbye, it has become clear to us that we first need to gouge our fans again return to our beginnings, where we first said hello – to each other and to all of you," the Whatever-They-Were-Calling-Themselves announced in an open letter to fans. (To be fair, in the announcement the band did admonish scalpers for inflating the original ticket prices of a "mere" $59.50 to $199.50.)
Admission time 
Okay, look, I almost went to one of the Bay Area shows. I was the editor of SF Weekly at the time and figured the show would be worth writing about for the alt-weekly of record (actually, the only alt-weekly by then) in the band's hometown. And yeah, I have a soft spot for the Dead, I admit it. I was a big fan during my high school and college years, having tripped at to several Dead shows, from Durham, NC, to Hampton, VA, during my mid-'70s and early '80s youth.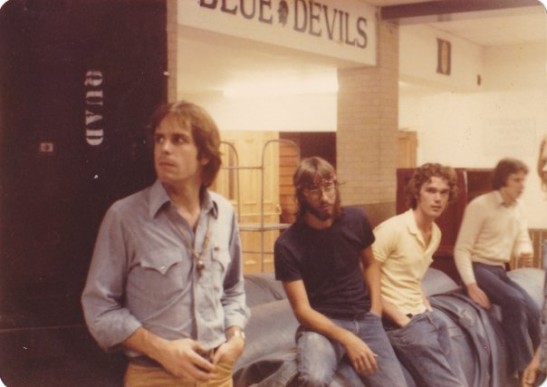 And yes, I'd shut my eyes blissfully during the gossamer "Stella Blue" and make strange motions with my hands during the space jams; and later, in the parking-lots-of-my-life, I'd pick "Friend of the Devil" on my 1965 Gibson Hummingbird guitar along with other acoustic guitar-wielding wannabe hippies. To be honest, I still like listening to the Dead's acoustic-based albums and some of the more avant-garde and psychedelic stuff of the earlier years, and — don't tell anybody! — I occasionally tune in to "Dead to the World" on KPFA.
Alas, when I thought about the royal pain in the ass it would be to procure tickets to the "Fare Thee Well" show, get to the venue, get in, and find my way to the nosebleed section, I decided to leave things be at the Weekly. After all, our twentysomething music editor Matt Saincome had already weighed in with some good snark about the $188 "cheap" tickets, the overpriced pay-per-view, and ancillary stuff like limited edition Grateful Dead tie-dye cupcakes. Anyway, I'd already seen the Dead do some gloriously sloppy shows back in the day, like this one in Durham, NC, two days after my 18th birthday. Why pay almost $200 to barely see the Phish Dead do "U.S. Blues' from way up there when I'd paid $7 to clearly see (and I'm talking window into their souls, man, you dig?) the real Dead do "U.S. Blues" from right down here?
Back to the trolling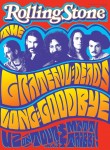 Since January, the Grateful Dead Machine has trolled the hell out of us. That month, Alvarez Guitars announced its new Grateful Dead series of acoustics. By May 20, Rolling Stone was rolling out its massive "Grateful Dead's Long Goodbye" story on its website, followed in June by a psychedelicized Grateful Dead print version (left). Newsweek, which didn't give the Dead the time of day during the band's prime, released its own special Grateful Dead issue in May. And several commemorative bookazines — and full-on books, including drummer Bill Kreutzmann's Deal: My Three Decades of Drumming, Dreams, and Drugs with the Grateful Dead — appeared in book shops and on grocery store racks. Kreutzmann, of course, made the talk show rounds. Then, a documentary on the Dead's still-living singer and guitarist Bob Weir, The Other One, the Long Strange Trip with Bob Weir, surfaced on Netflix.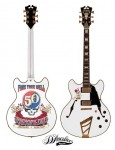 Also in June, during the heated lead-up to the Chicago shows, the nonprofit Headcount and several music equipment companies announced an auction of commemorative Grateful Dead-related instruments including a D'Angelico electric guitar. The guitar, of course, would be signed and come complete with gaudy 50th Anniversary" "'Fare Thee Well" artwork (right). That same month, the Grateful Dead Machine urged fans on its website to hurry up and buy the $700 80-disc box set 30 Trips Around the Sun before it sold out! It sold out.
There's been tons more Dead-related stuff in both the virtual and real worlds since those summer shows — just last Thursday, Oct. 19, the "Fare Thee Well" Soldier Field shows took Top Boxscore at Billboard's annual Touring Awards — but listing any more of them would just become redundant at this point. It's fair to say, though, that despite the death of leading light Garcia, the Grateful Dead has survived to participate brilliantly in the era of the troll.
Now, please, end that Dead & Company tour now and let's make 2016 a Grateful Dead-free zone. This "Fare Thee Well" stuff has lasted almost as long as "Dark Star"!
But first, I'd like to let Jerry have the last word: