In 1996, Capitol Records compiled 100 highlights of country singer Merle Haggard's impressive career into a 4-CD box set. After this review of the anthology ran in Rolling Stone, a writer for a conservative newspaper, The Washington Times, took me and other music critics to task for putting a liberal spin to the songs of a conservative artist. But as I write here — and I stand by it — seeing Merle Haggard simply as a "conservative" doesn't do him or his full body of work justice. He was a complicated and very human artist who defied simplistic labels. For every populist song sung from the perspective of a working-class white man ("I'm a White Boy," which doesn't appear on this collection), he also wrote tender pleas for racial understanding ("Irma Jackson," which does appear here). For every flag-waving anthem ("Fightin' Side of Me," "Okie from Muskogee," both of which appear in this collection), he also wrote songs questioning his beloved country ("Rebuild America First," his 2005 anti-Bush song that does not appear here). More important were Hag's songs of struggle and heartache — topics that transcend politics and bring all human beings together.
New box set from country's fightin' fugitive
By Mark Kemp, Rolling Stone, May 2, 1996
IN 1970, THE PROTEST SINGER Phil Ochs announced to his audience of earnest lefties at New York's Carnegie Hall that he was going to sing a Merle Haggard song. With no hint of irony, Ochs ripped into "Okie From Muskogee," Haggard's tirade against "the hippies out in San Francisco," and the crowd jeered him. What his fans failed to understand was that, to Ochs, a radical spokesman for the anti-Vietnam War brigade, the quality of a song, whether right-wing country or left-wing folk, is only as good as the integrity of the songwriter.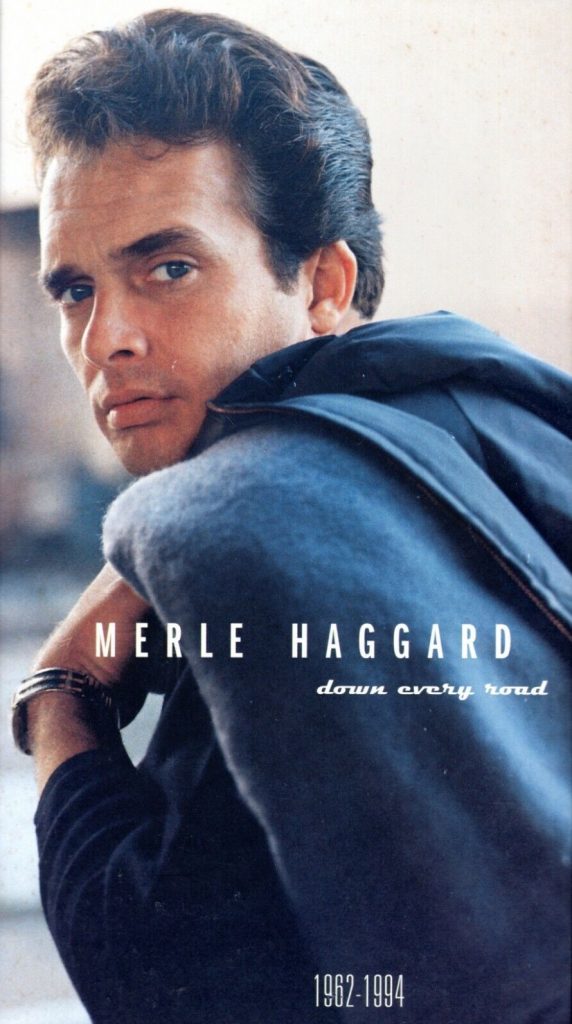 No one can question Haggard's integrity. His values, sure. His contradictions, absolutely. But not the blunt honesty, simmering passion and existential angst that flow like blood, sweat and tears throughout his prolific catalog, from his earliest songs about barrooms and prison life ("The Bottle Let Me Down," "Sing Me Back Home") to his populist anthems of the late '60s and the '70s ("Workin' Man Blues," "If We Make It Through December") right up to his latter-day meditations on growing old ("Are the Good Times Really Over").
Down Every Road, Capitol's four-disc retrospective of Haggard's career, offers the wide-angle view that the singer has long deserved. In going beyond the hits that made Haggard a household name in country music during the 1970s to find the lesser-known songs that put his chart-toppers in perspective, the collection paints a rich portrait of one of America's most important and often misunderstood musical figures. For every flag-waving single like "Okie" or "The Fightin' Side of Me," Hag threw an impassioned curveball such as "Irma Jackson," a plea for tolerance of interracial love. Such discrepancies don't so much point to disparities in his worldview as they reveal the more complex tug of war going on inside his soul. Haggard's first recordings for the independent Tally label, found on Disc 1, show a cocky young singer not yet comfortable with his voice. It wasn't until his first No. 1 hit, 1966's "The Fugitive," that Hag locked into his own sound. "The Fugitive" is classic Haggard, a story-song about a desperate, lonely character roaming the outskirts of America delivered with grace and conviction.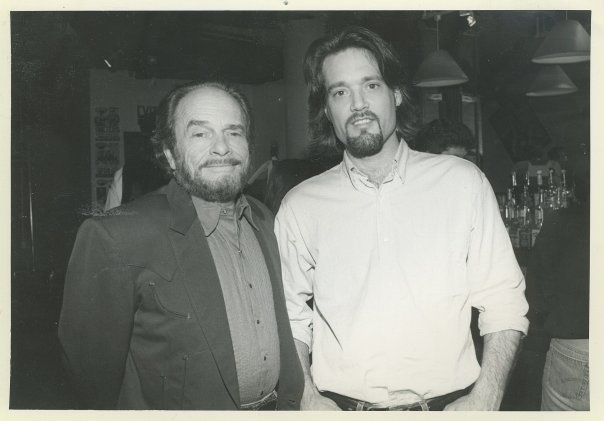 Haggard drew inspiration for his '60s and '70s output from his memories of prison and the wild life he led during his youth. Disc 2, which covers Hag's early-'70s work, is heavy with ballads and blues-based tunes about outlaws ("The Legend of Bonnie and Clyde"), stubborn individualism ("I Take a Lot of Pride in What I Am") and despair ("I Can't Hold Myself in Line"). When he wasn't waxing romantic about the loneliness of a solitary lifestyle or singing songs for the working stiff, Haggard was dissecting family dynamics and relationships gone bad. Disc 3 takes the singer into the mid-'70s and finds him at his best on the more hard-core country arrangements such as "The Farmer's Daughter" and "Things Aren't Funny Anymore."
By 1977, Haggard had jumped labels and skidded into a slump. He was in cruise control on the music he recorded for MCA and Epic in the late '70s and the '80s; fortunately, the material chosen for Disc 4 from that period generally reflects his better impulses. "If We're Not Back in Love by Monday" finds Haggard trying to save a failing marriage, while "My Own Kind of Hat" and "I Think I'll Just Stay Here and Drink" have him doing respectable versions of David Allan Coe and Hank Williams Jr. doing respectable versions of Merle Haggard. Without the assistance of either of his longtime producers, Ken Nelson or Fuzzy Owen, Hag seems directionless for the first time in his career. His live performances, on the other hand, have always been his saving grace. The title cut from 1981's Rainbow Stew/Live at Anaheim Stadium reveals just how wonderfully Hag and his band, the Strangers, could lock into a swinging country groove.
There are a few weak selections on Down Every Road, but even at his fluffiest, Haggard pulls off his songs with a gut honesty and an irresistible sense of style.
Watch Merle Haggard perform on Austin City Limits in 1978: