While writing my book Dixie Lullaby: A Story of Music, Race, and New Beginnings in a New South, which came out in 2004, I pulled Gregg Allman aside backstage at the previous year's Bonnaroo festival in Tennessee. "I'm doing a book on the music of the South, and I'd really like to sit down and talk with you," I told him. "Sounds good," he said before his manager unceremoniously yanked him away and told me that I'd never be able to talk to the singer. He didn't want Allman to be involved in a book that, according to the manager, focused on the past. That was OK with me. While I would have loved to talk to Allman for the book, I'd already done extensive interviews with several of his musical cohorts, from Paul Hornsby of the early Allman Joys to Warren Haynes of a later version of the Allman Brothers Band. It was Allman and his manager's loss: In my book, I hailed the band — both past and present — as one of America's greatest rock acts. Exactly a decade later, I finally got my wish to interview Allman: In 2014, he was happy to speak with me for Acoustic Guitar magazine after it was announced that the ABB would be packing it in for good. Three years later, Allman would be dead from complications of liver cancer. All those years on the road had finally caught up with him.
The singer talks about what kept the Allman Brothers Band going through the darkness as well as the light
By Mark Kemp, Acoustic Guitar, December, 2014
The name Allman Brothers Band conjures specific thoughts and images: Long hair; extended, improvisational, blues-based jams; the South; struggle and endurance; and most of all, more than four decades of great music.
Over the past 45 years, no rock band has made a bigger impact on how music fans and players experience all the different strains of American song. Early on, the Allmans broke down musical barriers, merging the blues, jazz, folk, country, Latin styles, and more into a tasty Southern gumbo that appealed to multiple generations. The Allmans also broke through social barriers, being a mixed-race ensemble from the South at a time when that was at best taboo; at worst, it was forbidden.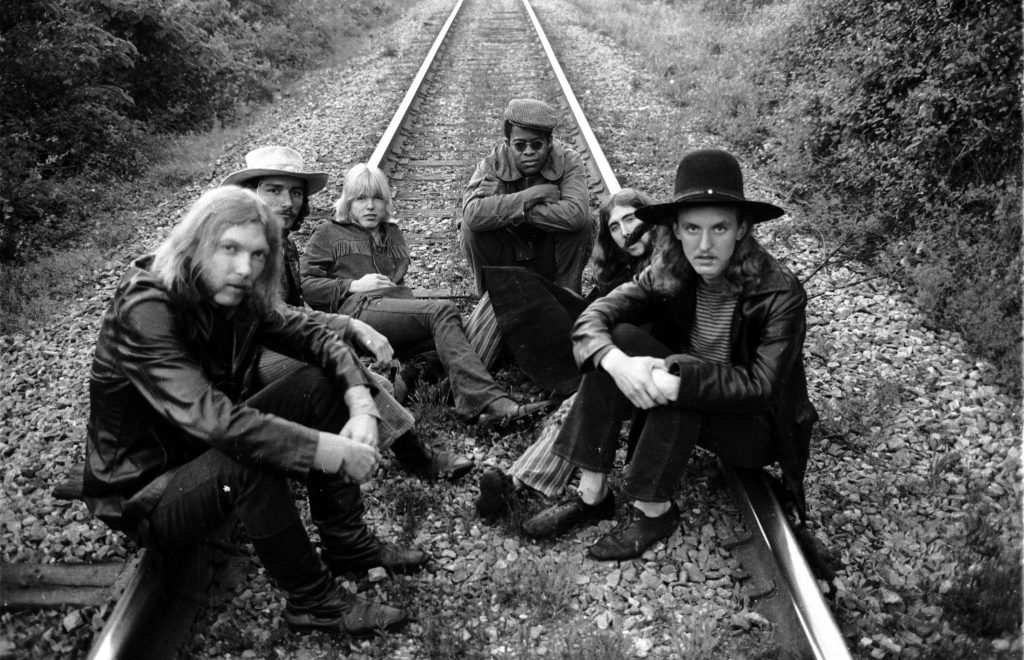 The Allmans broke endurance barriers, too, weathering heavy, heavy periods of darkness — the death of their pioneering lead guitarist, Duane Allman, shortly into the band's career; the death of their founding bass player, Berry Oakley, only a year later; band turmoil over drug use, drug busts, and disloyalty. And yet, through it all, the Brothers soldiered on, licked their wounds, made amends, offered forgiveness, fell out again, brought new ace musicians into the fold — and remained the Allman Brothers Band, with an unmistakable style of live improvisation that kept a steady following of rabid fans flocking to shows, year after year.
Along the way, the Allmans contributed such acoustic-guitar standards as "Melissa," "Midnight Rider," "Little Martha," and "Pony Boy."
Now, the Allman Brothers are at the end of a road that was supposed to go on forever. The group played its final performances in October at the Beacon Theatre in New York City. Acoustic Guitar's editor had a recent opportunity to ask singer, keyboardist, and founding member Gregg Allman about the band's legacy, endurance, and, of course, what his favorite acoustic ABB songs are.
Acoustic Guitar: When all is said and done, you and your brother, Duane, formed a basic blues-based rock group that carried a great American tradition forward. What was it about the Allman Brothers Band's sound that proved to be so magical and so popular among so many fans and multiple generations?
Gregg Allman: When we started out, there just wasn't another band like us. Think about it, man; we had two drummers, two guitar players who played these dual harmony lines, a bassist who played like a third guitarist, and a lead singer hidden behind a 450-pound Hammond B-3. Then you got the fact that we were a bunch of long-haired hippies with a Black guy, to boot — living in Macon, Georgia, and playing all across the Deep South.
Man, I look back at that now, and it's really amazing what we did. We overcame so much, and we did it by playing our music, our way. We'd play anywhere for anyone, man. We won over fans one gig at a time. You should look at our old routings — we'd jump all over the damn map to play. You got to understand that we were on the road for over 300 days in 1970; it was insane, but my brother had a vision, and we all shared in it. We were trailblazers, we were musical explorers —when we stepped on a stage, we played as one.
AG: When Duane called you home from Los Angeles to join this new band he'd put together, what were your feelings about leaving LA and returning to the South to make music? Did you think it would work? Did you worry you might be putting a successful solo career in jeopardy?
GA: Well, I was always the doubting Thomas of the band. In the beginning, I just didn't see how we could possibly make it work. I just wanted to go back to school and become a dental surgeon, but my brother made me believe through the sheer force of his will, and so I stuck it out. I don't think I was actually convinced the band was going to make it until [the live] At Fillmore East came out, but that album would make a believer out of anyone, man! Fillmore East is the best thing we ever did.
AG: Since this interview is for a magazine devoted to the acoustic guitar, can you tell me what your favorite acoustic-based Allman Brothers song is — the one that will continue to be played by followers of the Allmans many years from now?
GA: You know what? I've got to give you two, man. I'm going with "Melissa," because it was the first song I wrote that was actually worth keeping. I wrote it in 1967 on my brother's acoustic guitar, which was tuned to open E. I didn't know about open tuning. All I knew was that when I strummed that Gibson, all these beautiful chords came tumbling out. My brother loved that song, and through him, I learned about open tuning.
"Midnight Rider" would be the other one. It's the song I'm most proud of, I believe. I wrote that one in open G, and I love both versions of the song — the original one I wrote for the Allman Brothers, and the more haunting one that I changed up for Laid Back, my first solo album.
AG: Who do you think Is the most important acoustic-blues guitarist of all time, and why do you think this?
GA: Robert Johnson, man. It pretty much begins and ends right there. Without him, you don't have anybody else.
AG: The ABB lasted a long, long time. What was the secret to your band's longevity, even through some very, very tough times — situations other bands couldn't imagine — and what can younger bands learn from your resolve to keep going and keep playing?
GA: Our secret isn't really that secret: You have to persevere, no matter what happens. The most important thing we did — and it's something that I'm very proud of — is we kept the high standards my brother set all those years ago. If you look at the quality of players we've had in this band, I think Duane would have approved.
AG: What are your plans now? Will you continue writing, recording, and performing?
GA: Music is my life's blood, man. I tell people that all the time. I plan on playing until I can't play anymore. They're gonna have to pull me off the stage.
———————————————————————
Watch Gregg Allman and drummers Butch Trucks and Jai Johanny Johanson (aka Jaimoe) deliver their farewell words — and one last song — at the end of the Allman Brothers Band's final performance at the Beacon Theatre in New York City.