A highlight of my career as a music journalist was not only being asked to write liner notes for a box set of music by my all-time favorite singer and songwriter, Phil Ochs — but also receiving a Grammy nomination for my work. The 3-disc anthology Farewells & Fantasies was issued by Rhino Records in 1997; it was a pet project of beloved Rhino executive Gary Stewart. I already knew and admired Gary, and during the course of this project, I got to know Ochs' daughter, Meegan, and his brother, Michael. I had the opportunity to comb the archives of Ochs' recordings and writings, and to re-read the books that others had written about him. It was truly a dream come true. The cherry on top came when the National Academy of Recording Arts and Sciences honored not just me, but also my fellow contributors Meegan, Michael Ventura, and Ben Edmonds at the 40th Annual Grammy Awards. That honor, though, really belongs to Phil Ochs.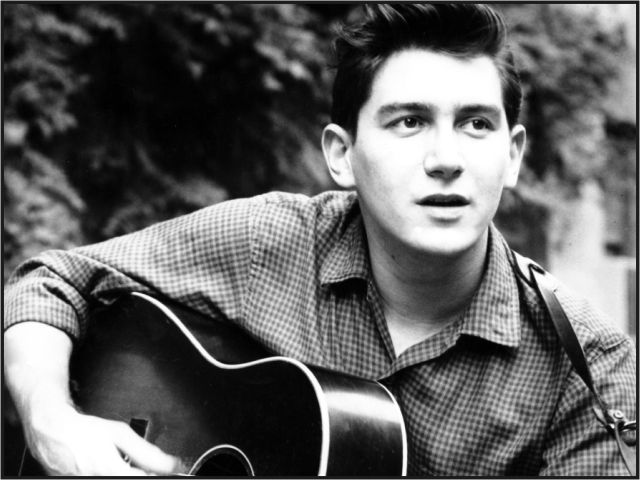 The Life and Times of Phil Ochs
By Mark Kemp
"With every strength remaining
I will suffer one more scene.
I'll gather all my dreams
And with my final breath,
I'll lay them at your feet.
Yes, I'll be back again, no matter where I go,
For it's only love that frees the fire for burning.
Then I'll take you in my arms
And tell you all I know
As I sing the final song of my returning."
— Phil Ochs, "Song Of My Returning"
1.
Phil Ochs' suicide was my introduction to protest music. Growing up in a small Southern mill town in the 1960s, I spent much of my early childhood watching the Vietnam War and civil rights struggles being played out each night on the evening news. Television was my window to the world; its flickering, black-and-white footage of angry, fist-shaking students and African Americans juxtaposed against grim-faced authority figures was the most vivid picture I had of what went on outside my tiny, conservative blot on the map. It wasn't until midway into the '70s, during my teenage years, that I was able to put those images into some kind of meaningful, emotional perspective. I was flipping through a book of protest songs in my high school library and turned to Ochs' "Draft Dodger Rag." It was a humorous little antiwar ditty that I may well have forgotten had I not been back in the same library about a year later, reading the May 20, 1976, issue of Rolling Stone, and stumbled on the headline: "Phil Ochs, Troubadour, Dead: 'He Was a Child of the '60s.'"
Ochs had taken his life on April 9, the day before my 16th birthday. The romantic in me saw a kind of magical symmetry in the coincidence; I felt connected, in some spiritual way, to this obscure, tragic soul who had spent his life fighting the good fight. Having already been captivated by other "'60s children," such as Bob Dylan, The Rolling Stones, and Jefferson Airplane, I became obsessed with finding out more about Phil Ochs. Unfortunately, the only record shop in my hometown didn't carry any of his albums, and it would be yet another year before I would actually hear a note of his music. I remember the day well: I had gone to visit a friend who had been off to college, and I spotted a copy of the posthumous Ochs collection Chords Of Fame leaning against the stereo. Thrilled, I snatched up the record and asked my friend to play me something from it. He chose the melancholy "Changes," and from that point on, I was hooked.
It's hard for me to express just how much of an impact Ochs' music has made on my life in the ensuing years. His words have moved me, stimulated me to explore the art of songwriting more seriously than I probably ever would have, and raised my awareness of political issues in ways that have directly influenced the choices I've made. In the years since I first heard "Changes," I've collected every Ochs-related record I could get my hands on, beginning with the eight albums he released from 1964 to 1974: two classic recordings of simple, straightforward acoustic protest songs for Elektra Records (All The News That's Fit To Sing and I Ain't Marching Anymore); two live collections (the stirring Phil Ochs In Concert, on Elektra, and the hostile Gunfight At Carnegie Hall, originally released in Canada only on A&M); and four adventurous, hit-and-miss albums of experimental folk and avant-pop for A&M in the U.S. (Pleasures Of The Harbor, Tape From California, Rehearsals For Retirement, and the ironically titled Greatest Hits).
When I became politically active in college in the late '70s, Ochs' albums were my soundtrack. I identified with the righteousness of his messages, as well as the personal pain and inner conflict he dealt with in his songs. But it was a loner's preoccupation. My political allies gravitated to the contemporary music of singer/songwriters like Bruce Cockburn, while my rock 'n' roll friends had discovered the raw fury of punk. I couldn't convince either group that both Cockburn and The Clash owed big debts to Phil Ochs. They didn't know who Phil Ochs was.
Unlike Dylan, Ochs never cracked Billboard's Top 100; most of his records failed to chart at all. Phil Ochs In Concert, released in 1966, was Ochs' first album to make the charts, partly due to its inclusion of his sympathetic song "There But For Fortune," which had been a Top 50 hit for Joan Baez the previous year. Ochs' most successful studio album was Pleasures of the Harbor, which peaked at #168 in 1967 on the strength of the single "Outside of a Small Circle Of Friends." That song had generated controversy for the singer when it was banned by some radio stations for its mocking line, "Smoking marijuana is more fun than drinking beer." A&M subsequently issued an edited version of "Outside," with certain words in the disputable verse bleeped out, and the single made it to #118.
But chart numbers hardly tell the Phil Ochs story. In the 12 years of his recording career, Ochs positively changed the image of the topical songwriter. In a musical genre in which artists are often taken to task for coming off as too earnest, too preachy, or too detached from their subject matter, Ochs wrote movingly about real people and events, observing one of the most important rules of writing: He showed more than he told. Rather than simply cramming platitudes down the throats of his listeners, he packed his lyrics with richly detailed images and anecdotes that revealed why we should care about the topics of his songs. Ochs had addressed the criticisms leveled against topical songwriting in the liner notes to his second album, I Ain't Marching Anymore, remarking, "I realize that I can't feel any nobility for what I write because I know my life could never be as moral as my songs."
Like so many young people who came of age in the '60s, Ochs believed that while America embodied the ideals of freedom and compassion, darker forces were at work challenging those concepts. The fantasy world of the '50s was dead; people who were not even of voting age were being forced to fight an unpopular war in Southeast Asia; racism was tearing apart the South. The new radical elite, among whose ranks Ochs was a begrudging member, wanted nothing less than to usher in a fresh political idealism.
Ochs' moral standards may have been impossibly high and improbably naive, and when all was said and done, the political effects of his generation were certainly less tangible than people had hoped. But as an individual, Ochs' impact on music and activism has been far greater than he would have ever dreamed. It's hard to imagine what would have become of the art of topical songwriting without him. Although he spent virtually his entire career in the shadows of the more celebrated Dylan, it is Ochs' music that lives on today in the biting commentary of contemporary artists, from the post-punk folk of Billy Bragg to the apocalyptic hip-hop of Public Enemy to the didactic rap-metal of Rage Against The Machine.
Ochs' professional career can be broken down into two distinct periods: the vigorously political years, represented by his Elektra output, and the highly personal, artistic years, heard on his A&M releases. The first period introduces a singer full of hope and faith, in love with his country, but disappointed in the direction it had taken, and committed to the possibility of change. In his early songs Ochs shot his lyrics straight from the hip. His jaunty, celebratory march tune "Power And The Glory" shows a young man blown away by all aspects of the American landscape, echoing the sentiments of "This Land Is Your Land" (which had been written by one of Ochs' biggest influences, Woody Guthrie, during another difficult time in American history, the Great Depression). There were also Ochs' ballads, like "Lou Marsh" and "In The Heat Of The Summer," in which he brought to life newspaper headlines about issues such as inner-city violence. His lyrics during the Elektra years ran the gamut from sketches about frightened soldiers ("The Men Behind The Guns") and the plight of undocumented immigrants ("Bracero") to portraits of such well-known leaders as John F. Kennedy ("That Was The President"). The songs were loaded with drama and solicitude, and Ochs used odd rhyming and ringing alliteration to poetically hammer his stories home. There's no way you can listen to songs such as "The Bells" (Ochs' reworking of an Edgar Allan Poe poem) or the freedom march "What's That I Hear" without humming and singing them long after the final ring of acoustic guitar has faded away.
The second period of Ochs' career finds the singer recoiling into his own thoughts and feelings, beaten down by powers far greater than himself and left bitter, cynical, paranoid, deeply disappointed, and very alone. Two transitional pieces for Ochs were the poignant personal meditations "Changes," a heartbreaking song that chronicled a love affair turned sour, and "When I'm Gone," a melancholy tune that listed the things Ochs wouldn't have to concern himself with after his death. In his later years Ochs often reflected on his childhood ("Boy In Ohio") or on the lives of his earliest obsessions, such as the actor James Dean ("Jim Dean Of Indiana"). His music took on an uncomfortable, Doll's House-like quality, the sound of a lonely, self-absorbed artist losing all contact with life outside of his own self-imposed bubble.
The turning point for Ochs had come during the 1968 Democratic National Convention in Chicago, where angry students and other antiwar activists were literally beaten down by authorities during demonstrations against the conflict in Vietnam. Ochs was severely affected by the police brutality in Chicago and by the defeat of the New Left in general. Afterward he told a reporter, "In my new album, I'm going to make the next step, which will be a comment on the spiritual decline of America." That album would be the chillingly prophetic Rehearsals For Retirement, the cover of which featured a tombstone with a picture of Ochs on it, a gun to his shoulder, an American flag in the background, and the words:
Phil Ochs
(American)
Born: El Paso, Texas 1940
Died: Chicago, Illinois 1968
Ochs had lost all hope for the future of his beloved country, and it was on Rehearsals that he shared the gravity of his grief with the rest of us. Rich in poetic imagery, the songs are as emotionally charged, wrenchingly confessional, and as excruciatingly painful as John Lennon's on Plastic Ono Band or Kurt Cobain's on Nirvana's swan song, MTV Unplugged In New York. Like Cobain, Ochs had reached a point where he had simply lost all inspiration.
"The days grow longer, for smaller prizes/I feel a stranger to all surprises" he sings in the album's haunting title track. "The lights are cold again, they dance below me/I turn to old friends, they do not know me." In the song's refrain, Ochs offers a powerful fragment of a thought: "Had I known the end would end in laughter/I'd tell my daughter it doesn't matter." By the time of his death, Ochs had run out of things to write about, something he had eerily predicted in "No More Songs, " the last track of his final studio album, Greatest Hits, in 1970.
Ochs spent his final autumn in an alcoholic fog, wandering about New York City in a near-homeless state. He had changed his identity, resigned to his belief that the moral, compassionate Phil Ochs of his youth had died along with his ideals. In "Crucifixion," the greatest song of his career, Ochs had envisioned an epic, cyclical account of martyrdom: "Now who would want to hurt such a hero of the game?" he wrote. "But you know, I predicted it, I knew he had to fall/How did it happen? I hope his suffering was small/Tell me every detail, for I've got to know it all/And do you have a picture of the pain?" Although the song was inspired by the assassination of John F. Kennedy, it is impossible to listen to "Crucifixion" today without thinking that it is also very much about Phil Ochs.
2.
The emotional mood swings that drove both the dizzying peaks of Ochs' creativity as well as the bottomless pits of his despair were handed down to him by his father, Jacob "Jack" Ochs. Born on August 9, 1910, in Harlem, New York, Jack was the son of Russian-Polish immigrants who worked their way up the American economic ladder with a neighborhood grocery store and a bungalow-building business atter moving to the Far Rockaway section of Queens. Jack was very different from his two older brothers. A dreamer, he followed his sister into higher education and became the first Ochs boy to earn a college diploma. When he completed his premed studies at the University of Virginia, Jack went on to earn his medical degree from Edinburgh University in Scotland. There, he met Gertrude Phin, the daughter of a wealthy Scottish tobacco-shop owner. The couple married in 1936 and had a daughter, Sonia, the following year. After completing his internship in York, England, Jack moved his new family back to New York, where he began working at a Manhattan hospital.
From the beginning, life in America was hard for the Ochses. For one thing, Gertrude, a strong-willed woman, had expected a leisurely existence. But with World War Il gearing up, Jack was called into the Army, where he served as a medic and was forced to shuttle his family from one military base to the next. Gertrude hated the military lifestyle and made her resentment toward Jack clear by criticizing his often erratic behavior. By the time the couple's first son, Philip David, was born on December 19, 1940, the Ochses had been transferred to Columbus, New Mexico. But because the town didn't have the quality of medical care Gertrude was accustomed to, she packed her bags just prior to the baby's birth and left, without Jack, for the nearest city that did: El Paso, Texas.
For the first few years of Philip Ochs' life, he and his two siblings — Sonia and new brother Michael, born in 1943 — lived in several areas of the American Southwest. When the war escalated, Jack was shipped off to Europe to join his fellow soldiers. Before his departure, he moved Gertrude and the children back East to live with his parents. During basic training in England, Jack — who was also fondly known as Charlie, for "Goodtime Charlie" — began to act more erratically than ever, spending his money drinking and carousing with his mates. But there was a flip side to his manic behavior: Jack was left deeply depressed by the pain and suffering he saw while practicing medicine on wounded soldiers, and, in late 1945, he was given an honorable medical discharge and sent back home. Within months of his return, he was diagnosed with manic depression and shipped away for a two-year stint at a Long Island hospital for psychiatric treatment.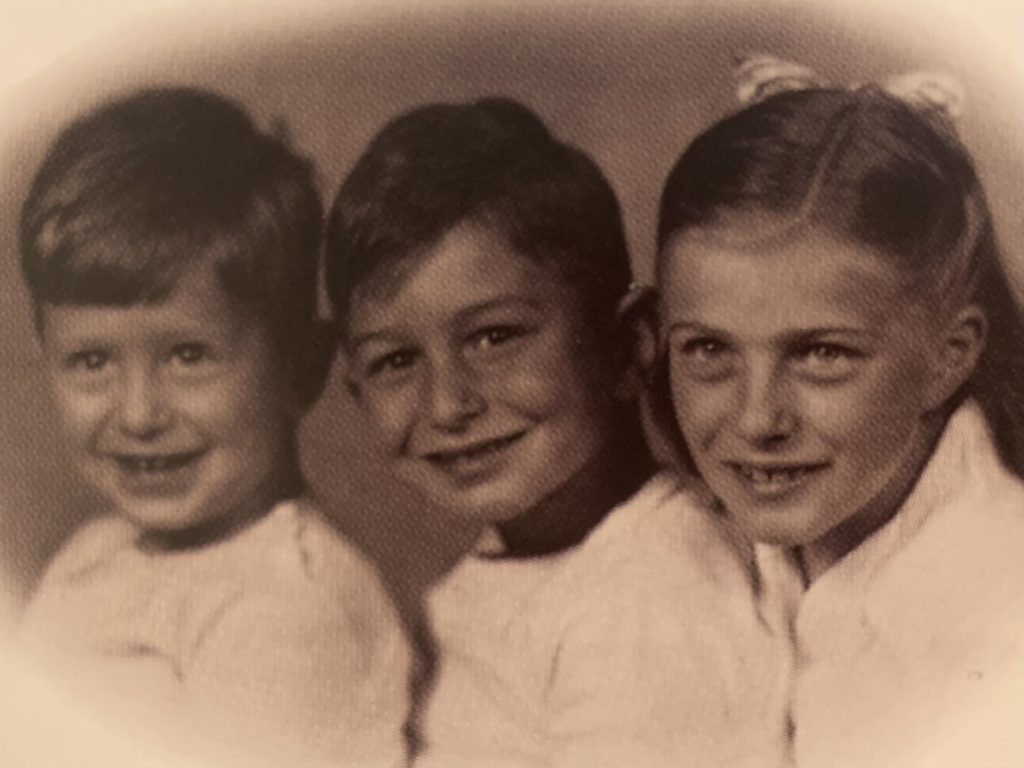 Jack's absence had perhaps the most profound effect on Philip, who began to withdraw and spent much of his time alone. At school he was clumsy and inattentive; he would daydream and often lose his glasses. Outside of school, things were different. Philip became a voracious movie buff, spending hours at local theaters, living in his favorite films like King Kong, Frankenstein, The Count of Monte Cristo, and anything starring John Wayne or Audie Murphy. At home he read movie magazines and collected movie star photos, posters, and postcards. His obsession with motion pictures and celebrity never waned: Even as an adult, Ochs would spend much of his time at the movies, and many of his post-protest songs — "When In Rome,' "The Party," and "Ringing Of Revolution" — had film-like narratives. He would also see the events of his own life as though they were part of a great epic picture.
When Jack was released from the hospital, he started a private medical practice in Far Rockaway. But by 1950 the practice had failed and the Ochses soon moved to the small upstate New York town of Perrysburg, where Jack landed a job at a TB clinic. Philip attended school in nearby Gowanda, where he began playing clarinet, an instrument with which he became extremely proficient. Three years later the family moved again, this time to Columbus, Ohio, where Jack had found work at yet another TB clinic.
In Ohio, the 14-year-old Philip started to open up. He liked the rural environment of his new home, and though still a loner, he cultivated his first real friendship. His schoolmate Dave Sweazy shared Philip's interest in the movies, and the two spent their days together going to the theater or just hanging out and talking. As much as Philip liked Columbus, however, Gertrude hated the town and the people who lived there; moreover, she felt Sweazy was too uncultured for Philip. After the two friends were discovered playing with a gun, Gertrude decided that Philip should be shipped off to Columbus Academy, where he would find better friends and a higher quality education. Philip suggested instead that he go to the Staunton Military Academy in the mountains of Virginia, an institution he'd read about in The New York Times Magazine. He'd romanticized the idea of the masculine American man, as portrayed on-screen by John Wayne, Marlon Brando, and James Dean, and he felt Staunton might turn him into such a beacon of manliness. Years later, on Rehearsals For Retirement, Ochs would scoff at his earlier notion of masculinity in the sarcastic, Cartesian line, "I am the masculine American man/I kill therefore I am."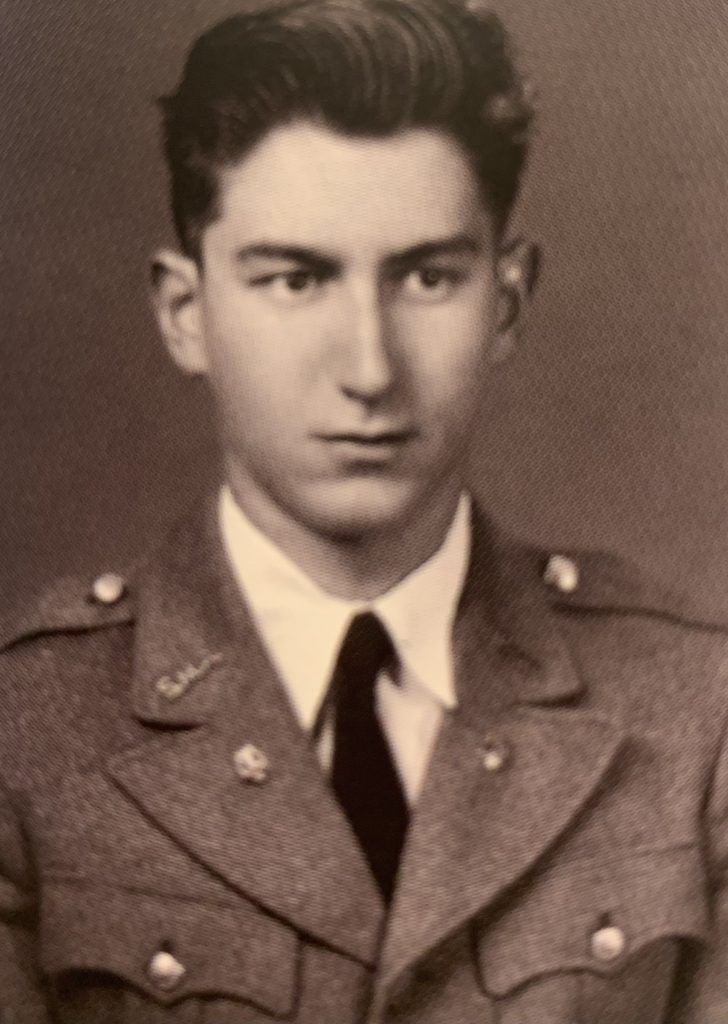 In 1956, Philip packed his bags and left for military school, where he shortened his name to Phil and began a program of strict schedules and drills. At Staunton, the gawky 16-year-old began lifting weights, a physical activity he could pursue on his own. He also took an interest in writing, winning second place in a short story contest with a David and Goliath-style morality piece. Though Phil joined the school's marching band, he soon tired of playing the clarinet. He'd cultivated a new love — country music. Phil had discovered a local radio station that played songs by Ernest Tubb, Webb Pierce, Lefty Frizzell, and Faron Young (who would have a profound influence on Ochs singing voice). He liked the way Hank Williams moaned the blues and the way Johnny Cash could spin a story. Phil also listened to the emerging sound of rock 'n' roll: Buddy Holly, The Everly Brothers, and, most of all, Elvis Presley, the kid from Mississippi who blended country music's edge with the heart and soul of rhythm & blues. Country and rock 'n' roll would now compete with the movies as Phil's new obsession.
After two years at Staunton, Phil was ready for college. His weight-lifting had improved his body, he'd replaced his glasses with contact lenses, and he was now slicking his hair back in the style of his heroes Elvis and James Dean. Still, Phil was not completely satisfied with his looks. His nose, he felt, was too big. With some urging from himself and his sister, Sonia (who now called herself Sonny), Gertrude allowed Phil to get a nose job.
By the time he entered Ohio State University, in 1958, Phil Ochs was feeling like a million bucks. But he had no idea what he wanted to study; after all, there was no college major that would prepare him for pop stardom. So after only a semester of general education courses, he dropped out of school to try to succeed in the "real world" as a professional musician.
Without his mother's blessings, Phil boarded a bus for Miami. where he was promptly picked up by the police for sleeping in a park. Phil, who romanticized every event in his life, saw his two-week jail sentence as a growing experience that would prove more valuable to his development than anything he could learn in school. (Years later, when Phil was participating in antiwar activities, the FBI would use his Florida arrest as evidence that the singer was a threat to society.) In the book In Their On Words by Bruce Pollock, Phil recalled what he was thinking about while sitting in jail: "Somewhere during the course of those 15 days I decided to become a writer. My primary thought was journalism…so in a flash I decided — I'll be a writer and I'll major in journalism."
When he was released, Phil headed back to Ohio State. The year was 1959, and the Beat Generation had begun to make a big impact on college campuses. Every counterculture-leaning student with a turtleneck and beret was reading Jack Kerouac and Allen Ginsberg, and Phil, who was still fairly clean-cut and conservative, was about to take the plunge. During his first semester back, he found a roommate who was sympathetic to his music obsessions. The tall, good-looking Jim Glover played acoustic guitar and turned Phil on to the folk songs of Woody Guthrie, Pete Seeger, and the Weavers. Like Phil, Glover was attracted to the stories that songwriters would tell in their music, but Glover leaned more toward political messages than to songs of love and heartbreak. Phil had already developed an interest in politics after becoming fired up by the McCarthy hearings and being wooed by Fidel Castro's revolution in Cuba. He and Jim began having dialogues into the wee hours of morning about issues that Phil had never been able to discuss at home, where talk of politics, like talk of most anything else, had not been encouraged.
On campus Phil became more outgoing. He helped organize campus protests against the student government and the school's mandatory ROTC training, and he wrote articles for the student newspaper, The Lantern. The editors loved Phil's energy. In addition to writing about the political issues that he and Jim had been debating, Phil would pump out reviews of concerts and plays at a manic pace not unlike that of his father's. His flowing, conversational style of writing appealed to student readers. But like his father, Phil's highs were tempered by deep, self-destructive lows. He would fly off the handle when editors criticized his work, and ultimately, he became so angry when asked to tone down his commentary that he started his own underground publication, The Word.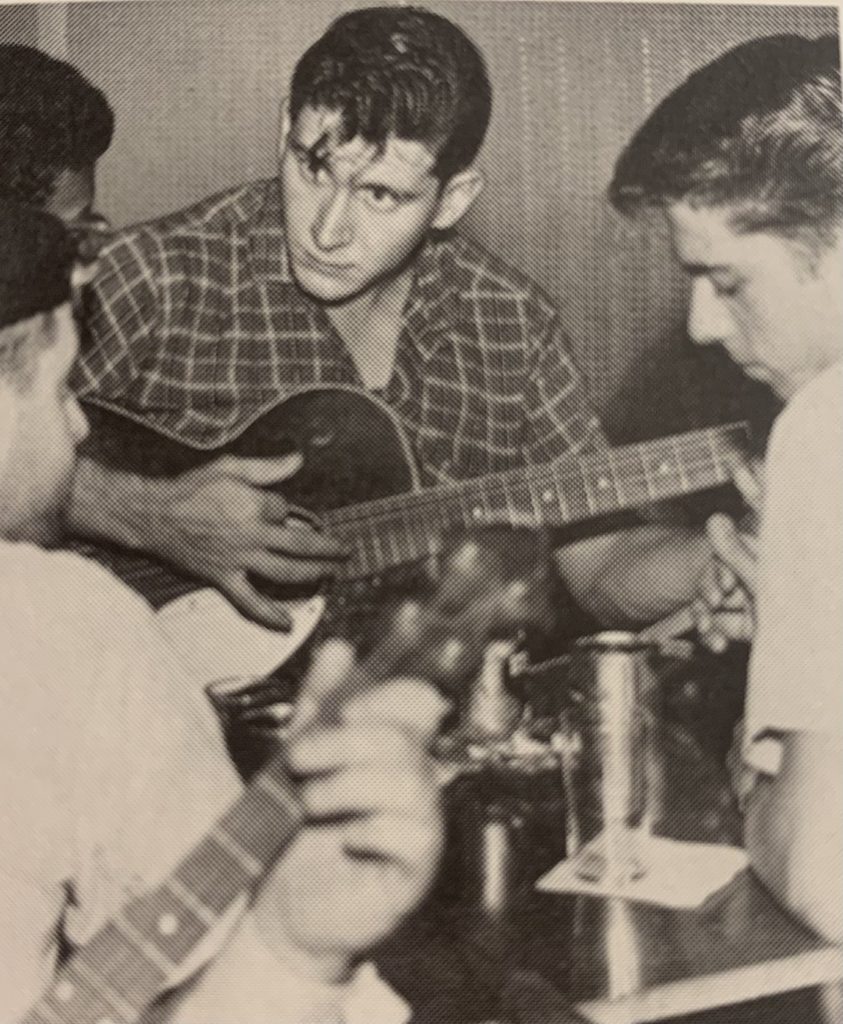 By 1960, Phil had become transfixed by the fresh political ideas of a young senator from Massachusetts, John F. Kennedy, who was running on the Democratic ticket for President. Phil made a wager with Jim (who didn't think Kennedy stood a chance in the upcoming election against Vice President Richard Nixon) that if Kennedy won, Jim would give Phil his guitar; if the Massachusetts senator lost, Phil would owe Jim 50 bucks. Phil not only got the guitar, but he talked Jim into teaching him how to play it.
In a brief time, Phil was writing songs based on the issues he'd been discussing with Jim and covering in the newspaper. He'd also comb the larger papers for song ideas. With Phil on guitar and Jim on banjo, the two formed the Singing Socialists and began hanging out at the Columbus folk clubs Larry's and the Sacred Mushroom. The two eventually changed the name of their duo to the less controversial Sundowners and got a headlining gigata popular Cleveland coffechouse, La Cave. Just before their La Cave debut, however, Phil dropped in for rehearsal and found that Jim had not practiced one of the duo's new songs. Phil flew into a rage and announced that the Sundowners were finished.
With just his guitar and songbook, Phil began performing on his own at clubs like Faragher's and sometimes opened for national acts such as The Smothers Brothers, Judy Henske, or the Greenbriar Boys. One name artist who took a particular interest in Phil's music was Bob Gibson, whose career had come under fire because of the political content of his songs. Gibson provided music for some of Phil's lyrics, and one of their collaborations, "One More Parade." would eventually wind up on Phil's first Elektra album, All The News That's Fit To Sing.
As a musician, Phil had amassed a strong following on campus and at local clubs. But school was another matter. When he was passed over as editor of The Lantern, he decided it was time for a change. His old friend Jim — with whom Phil had made up and even performed a Sundowners reunion show — was now living in New York City, where the folk music renaissance was in full bloom. With only a couple of months to go before graduation, Phil decided that he would move to New York. Gertrude was furious. Why not graduate first? He was making a big mistake, she told him. But Phil paid his mother no mind. With total confidence in his ability to become a star, he bought a one-way ticket to the Big Apple.
3.
Phil Ochs arrived in New York City in 1962 to find the corner of Bleecker and MacDougal streets — a hot spot nestled in the heart of Greenwich Village two blocks south of Washington Square Park — positively buzzing with activity. It was a transitional time in American popular culture. The music world was about to shift from the '50s sound of Elvis to the British Invasion of rock bands led by The Beatles. Moreover, with U.S. intervention in Vietnam's civil war on the rise, college students and other young people had begun to seriously question their leaders' decisions. Partly due to its proximity to New York University, Greenwich Village became the epicenter of a burgeoning youth revolution. In growing numbers, people were picking up acoustic guitars and addressing their grievances in song. Every night at Village coffeehouses and clubs like Folk City, The Bitter End, and The Gaslight, singers lined up for slots on hootenanny shows. To Phil Ochs, this was paradise.
Phil moved in with Glover and his new girlfriend, Jean Ray, who had formed a folk duo and were performing together at local clubs. Jean felt that Phil didn't respect the couple's privacy. What's more, he was a total slob. She liked Phil, but she wanted him out of the house. So she introduced him to one of her friends, 18-year-old Alice Skinner, from a wealthy Philadelphia family. After a brief courtship, Phil moved into Alice's apartment on Thompson Street in the heart of Greenwich Village.
During his first year in New York, Phil became a fixture on the Greenwich Village scene, trotting from club to club, catching every show he could make, and playing pass-the-hat gigs of his own. Within a short time he was a regular performer at The Third Side and also landed slots at Folk City's popular weekly hootenannies. He gained a solid following in New York, which, like his Ohio State crowd, was sympathetic to his dry wit, intelligence, and deeply patriotic yet probing lyrics. "He would dig into his jacket pocket and bring out scraps of paper on which he had scribbled new songs on the subway ride up to our place," his friend Gordon Friesen told Michael Schumacher in his 1996 biography, There But For Fortune: The Life Of Phil Ochs. Friesen and his wife, Sis Cunningham, ran the topical songwriting publication Broadside out of their home. "When I asked him where he got the ideas for his lyrics," said Friesen, "he would respond, 'From Newsweek, of course'…. I asked where he got his tunes and he would reply, half-laughing, 'From Mozart.'"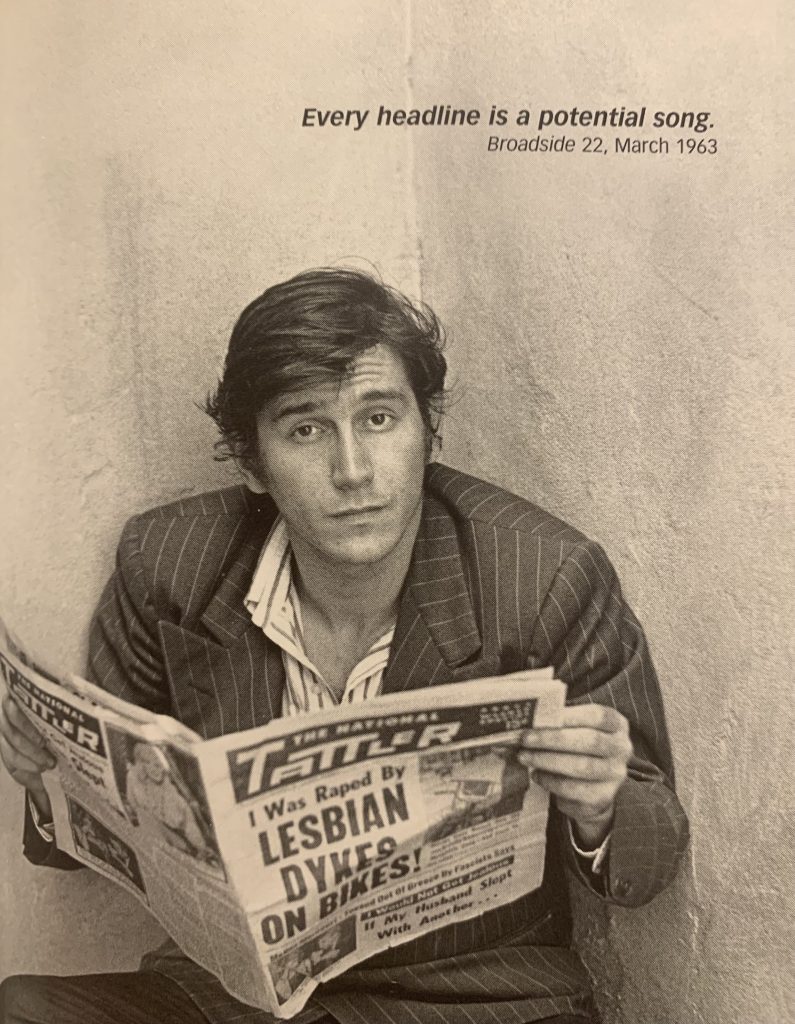 Phil may have been on a creative high, but he wasn't earning much money. At home, Alice, who was working as a waitress, paid the bills and made the rent. In April 1963, Alice discovered she was pregnant, and after some consideration, the couple decided to marry in a brief ceremony at New York's City Hall. Meanwhile, Phil had written a stirring new song, "Power And The Glory," named for a Graham Greene novel and inspired by the folk movement's patron saint, Woody Guthrie. Guthrie was in the hospital dying of Huntington's chorea. After paying a visit to the ailing songwriter, Ochs wrote a moving tribute to the Dust Bowl balladeer called "Bound For Glory."
By May, the folk boom had gone national. Dylan's second album, The Freewheelin Bob Dylan, was released to critical and commercial success, and Peter, Paul & Mary had scored a hit with Dylan's "Blowin' In The Wind." Phil was thrilled with the attention bestowed upon Dylan, whom he had met and befriended while hanging out in the Village.
In July, Dylan, Joan Baez, Pete Seeger, Peter, Paul & Mary, and others were to play at the Newport Folk Festival to some 50,000 people, and Phil was asked to perform at one of the festival's workshops. What should have been a dream come true for the singer became a nightmare. On the way to the Rhode Island event Phil got a headache so severe that he had to be taken to the hospital. Doctors told to him cancel the performance, but Phil refused. Hardly in top form, he still managed to pull off an admirable set, playing new songs including "Too Many Martyrs," a civil rights anthem inspired by the murder of activist Medgar Evers, and "Talking Birmingham Jam." When he trotted out "Power And The Glory," the crowd jumped to their feet and shouted for more.
After Newport '63, record companies flocked to the Village, scouring the folk scene for the "next Dylan." Magazines and newspapers began writing articles on the folk explosion, and television got in on the action as well. Ed Sullivan booked Dylan (who walked off the show when the master of ceremonies asked that he substitute "Talking John Birch Society Blues" with something less controversial) and ABC launched a folk music program called Hootenanny. With folkmania on the rise, Phil decided he needed a manager. First he approached Harold Leventhal, who declined to represent the singer but published some of his songs. Phil eventually signed with Dylan's manager, the powerful Albert Grossman. By late 1963, Phil was being touted as one of the most promising young songwriters to come out of the Village, second only to Dylan.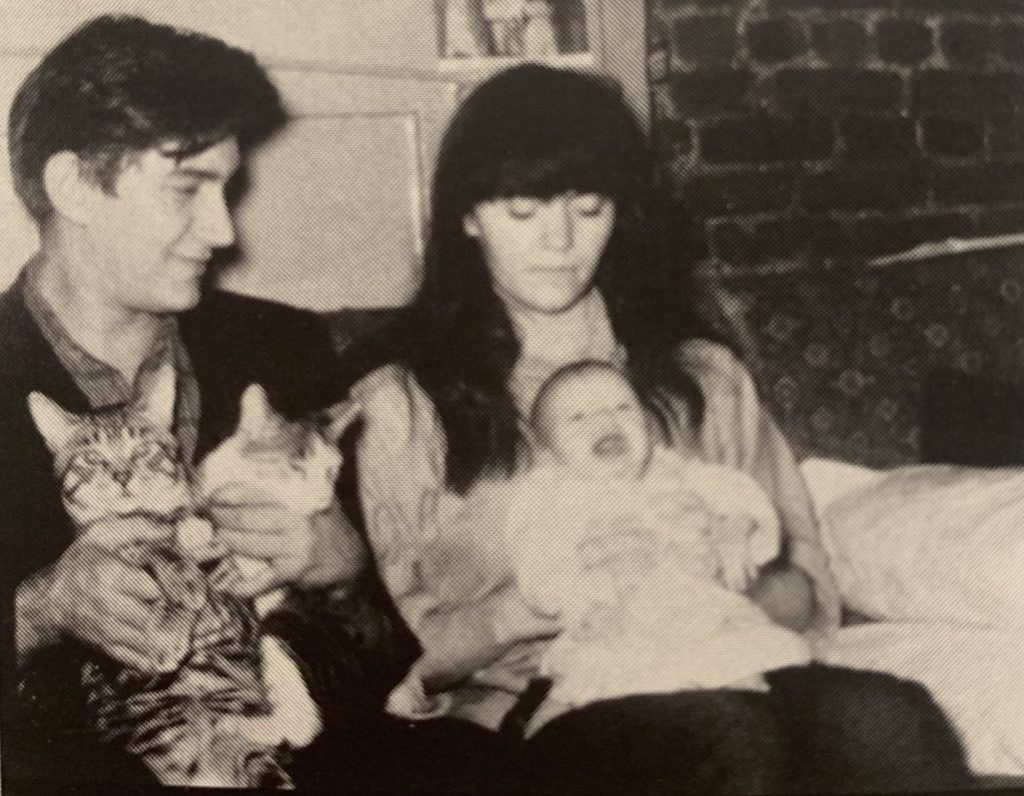 While his career was booming, Phil's personal life was in disarray. Like his father, he had trouble taking responsibility for himself and his family. When Alice went into labor and delivered the couple's daughter, Meegan, on September 4, 1963, Phil was out of town. Then, just two weeks after Megan was born, he was out of town again performing. Meegan's birth created anxiety in Phil's life, and his marriage was hanging by a thread. On November 22, everything crashed down on him when John Kennedy was assassinated in Dallas. Phil, who had sometimes been critical of the President, felt the country's hopes had died that day in Texas. That night he sat at the kitchen table, devastated, in the same spot where he had been inspired to write so many poignant songs.
In December, Phil's eulogy for Kennedy, "That Was The President,' appeared as part of a cover story on the singer in Broadside 36. Around the same time, his song "Ballad Of William Worthy, about a journalist who, after traveling to Cuba, was arrested when he reentered the U.S., appeared on the compilation Broadside Ballads, Vol. 1, alongside tunes by Dylan (appearing for contractual reasons as Blind Boy Grunt) and Pete Seeger. By the year's end, Paul Rothchild, a hotshot A&R man for Elektra Records, showed up during one of Phil's gigs at The Gaslight and shortly thereafter signed Phil to a record deal. By February Ochs was in the studio recording his first album, All The News That's Fit To Sing, with help from future Blues Project guitarist Danny Kalb. Phil. who had enough material for four albums, rushed through some of his best songs — "One More Parade." "Power And The Glory," "The Bells" — and the album came out in early 1964. All The News sold moderately well and got mixed reviews. Naysayers complained of Phil's wavering voice, the lack of poetic imagery in his lyrics, and the fast pace of his songs; other critics, however, liked his voice and praised his direct lyrical style. For Phil, the mixed notices were a good sign — they reminded him of political debate.
The first half of 1964 was a good period for Phil and for the Village folk scene at large. He and his fellow musicians — Tom Paxton, Dave Van Ronk, Eric Andersen, and others — were in great demand, playing SRO shows and doing in-store appearances at university book shops. As popular as Phil had become, however, Dylan was always a step ahead. Still, Phil idolized his rival. Even though he was still deep into his own topical songwriting period, Phil found Dylan's recent nonpolitical lyrical style intriguing. Dylan's responses weren't always so complimentary. In Anthony Scaduto's Dylan: An Intimate Biography, the bard is quoted as telling Ochs: "The stuff you're writing is bullshit, because politics is bullshit. Just look at the world you're writing about and you'll see that you're just wasting your time."
The folk community didn't share Dylan's sentiments. At the 1964 Newport Folk Festival, Dylan returned to find the audience lukewarm to his new, Beat-style writing. Phil, on the other hand, was widely praised for his sprightly performances of "Draft Dodger Rag." "Links On The Chain, "and "What's That I Hear." Paul Wolfe, writing in Broadside, announced that Newport '64 "marked the emergence of Phil Ochs as the most important voice in the movement…" Comparing the two songwriters, Wolfe noted that the difference between Ochs and Dylan represented the differences between "meaning vs. innocuousness, sincerity vs. utter disregard for the tastes of the audience, idealistic principle vs. self-conscious egotism." Ironically, it was Ochs who came to Dylan's defense, chiding Wolfe in a Broadside retort: "To cater to an audience's taste is not to respect them," Phil wrote, "and if the audience doesn't understand that, they don't deserve respect."
Phil remained busy through the end of 1964, performing with a caravan of activist songwriters at civil rights marches down South, writing articles for Broadside, and recording new songs, five of which appeared on a Vanguard compilation titled New Folks. Additionally, he produced, wrote the liner notes, and penned several songs for a vinyl edition of Broadside called The Broadside Singers, which also featured material by artists such as Dylan, Eric Andersen, and Buffy Sainte-Marie. But Phil's biggest project was the recording of his second Elektra album, I Aint Marching Anymore. First, however, he needed new management. Phil felt that Grossman was spending too much time with his bigger clients — Dylan and Peter, Paul & Mary — so he asked Authur Gorson, a political activist friend, to set up a new management company for him. Gorson, who had studied economics in college, established Barricade Music, Inc., in which he and Phil became equal partners.
Phil went into his second album with no illusions of great commercial success, and the performances — of songs like "In The Heat Of The Summer," "That's What I Want To Hear," and "Iron Lady" — came off sounding more relaxed and self-assured than those on his first record. The title tune, "I Ain't Marching Anymore," would become one of Phil's most well-known and best-loved songs, defining who he was, tapping into the mood of the era, and harnessing the anger of an entire generation of draft-age men. "Call it peace or call it treason/Call it love or call it reason," he sang behind a blistering march tune, "but I ain't marching anymore." The album was designed and sequenced much like his debut, but it had wider appeal. The songs on I Ain't Marching Anymore spoke from the heart of the revolution, and they angered some people just as intensely as they rallied others to action: You were either for Phil or you were against him. From this point on, Phil would be a major player in the '60s musical revolution, his activities over the coming decade putting him at the forefront of some of the period's biggest and most important events.
4.
A month before the release of I Ain't Marching Anymore, Phil and Alice separated. Alice had received a considerable inheritance and bought a home for herself and Meegan in Mill Valley, California. Although Phil was unhappy that his daughter would be living so far away from him, he knew that his differences with his wife were irreconcilable. For the first time, he addressed very personal issues in his songs. In "First Snow," he wrote, "Please tell me why I let her go." Later, in "Changes," one of his most moving and poetic pieces, Phil returned to the feelings of loss he experienced by the breakup: "Your tears will be trembling, now we're somewhere else/One last cup of wine we will pour/And I'll kiss you one more time and leave you on the rolling river shores of changes."
Despite the emotional turmoil caused by the separation, Phil entered 1965 with a strong sense of purpose. On the political front, he had struck up friendships with hippie activists Paul Krassner and Jerry Rubin, whom he admired for their irreverent political theater. The two were planning a series of teach-ins in Berkeley, which would include lectures, demonstrations, and music. Krassner felt that Phil would be the ideal performer for the events. He was right. Phil's recent songs, such as the bitingly sarcastic "Love Me, I'm A Liberal" and the stridently direct "I'm Going To Say It Now," went over like gangbusters among student activists. His stage manner had become more relaxed, and he now often made jokes in between songs. At the New York Folk Festival held at Carnegie Hall in June, Phil turned to the audience at one point and quipped, "Now, for a change, here's a protest song."
Phil was writing reams of material and continuing to gain new fans. Yet for whatever reasons, the folk music establishment failed to invite him to perform at the 1965 Newport Folk Festival to be held in July. "I wouldn't presume to guess their motivations," Phil joked to The Village Voice, "but I couldn't help but wonder, perhaps it's my breath?" It was just as well, because Newport '65 turned out to be a phenomenal disaster. Infighting had developed among the artists, managers, and promoters. The most historically momentous incident to take place at the event was the booing that Dylan received when he strapped on an electric guitar and ripped into a fiery new rock song, "Maggie's Farm," from his recent album, Bringing It All Back Home. To the faithful, Dylan's display was tantamount to treason. Old-time folkie Pete Seeger picked up an ax and threatened to hack the power cords. For his part, Phil was amused by Dylan's sacrilege. He felt the songwriter had shown great courage by doing the unthinkable.
Meanwhile, protest music had begun to make bigger inroads onto mainstream radio. Earlier in the year Joan Baez had charted with Ochs' "There But For Fortune." By August Barry McGuire's ominous topical-pop song "Eve Of Destruction" had shot to #1 on the pop chart. Purists began to sound the death knell for folk music. In an October Broadside interview Phil commented that while the McGuire song might give people an introduction to protest music, "it's a bad introduction." In the same interview, he praised The Beatles and The Rolling Stones for "[raising] the quality of the Top 40. They set standards that are higher for this teenage music. 'Eve Of Destruction' hasn't done that. It has philosophically done that in the sense that here's a song with a message. But it hasn't done it artistically."
The comment was telling of Phil's feelings about his own musical direction. While on tour in England, in November, he said, "I'm at the point in my songwriting where I give more consideration to the art involved in my songs rather than the politics. As bad as it may sound, I'd rather listen to a good song on the side of segregation than a bad song on the side of integration." Phil was about to pen a masterpiece. While en route to London after a concert in the northern England industrial city of Manchester, he began to write the lines: "And the night comes again to the circle-studded sky/The stars settle slowly, in loneliness they lie/Till the universe explodes as a falling star is raised/The planets are paralyzed, the mountains are amazed…." It was a circular poem that would take a human life from cradle to grave, looking at it from all angles, detailing the myth and romance, the hatred and bliss, the violence and tranquility. "But they all glow brighter from the brilliance of the blaze," he continued, "with the speed of insanity, then he dies…" "Crucifixion" was at once transcendentally beautiful and unbelievably horrible. Phil wrote all ten verses in one sitting.
"I don't know where the songs come from," Ochs told radio personality Studs Terkel after he had recorded "Crucifixion. "You know, you talk about things, you discuss the assassination and read about it – all those things. Then you go see a movie, you meet a girl, you get drunk and somehow, out of all that, comes a subconscious process."
In the meantime, Phil had been contemplating his next album He wanted to record it live during his solo debut at Carnegie Hall, with a set of all-new material in which he would branch out both lyrically and musically. He would include "Changes," "Love Me, I'm A Liberal," and "When I'm Gone," a song in which he reflected on his mortality. Phil and Gorson did all of the show's promotions themselves, taking out daily ads in The New York Times and plastering the city with posters and handbills. They kept ticket prices low enough so that even curious nonfans might buy seats. On January 7, 1966, the day of the show, everyone in New York knew that Phil Ochs was playing Carnegie Hall — whether or not they actually knew who he was — and all the seats were taken. Phil would now be able to promote his live album on the prestige of a sold-out Carnegie Hall show. But there was one problem: Just before performance time, Phil got a nasty case of stage fright. He sang so badly that night that Elektra had him go back and overdub the vocals for the album. Though falsified, Phil Ochs In Concert proved to be his best record to date, flowing gracefully from hard-hitting protest songs such as "I'm Going to Say It Now" and "Is There Anybody Here?" to soaring ballads like "Bracero."
After a second Carnegie Hall show on Thanksgiving — one that received much better reviews than the first one had — Phil decided to split with his manager. He felt that Gorson, like Grossman before him, was diverting his attention to other clients. Gorson, in turn, was tired of Phil's whining and felt more like the singer's baby-sitter than his manager. Gorson agreed to surrender his 50-percent share of Barricade Music to Phil, and the two parted ways amicably. For new management, Phil phoned up his brother, Michael, with whom he'd had a falling out earlier in his career. In the ensuing years, Michael had graduated from Ohio State University with a degree in video and television writing, and he moved to Los Angeles where he photographed rock stars for record companies. Michael was surprised to hear from Phil, and he was not just a little skeptical of his brother's proposition. But Phil was persistent. He told Michael that he would give him 25 percent of his earnings, which was five to ten percent more than most managers received.
Michael reluctantly accepted Phil's offer and immediately got busy. He located an office space in New York for his new management company, Aquarian Age, Inc., and began his search for another label for his brother. Phil and Michael eventually went with A&M, an independent record company cofounded by Jerry Moss and musician Herb Alpert. Michael felt that a smaller label would be able to give Phil more attention than one of the major companies could. Besides, Moss, A&M's president, offered Phil an attractive deal: $25,000 advance, complete artistic control over his music, and publishing rights to his songs.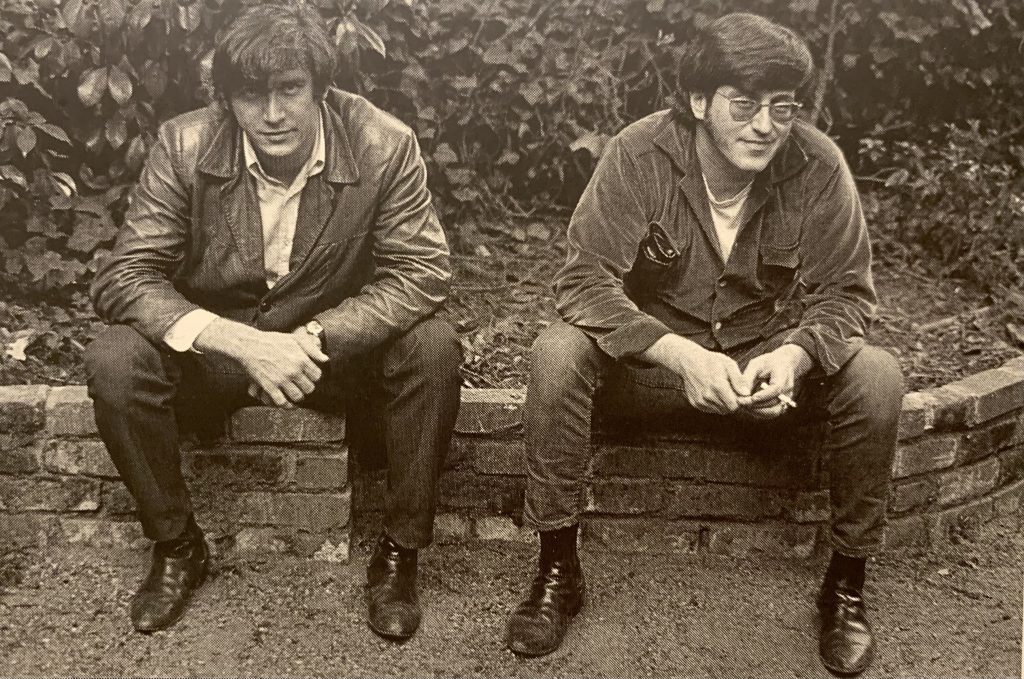 In May 1967, Phil moved to Los Angeles to begin work on his first A&M album. He was ready for the change of pace. For one thing, he would be closer to his daughter. For another, the West Coast was in the midst of the psychedelic rock era, and the music scene there would provide a good environment for Phil's new ideas. Upon his arrival in L.A., Phil rented a small house in Laurel Canyon and looked up a friend, Andy Wickham, whom he'd met in New York. Wickham was Phil's total opposite — politically conservative, poised and polished, and extremely organized. Wickham was also a loyal friend with whom Phil could talk about his personal life. On the political front, Phil got involved in organizing an antiwar rally. To kick off the event, he wrote an absurdist editorial in the Los Angeles Free Press called "Have You Heard? The War is Over."
While touring in support of In Concert, Phil had continued to churn out songs at a manic pace. One of those new compositions was "Pleasures Of The Harbor," an oddly beautiful song that he wrote after seeing the film The Long Voyage Home. Phil had been listening to a great deal of soundtrack music — Fiddler On The Roof. My Fair Lady, and Dr. Zhiago — and was intrigued by the experimental flourishes The Beatles and The Beach Boys were putting into their recent music. For his A&M debut, Phil wanted to try something radically different.
In August he went into the studio with classically trained producer Larry Marks, who would do for Ochs' Pleasures Of The Harbor what George Martin had done for The Beatles Sgt. Pepper's. Marks brought in several outside musicians, including pianist Lincoln Mayorga (who had worked with such non-rock performers as Vikki Carr, Johnny Mathis, and Mel Tormé), Ian Freebairn-Smith (who had arranged music for Liza Minnelli), and Joseph Byrd (a folk music arranger and leader of the band United States Of America). The team added classical brush strokes to "Flower Lady" and "Pleasures," avant-garde flourishes to "Crucifixion," and a ragtime feel to "Outside Of A Small Circle Of Friends." Long before the exotic lounge sounds of Martin Denny would become an ironic inspiration for hip alternative rock acts of the '90s, Marks injected elements of cocktail music into "The Party," Phil's biting commentary on the shallowness of L.A. glitz.
Phil scaled back on his overt protest material. Even in the album's more outwardly political songs, his sentiments were suggested rather than spelled out. For example, in "Small Circle Of Friends" Phil's anger over political apathy came out in heavy sarcasm: "Maybe we should raise our voices, ask somebody why/But demonstrations are a drag, besides we're much too high." Three of the songs on Pleasures Of The Harbor ("Flower Lady," "Miranda," and "The Party") ran more than five minutes long, while three others ("I've Had Her," "Crucifixion," and "Pleasures Of The Harbor") went on for more than eight minutes. If the album came off like the soundtrack to a nonexistent film, that was precisely Phil's intention. As he told the Sunday Boston Globe, "I had a super-strong conception of this album as a complete, unified, integrated thing, like a movie." Pleasures sold better than any of Phil's previous albums, mostly on the strength of the minor radio success of "Outside."
On October 1, 1967, Phil played his third solo gig at Carnegie Hall, and it was one of his more bizarre shows. After a sterling performance he invited his activist friends Abbie Hoffman and Jerry Rubin onstage to talk with the audience about an antiwar rally that would take place the following summer at the Democratic National Convention in Chicago. As Rubin began his announcement, Hoffman turned the occasion into political theater, yelling into the microphone, "Fuck Lyndon Johnson! Fuck Robert Kennedy! And fuck you if you don't like it!" Phil was mortified. Hoffman and Rubin, he felt, had dishonored him. At the end of 1967, Phil played a number of other gigs, including a rally in New York's Washington Square Park and some appearances at the L.A. folk music hot spot, the Troubadour.
The coming year would mark a real turning point for Phil, who had become increasingly obsessed with the fall of America, and, by extension, with his own impending doom. He spent the first part of 1968 back in New York, lashing out at the current state of popular culture, dissing Dylan, drugs, hippies, and the whole West Coast psychedelic scene as creatively bankrupt. He'd been writing a handful of new songs in which he combined the more direct politics of his earlier work with his new, more lyrical writing style. For Tape From California, Phil would again enlist Larry Marks to produce, bringing in more studio musicians, including Mayorga back on piano and harpsichord. "Essentially, Phil told Broadside of the next album, "I'm going to try and get a balance between the Harbor record and the Concert one that preceded it."
By spring Phil had returned to Los Angeles. This time he brought along his new girlfriend, Karen, whom he had met through Michael. Phil was in the midst of recording Tape From California when, on April 4, he heard that civil rights leader Martin Luther King Jr. had been assassinated. Though shattered that another of his heroes had fallen, Phil forged ahead with the record.
Exactly two months later, on June 4, Democratic presidential candidate Robert Kennedy was gunned down. This time Phil was overcome with grief, and his increasingly fatalistic outlook was reflected in his new material. Tape From California's 13-minute-long miniepic, "When In Rome," compared America's downward spiral to that of the Roman Empire, and the album's title song contained lines like, "Half the world is crazy and the other half is scared"; "Peace has turned to poison, and the flag has blown a fuse"; and "The century is bending, have a very happy ending." Tape From California also included an ironically jubilant version of "The War Is Over," a song that Phil had based on his absurdist article in the Los Angeles Free Press. That song would take on a downright surreal quality in light of the events that would transpire later that summer during the antiwar rally at the Chicago Democratic National Convention that Phil had helped organize with Rubin, Hoffman, and other members of the Youth International Party.
On Wednesday, August 28, after a tense week of sparring between Chicago police and Yippie demonstrators outside the Democratic Convention hall, Hubert Humphrey was nominated as the party's candidate for President. Meanwhile, at the nearby Grant Park band shell, Phil broke into a stirring performance of "I Ain't Marching Anymore" (which the day before had inspired demonstrators to burn their draft cards en masse). When the protestors proceeded to march toward the convention hall. police hurled canisters of tear gas into the crowd and began beating and kicking hundreds of people. As news cameras beamed the scene to televisions across the country, the crowd chanted, "The whole world is watching! The whole world is watching!" That night Ochs watched the riot on the news in his hotel room, and a little part of him died. The revolution was over, he thought. Change was futile. His life's work was all for naught.
If Phil Ochs had begun to succumb to cynicism and hopelessness on Tape From California, he was now thoroughly convinced that America (and the world) had nothing more to offer him, and that he no longer had anything to offer the world. Political activism was not effective. The country's leaders were corrupt. So Phil turned inward, and in the days following the Democratic National Convention, he slipped into a deep depression. On some days he couldn't even muster the energy to go out of the house.
Phil was acting more erratically than ever, and his new lyrics showed a deep sense of isolation. "Sailors climb the tree/Up the terrible tree," he wrote in "The Scorpion Departs But Never Returns," "Where are my shipmates?/Have they sunk beneath the sea?" He also wrote a poem that he would print in faded, cursive lettering on the back of his next album, Rehearsals For Retirement: "This then is the death of the American/ imprisoned by paranoia/and all his diseases of his innocent inventions/he plunges to the drugs of the devil to find his gods…/So the poet swordsmen and their lost generation must divorce themselves from their very motherland.… /While I stumble through this paradise/considering several suicides…/…my responsibilities are done let them come let them come/and I realize these last days these trials and tragedies/were after all only/our rehearsals for retirement."
His paranoia was partly warranted. The Federal Bureau of Investigation — which had begun a file on Phil as far back as December 1963 — was now putting the heat on him. In a directive written on September 26, FBI chief J. Edgar Hoover ordered his agents to find the singer: "Ochs is considered one of the principal subjects involved in demonstrations at the Democratic National Convention." On October 1 agents tracked Phil down at his home in Los Angeles. "At this point," they reported back to Hoover, "Ochs advised that he would not discuss his activities."
Meanwhile, Phil had begun recording Rehearsals, the most difficult album of his career. Completely lacking any of his previous humor or hope, the album kicks off with "Pretty Smart On My Part," a straightforward rock 'n' roll number with a Buddy Holly-style guitar shuffle that clashes harshly with the song's paranoid lyrics: "I can see him a-coming/He's a-walking down the highway../He wants to get me/He wants to hurt me/He wants to bring me down."
Once again, Larry Marks was at the production board, but the music, though lushly arranged, sounded much different from Phil's previous A&M albums. It ranged from the creepy, teetering-at-the-edge-of-insanity sound of "The Doll House" to the achingly beautiful, piano-and-accordion-driven "William Butler Yeats Visits Lincoln Park And Escapes Unscathed." Phil used twangy country-rock to fuel the bitterly sarcastic "I Kill Therefore I Am" and flowing piano to color the plaintive ballad "Doesn't Lenny Live Here Anymore." Despite its difficulty — or perhaps because of it — Rehearsals remains Phil's strongest, most ambitious album. It is impossible to listen to songs such as "Scorpion," "My Life," or the title track without identifying with the despair Ochs must have felt as he recorded them. It's an experience that is at once deeply satisfying and horribly morose.
Rehearsals bombed commercially and was deleted from A&M's catalog only months after its release. This failure added insult to Phil's injuries. Having felt that he had really tapped into the current mood of the nation, Phil awoke to the realization that the nation was not interested in experiencing his angst. It was the early 1970s, and America was preparing to enter its deepest period of denial since the 1950s: the disco era.
After Phil testified at the farcical Chicago Seven trial — in which his activist buddies Hoffman and Rubin faced charges of inciting a riot at the Democratic National Convention — he left Yippie-style political activism behind. The only way to effect real change, Phil decided, was to speak directly to the nation's working class. His decision to move toward a more populist sound was confirmed after he and Wickham went to see Elvis Presley perform in Las Vegas. Phil was knocked out by the show. Though he did not subscribe to Elvis' politics, Phil was impressed with the rock 'n' roller's ability to communicate with common folks. "In terms of changes in America, you have to reach the working class," Phil later told author Bruce Pollock, "and to me Elvis Presley, in retrospect, is like a giant commercialization of the working-class singer, [and is] also a true integrationist in terms of bringing Black music and country music together, which is why his strength is so long-lasting. His gold suit was [Presley manager Colonel Tom] Parker's idea of the super-gross carnival treatment, a cheap icon of all America has to offer."
With that in mind, Phil went to work on his follow up to Rehearsals, which he named Greatest Hits ("50 Phil Ochs Fans Can't Be Wrong"), a sarcastic play on Elvis' 1960 best-of collection, 50,000,000 Elvis Fans Can't Be Wrong. For the album's cover art, Phil would don an exact replica of the gold lamé suit Elvis wore, which was custom-made for him by the music legend's own tailor, Nudie Cohen. (Cohen also designed the sparkling stage clothing for many of the top country singers of the period.) In the album's first track, "One Way Ticket Home," Phil incorporated both country and soul music, dramatic crescendos of kettle drums, a rich background chorus of gospel-ish vocals, and a wide-ranging palette of instruments including mandolin, steel guitar, and horns. He declared his statement of purpose in the song's refrain, "Elvis Presley is the king/I was at his crowning."
Greatest Hits featured two straight-up country songs ("Gas Station Women" and the anti-stardom anthem "Chords Of Fame") as well as a couple of old-style rockers ("My Kingdom For A Car" and "Basket In The Pool"). But while Phil may have been feeling populist, the album was hardly the collection of accessible hit songs that the title promised. Recorded by eccentric producer Van Dyke Parks (of Beach Boys fame), the Greatest Hits collection was way too eclectic for the average Top 40 fan, containing such delicate, melancholy songs as the harpsichord-laden "Bach, Beethoven, Mozart & Me" (about Phil's new domestic life with Karen), the biographical song "Jim Dean Of Indiana," and the deeply personal childhood ruminations of "Boy In Ohio."
Parks brought a stellar cast of musicians to the Greatest Hits sessions, including guitarists James Burton (Presley), Clarence White (The Byrds), and Ry Cooder (who appeared on albums by a variety of artists, including The Rolling Stones, Captain Beefheart, and Taj Mahal), as well as backup vocalist Bobby Wayne (who sang with Merle Haggard). Ochs invited his old friend Jim Glover to accompany him on the final track, the prophetic "No More Songs." In hindsight, Glover was a significant choice: He had been with Phil from the very beginning, and, though no one knew it at the time (except, perhaps, Phil himself), "No More Songs" would be the last tune Phil would record for a studio album. Sadly, his attempt to tap into the heart and soul of Middle America was an abysmal failure. Greatest Hits sold fewer copies than any of his previous albums, and, like Rehearsals, it was almost immediately deleted from A&M's catalog.
Still, Phil was determined to be a songwriter for the working class. In order to position himself as both a populist singer and political activist — or as Phil saw it, part Elvis Presley and part Che Guevara — he dressed himself in the gold lamé suit for his final Carnegie Hall performance on March 27,1970. There, before thousands of his fans, Phil mixed medleys of Presley and Buddy Holly songs in with his own protest anthems. It turned out to be a brilliant disaster. From the moment he walked onstage for the night's first show, Phil was treated to catcalls and laughter. He labored on, playing covers of tunes by Conway Twitty and Merle Haggard. At one point, a member of the audience yelled for "the real Phil Ochs" to come out, which prompted Phil to lecture the crowd about "real" songwriting. More boos and hisses ensued. The performance was captured for posterity on Gunfight At Carnegie Hall, which A&M released in Canada only. Though the album is considered Ochs' weakest effort, Gunfight documents the singer's public demise as well as any biography could and is thus an essential part of his catalog. The excitement of the show is in Phil's tug-of-war with the audience. At times, he and his fans are at one with each other; at other times, they are so polarized you feel the entire situation might explode into chaos. In his final attempt to retain his artistic dignity on stage, Phil had chosen not to take the safe route to immortality. To the very bitter end — even when Carnegie Hall's security pulled the plug on the drunken Ochs way after midnight — he kept his ground. "I want power!" he chanted, and the crowd joined in, standing behind their man. When the hall restored the electricity, Phil closed with three encores, one of which was a cover of Elvis "A Fool Such As I."
In the end, the crowd respected Phil, although other shows on the tour were not so dramatic. Ochs was spurned in Boston, Philadelphia, and Berkeley, and he began drinking and doing drugs just to get through the performances. "He was physically abusing himself very badly on that tour…" Mayorga recalled in the Schumacher biography. "The wine was pulling him one way and the uppers were pulling him another way, and he was kind of a mess. There were so many pharmaceuticals around — so many pills. I'd never seen anything like that."
5.
If Chicago marked the end of Phil Ochs' reign as a protest singer, the Greatest Hits tour proved to be the end of his recording career altogether. Phil would spend the final five years of his life in an emotional downward spiral. During the '70s, he traveled from Europe to Chile to the Far East and Africa in search of new outlets for his political interests. Each time he returned home, he would fall into a deeper depression, his thoughts turning more and more toward suicide. Because he was unable to take care of himself, Michael arranged with an accounting firm to have an allowance given to him to live on. Phil would play gigs at the Troubadour now and then, but they were few and far between.
Having developed an interest in the political situation in Chile, Phil traveled to the country in 1971 with his Yippie buddies Stew Albert and Jerry Rubin. By mid-September, however, he had separated from Rubin, with whom he was arguing constantly; the following month, he traveled on to Argentina where he met up with a new activist friend, David Ifshin. Phil and Ifshin traveled to Uruguay together, where they spoke at a rally that was interrupted by police gunfire. The two were arrested, stripped of their passports, and taken to jail at machine-gun point. They were held overnight, interrogated, and the next day escorted, in shackles, to the Airport, where they were put on a plane back to Argentina. When they landed, Argentinean officials took them to another jail, and, the following day, Phil and Ifshin were sent to Bolivia, where they concocted an escape plan. When they arrived at the airport, Phil created a disturbance as Ishin purchased tickets to Lima, Peru. Miraculously, the two got away, and, shortly thereafter, Phil returned to the United States.
With his political interests revived, Phil performed a concert at Hunter College, where he told the audience of his misadventures in South America. He also recast his old song "Here's To The State Of Mississippi" for the upcoming 1972 presidential elections, swapping the word "Mississippi" for "Richard Nixon," and rewriting some of the verses: "He's tapping his own brother/Just to hear what he would say/Oh, corruption can be classic/ In the Richard Nixon way." The crowd went wild over the new version, but those changed lyrics were about all the creativity Phil could muster.
Phil began haunting New York hot spots, hanging out with old friends, and performing at rallies now and again. On one occasion, he met with John Lennon, who'd written a protest song that he wanted Phil to hear. Phil would also run into Bob Dylan, with whom he was able to talk without all the earlier competitiveness coming into play. At a John Sinelair rally in Detroit — which included Lennon, Stevie Wonder, Bob Seger, and such speakers as Rubin and Allen Ginsberg — Phil received a standing ovation for "Richard Nixon."
Karen and Phil eventually split up, whereupon Phil slipped deeper into despair, spending most of his time drinking, going to movies, and watching television. A brief trip to Australia and the Far East reinvigorated him, and when he returned to Los Angeles, he got involved in the McGovern campaign. But Nixon's defeat of the Democratic candidate in November proved to be yet another blow to Phil.
Before his Australia trip, Phil had landed a shot at writing the theme to a Raquel Welch movie, Kansas City Bomber. Although the studio ultimately rejected the song, A&M released it as a single in 1973 along with "Gas Station Women." Like Phil's other singles, it didn't sell. After a brief tour of the U.S. — this time playing his old songs in small coffeehouses — Phil returned to journalism, writing film reviews and political pieces for the Los Angeles Free Press.
In September, Phil went to Africa with Ifshin. The plan was to travel from Ethiopia to Kenya, Tanzania, Malawi, and South Africa, playing concerts and giving lectures. The human rights struggle in South Africa was not unlike what had gone on in the '60s in the southern United States, and Phil wanted to be a part of the process of social change there. He loved African music and thought he might also do some recording in the country. In Dar es Salaam, however, Phil was viciously attacked one evening while walking on the beach. His three assailants strangled him, beat him into unconsciousness, robbed him, and left him for dead. Phil was found early the next morning and rushed to the hospital. His vocal cords had been so severely damaged that he could no longer sing in his upper range. Doctors predicted that Phil's voice might never completely recover. Still, the singer continued on his African journey with Ifshin, even playing a few shows. His performances were terrible.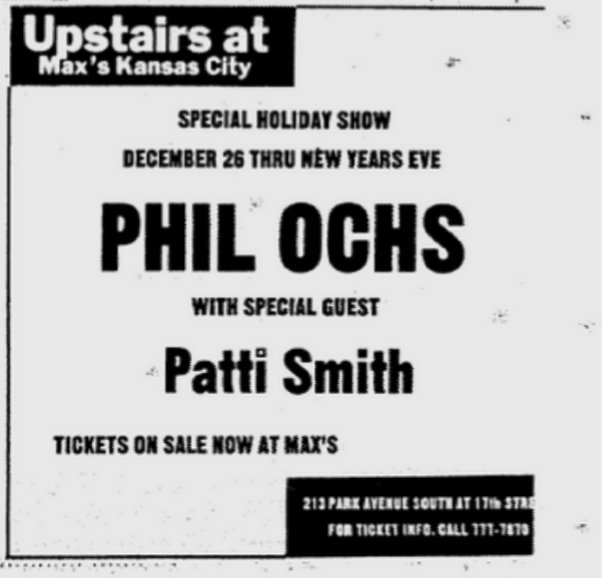 When Phil returned to America, the first rumblings of punk were being heard in New York City. Phil was asked to play a 14-night gig at the punk mecca Max's Kansas City with a brash young singer/songwriter named Patti Smith. The shows were surprisingly successful. Despite his vocal problems and jeers from Smith's fans, Phil managed quite well. When he changed into his gold lamé suit for the encores, crowds exploded into applause. Meanwhile, Phil had recorded "Here's To The State Of Richard Nixon" as a single and organized a benefit concert to raise awareness of the recent military coup in Chile. He actually got Dylan to sign on for the show, which turned out to be a huge success.
Phil traveled back and forth between New York and Los Angeles often and lost a little more of himself with each move. By spring of 1975, the United States had officially declared the end of the Vietnam War. Temporarily energized by the announcement, Phil, living in New York, decided to hold one last "War Is Over" rally. It was a smashing success, with more than 100,000 people showing up at the Sheep Meadow in Central Park on Mother's Day to see a bill filled with '60s activist/singers such as Joan Baez, Odetta, and Pete Seeger. Phil and Baez did a duet of "There But For Fortune," after which Phil performed his most apropos version of "The War Is Over" yet. It was a joyous event for most, but it symbolized finality for Phil. The very thing that he had fought so hard against since the beginning of his career was, to him, final closure to his life's work.
By summertime, Phil had become so disconnected from himself that he took on a new identity, John Train. When he was drunk, he would wander about New York City as Train, picking fights and getting thrown out of bars. He would sleep at the Chelsea Hotel or sometimes even on the streets. He had a pot belly, was looking more bloated than ever, and his paranoia was becoming delusional.
In August, Phil crashed his car and became violent when the police tried to take him to the hospital; he was booked on a variety of charges under the name John Train. Phil's family and friends were at a loss as to what to do. Michael refused to send bail money, hoping the police would send Phil to a psychiatric ward where he could get the care he needed. But the judge merely reprimanded Phil and sent him back onto the streets. Finally, Phil's old friend Rubin convinced him to check into Gracie Square Hospital for treatment, but Phil's stay there was short-lived. He walked out of the hospital, still wearing his gown, determined to move back to Los Angeles.
On the West Coast, Phil paid his daughter one last visit. He made arrangements to meet Alice and Meegan at their home, and when he showed up at their door, Alice was amazed at how terrible he looked. Meegan, for her part, was happy to see her parents together again in the same room. Phil spent his last day with Meegan peacefully, taking her on a picnic and to a flea market, where he bought her a set of encyclopedias and gave her a cat, which he named Rimbaud.
"I think he knew that he wasn't going to see me again, because he never called me again," Meegan recalled to Ochs biographer Schumacher. "I spent many years thinking about that — how he could die without saying goodbye — but he did say goodbye. That's what that trip was all about. He was sending me off into the world with art and literature, in the form of a cat and used encyclopedias, trying to prepare me for when he wasn't going to be there. I think he knew on that trip that he was going to die."
In January 1976, Phil moved in with his sister in Far Rockaway. There, he spent much of his time playing cards with Sonny's boys, 14-year-old David and 11-year-old Jonathan. He often spoke of suicide. On Saturday, April 3, Sonny had a party and talked Phil into playing a few songs for the guests. He agreed, reluctantly, strumming his way through "There But For Fortune" and "Changes." Sonny hoped Phil might be up for a comeback.
The following Tuesday, Phil took a subway train into Manhattan for a dinner with his old friends Jerry Rubin and Ron Cobb. The entire time he talked about suicide. The next day Phil's brother called to see how he was doing; Michael told Phil that he planned to come to New York and wanted to talk with him about booking a small tour. Phil said he'd like that — if he was still alive.
On Thursday afternoon, Phil took a long walk on the beach with his mother, and the two talked about his childhood.
On Friday morning, April 9, at about 10 a.m., Phil took one of Sonny's kitchen chairs into the bathroom, made a noose with his belt, and attached it to the top of the doorway. He stood on the chair, put the belt around his neck, and kicked the chair away. It was all over. Phil was freed from the constraints of his John Train persona, freed from his depression, alcohol, and the woes of the world. The war was over.
6.
In 1975, Phil Ochs had reflected on why songwriting became increasingly difficult for him in his later years. "It could be alcohol; it could be the deterioration of the politics I was involved in," he told author Bruce Pollock. "It could be a general deterioration of the country. Basically, me and the country were deteriorating simultaneously and that's probably why it stopped coming."
That songwriting stopped coming for Phil Ochs is a tragedy of great proportions. His wit, his drive, his high standards of morality — all of those things were sorely needed on the day he died, at age 35, in the spring of 1976. Around that time, a fresh crop of songwriters had established a new kind of protest music: punk rock. The Sex Pistols announced "No future" to a generation of rock fans who felt as alienated from the mainstream music scene of their time as Ochs had felt by the status quo of the early 1960s. The Clash and U2 were about to march to the forefront of this new protest sound, coming down hard on human rights atrocities in Central America and Ireland. Later, in the 1980s, a younger generation of urban folk protesters arrived, including Tracy Chapman, Billy Bragg, and the coterie of so-called anti-folkies who had gathered on New York's Lower East Side. Simultaneously, farther uptown, rappers had begun to incorporate protest rhymes into their cut-and-paste hip-hop tracks, the most hard-hitting being Chuck D. of Public Enemy and KRS-One of Boogie Down Productions. By the '90s, the hip-hop-inspired hard rock of Rage Against The Machine introduced protest music to rock fans who had been raised from birth on MTV. In no small way, all of these musicians can thank Phil Ochs for blazing the trail.
Phil would be amazed at the number of young artists, from punk rockers to rappers to neo-folkies, who would cover his songs in the years following his death. Jello Biafra, of the notorious Dead Kennedys, did a version of "Love Me, I'm A Liberal" with gonzo grit-rocker Mojo Nixon; the Scottish power-pop group Teenage Fanclub recorded "Chords Of Fame"; Nashville cowpunk pioneers Jason & The Scorchers did a revved-up version of "My Kingdom For A Car"; the quirky New York duo They Might Be Giants covered "One More Parade"; and Wyclef Jean of the Fugees adapted "Here's To The State Of Mississippi" for the hip-hop generation. Among the contemporary folk artists to record Ochs' music are the duo Disappear Fear ("Is There Anybody Here?"), Holly Near ("No More Songs," "Power And The Glory"), and John Wesley Harding ("Outside Of A Small Circle Of Friends").
During Ochs' lifetime, an equally extraordinary array of artists covered his music. In addition to the ultraliberal Joan Baez's earnest version of "There But For Fortune" was the ultraconservative Anita Bryant's unintentionally ironic reading of "Power And The Glory." Though Baez's interpretation of "Fortune" was by far the most popular, several other Ochs contemporaries covered the song, including Cher, British soft-rock duo Chad & Jeremy, and popular folkies Peter, Paul & Mary. Both Melanie and Marianne Faithfull recorded "Chords Of Fame," and Pete Seeger and the Chad Mitchell Trio both checked in with versions of "Draft Dodger Rag." The British folk-pop duo Peter And Gordon recorded "Flower Lady"; The Byrds' Gene Clark covered "Changes"; and Judy Collins did an interpretation of "In The Heat Of The Summer." "Changes" was far and away the most-covered Ochs song, with versions by artists as diverse as Gordon Lightfoot, Ian & Sylvia, and Tony Rice. Phil's old friend Jim Glover recorded a slew of Ochs' songs with his partner Jean, including "Changes," "Crucifixion," and "Flower Lady."
As oft-covered as his songs have been, Phil Ochs has remained on the fringe of popular music. When essays are written about the so-called "turbulent '60s," the songs most often cited are those of Bob Dylan, Joan Baez, and Peter, Paul & Mary. Phil's songs are too messy, too convoluted – too real. Calling yourself a Phil Ochs fan means you've sifted through the hype surrounding the '60s and gotten to the blood and guts, the contradictions and discrepancies that give that golden era of protest music context and scope. Without digging deeply into Phil's troubled soul, you come away with an antiseptic image of the '60s — the kind of image that makes young people of subsequent generations cringe when baby boomers self-righteously wax nostalgic about a time in America when people "cared" or when music "was good." But Ochs' music is not about nostalgia; it's about reality — in all of its awesome beauty and tragic ugliness.
There aren't many singer/songwriters who have pulled off what Phil did in his music, offering depth without a lot of cosmic mumbo jumbo, didacticism without all the dogma, romanticism that doesn't rely on sentimentality, and passion that stops short of histrionics. Sure, some of his later music was self-conscious, and his lyrics were sometimes preachy — but Phil never came off as self-righteous in his songs. As one of the more famous Phil Ochs fans, actor Sean Penn, wrote in the liner notes to the posthumous Ochs collection, A Toast To Those Who Are Gone: "There was something in his voice, so sad — Something in his humor, so knowing — Something in his words, so optimistic… His contradictions were unending…. He, I imagined, had lived every hour of his life in the extremes of joy and depression that came to me only in stages. Now the magic was prophecy. So sad it all seemed." So sad, indeed, but I, for one, am grateful that, despite the singer's own protests to the contrary in his song "When I'm Gone," there is definitely still a place in this world where Phil Ochs belongs.
— Mark Kemp, Rolling Stone, New York City @1996