From today's vantage point, this story, which I wrote in early 2009, seems very antiquated. The Afropunk Festival was just four years old, and had not yet gone corporate. Hoary old punk and other rock-based scenes were still pretty much bastions of whiteness almost everywhere except for in big metropolitan areas like New York City. And yet, due to the Afro-Punk documentary and the growing influence of the internet, more and more Black punk rock and experimental musicians were emerging in the unlikeliest of places — like Charlotte, North Carolina. Today, the idea of Black rock in middle America is no more unusual than it was more than 60 years ago, when Black people invented rock & roll in middle America. But in 2009, we were at the tail end of a long period in which white musicians had coopted rock and ruled the roost for entirely too long. TV on the Radio were coming to Charlotte, and I wanted to write a story for a Southern readership on how, despite the stronghold that the white music industry had on rock for so many decades, plenty of Black rockers and experimental musicians had been making pioneering rock music all along. Aside from a few exceptions, these musicians just weren't getting the attention or credit they were due in the larger music world. I pitched it to the Black editor of Creative Loafing in Charlotte, and he let me loose on it. It was presumptuous of me to write this story at the time, and I wouldn't write it today. I'd step aside so someone more qualified could.
TV on the Radio changes complexion of experimental rock
By Mark Kemp, Creative Loafing, June 9, 2009
In late December, Rolling Stone named TV on the Radio's latest disc, Dear Science, the best album of 2008. "The year's finest rock record was also the one that sounded the most like America in 2008, with infernal visions of war and economic desperation," the magazine wrote. That much is true. But while Rolling Stone used the term "rock" in its blurb, the writer was compelled to further describe Dear Science in the stereotypical parlance of so-called Black music: "there are swooning ballads, wind-whipped funk … and then there's 'Lover's Day,' the greatest hipster booty call ever recorded."
You'd never know from this portrayal that TV on the Radio's albums are actually sprawling collisions of experimental, psychedelic, and avant-garde rock with influences stretching from Brian Wilson's Beach Boys to George Clinton's Funkadelic, with melodies and choruses accessible enough for mainstream radio play. If "Lover's Day" had come from U2, it would be considered simply a bold love anthem for the new millennium. There would be no references to booty calls.
But because TV on the Radio is a predominantly Black band, some music writers feel a need to bend over backward to qualify and quantify the "Blackness" of the music. That's understandable. After all, for decades we've bent over backward to emphasize the "whiteness" of Jimi Hendrix. But it's a silly product of liberal guilt that's become embarrassingly outdated in a time when so many young Black musicians are breaking out of the roles the music industry (and society) has long imposed on them.
In the past few years, indie rock has exploded with all-Black, Black-led or multi-racial bands that don't fit into easy stereotypes. In addition to TV on the Radio, there's Apollo Heights, the Noisettes, the Dirtbombs, Bloc Party, Cody ChesnuTT, Saul Williams, and Santigold, just to name a few. It wasn't always like this. In earlier years, when R.E.M., the Jesus and Mary Chain, Sonic Youth and Pavement ruled alternative music scenes, indie and punk rock were bastions of lily-white music nerds. There were exceptions — Bad Brains and A.R. Kane in the '80s, Fishbone in the '90s — but they were few and far between. Being Black in indie rock was a loner's life.
Jaleel Bunton, TV on the Radio's drummer, welcomes the complexion change. "Growing up in relative alienation, because of my aesthetic and racial makeup, this just seems painfully overdue," says Bunton, who was a skate punk in Louisville, Kentucky, when he began listening to bands like Sonic Youth and Fugazi, and discovering the older psychedelic-blues sounds of Hendrix, Cream, and Funkadelic. "To me, it's just time — it's past time, actually."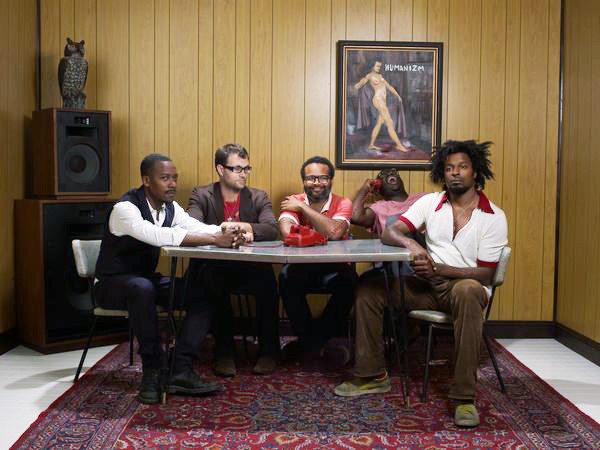 EVERYBODY KNOWS THAT BLACK MUSICIANS invented rock 'n' roll. Not even the most avowed racist will argue that point today. So what happened? Somewhere along the way, rock became the dominion of young white kids. Maybe it was the British Invasion. After the Beatles and Stones reached America, more white groups were scoring rock hits than Black groups, and the boundary between R&B and rock 'n' roll was widening. But Phil Spector's music factory was still producing plenty of rock hits by Black artists like the Ronettes and Ike & Tina Turner.
More likely, it was the arrival of heavy rockers like Led Zeppelin that created the gulf between so-called white and Black popular musical styles. By the late '60s and early '70s, rock was "experimental"; R&B was considered "street." White musicians could still dabble in so-called Black music with relative impunity, but a Black hard rocker like Hendrix was seen as an anomaly. African-Americans considered him weird; white folks felt he was "different" from other Black people. We embraced Hendrix's bluesy psychedelia, but only because it fit the white paradigm: He was almost like us. Black folks were more suspicious: He was too much like us.
Since then, there have been other so-called anomalies — George Clinton's psychedelic experiments with Parliament and Funkadelic, Phil Lynott's hard rock band Thin Lizzy, hardcore pioneers Bad Brains, and the occasional arena-rock act like Living Colour or Lenny Kravitz. But for the most part, the rock world has practiced a sustained, unstated policy of segregation. And both Black people and white people have been complicit.
For the most part, the rock world has practiced a sustained, unstated policy of segregation.
"I think it's all due to exposure — or lack of exposure," Bunton says. "There's a reason that the most eclectic bands come from New York. It's because people can't escape each other there. They're forced into being exposed to different cultures. In the rest of country, there's just a whole lot more space, and it affords people the opportunity to be more xenophobic, which is really silly, but it's true."
Charlotte guitarist Thomas Saunders identifies with this dilemma. He eventually moved to New York to find like-minded musicians. "In Charlotte, I felt alienated from both sides," he says. "The brothers and sisters thought I was a weirdo and a sellout, and my white friends would say things like, 'Oh, you're different from other Blacks.' Of course, I knew what that meant."
Saunders played and listened to both Run-DMC and Pink Floyd as a teenager, but he couldn't reconcile the two until he left the South. "When I got a taste of Greenwich Village, I felt like I was at home," he says. "There were weird people just like me — artists, poets, musicians, painters, so many different cultures and ethnicities. I'd look around and see all the punk rockers and gothic cats, but at the same time they'd be hanging out with these hardcore hip-hop guys."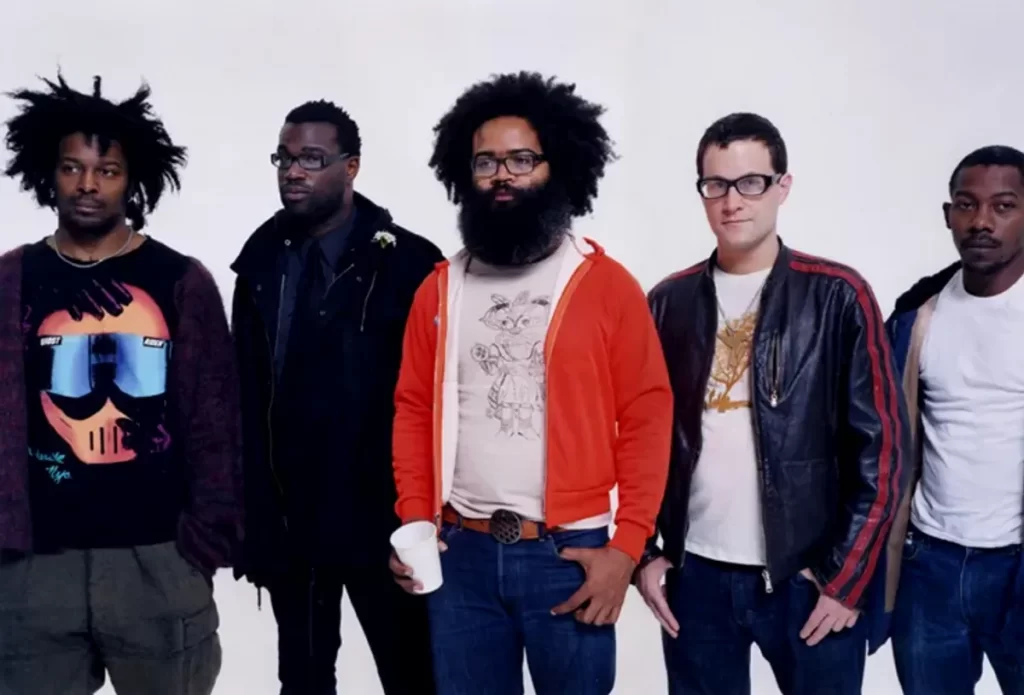 A variety of factors — accelerated technology, social and economic changes — have conspired to make things easier today for people to discover all kinds of music. "More and more of the world is being exposed to the same things now," Bunton says. "It's not so rare anymore for someone who grows up in a poor Black neighborhood to hear all kinds of different music. And when you start hearing all kinds of music, you begin to realize that people are just people. Music is not so much about race, it's about exposure; it's about what you know and how you incorporate it into your life."
TV on the Radio may be the first contemporary experimental rock band that seamlessly and organically mixes all of these musical ideas for a mainstream audience. The band's roster certainly qualifies them for the job: Bunton is an ex-Afropunk from Kentucky; singer Tunde Adebimpe is a Nigerian-born artist raised in Pittsburgh; the band's only white member, guitarist and producer David Andrew Sitek, worked with indie-rock bands like the Yeah Yeah Yeahs before forming TV on the Radio in 2001.
Perhaps Rolling Stone is right — with Barack Obama as the first Black president of a truly multi-cultural United States, TV on the Radio may just be the most American band making music today.
TV on the Radio will perform at Amos' Southend on June 11. Tickets are $25.
10 Black-made experimental rock classics:
1) Love: Forever Changes (1967) — One of the most beautiful and haunting psychedelic pop albums of the 1960s came from troubled genius and multi-instrumentalist Arthur Lee.
2) The Jimi Hendrix Experience: Electric Ladyland (1968) — Hendrix's mind-bending third disc may be the most influential guitar-based psychedelic blues album of all time.
3) Parliament: Osmium (1970) — Bunton calls Parliament's debut his "guidebook." On it, George Clinton and his band combine psychedelia, gospel, blues and even country into a swirling gumbo of experimental rock.
4) Funkadelic: Maggot Brain (1971) — Eddie Hazel's mesmerizing guitar solo on the title track of this classic album from Clinton's other band manages to simultaneously transport you into the stratosphere and have you weeping on a street corner in the hood.
5) Death: …For the Whole World to See… (1974) — Before the Buzzcocks, there was Death, a Stooges- and MC5-like hard rock outfit from Detroit that saw punk two years before most anybody else did. This EP was just reissued by Drag City Records in 2009, after gathering dust for more than three decades.
6) Bad Brains: Bad Brains (1982) — This bratty D.C. punk band set the blueprint for hardcore with its blistering, whiplash anthem "Pay to Cum."
7) A.R. Kane: 69 (1988) — Bad Brains' later mixes of punk, reggae and free jazz may have opened the doors for bands ranging from the Beastie Boys to Fishbone, but this 1988 debut from the British band A.R. Kane introduced new guitar textures that are still heard today in music ranging from Radiohead to TV on the Radio.
8) Tricky: Maxinquaye (1995) — On his brilliant 1995 debut, electronic artist Tricky perfected the hazy sound of trip-hop and brought a gritty, rock-guitar edge to Public Enemy's "Black Steel in the Hour of Chaos" that no one could have predicted.
9) Cody Chesnutt: The Headphone Masterpiece (2002) — With his sweeping, navel-gazing, double-disc homemade opus, Cody Chesnutt made it OK for young, guitar-loving black kids in garages across America to create experimental lo-fit indie rock without fear of reprisal from snobbish whites or suspicious blacks.
10) TV on the Radio: Dear Science (2008) — On its third album — fourth, if you consider their early homemade spoof of Radiohead, OK Calculator — TV on the Radio perfects their mix of indie- and prog-rock, free jazz, funk and soul, creating something that actually approaches pop.
10 contemporary indie-rock acts to keep an eye on:
1) Bloc Party — British band in the art-punk mold of Joy Division and Wire.
2) Game Rebellion — Metal band with brush strokes of hip-hop and experimental rock.
3) The Dirtbombs — garage rock and R&B in the vein of the White Stripes.
4) Noisettes — angular lo-fi art rock from the U.K., also in the mold of the White Stripes.
5) Apollo Heights — dream-pop following in the footsteps of '80s and '90s acts like AR Kane, the Jesus and Mary Chain and My Blood Valentine.
6) Saul Williams — industrial glam rock influenced by David Bowie and Nine Inch Nails.
7) Santogold — delightfully fascinating mix of electronics, dub, hip-hop and Gwen Stefani-like pop punk.
8) Cody ChesnuTT — ambitious homemade rock and soul that comes off like Prince in collaboration with '90s lo-fi artists such as Lou Barlow of Sebadoh.
9) Kamara Thomas — the beautiful bassist for the power rock trio Earl Greyhound makes twangy alt-country on her own.
10) The Dears — whimsical experimental music collective led by singer Murray Lightburn draws from the '60s French Cabaret pop of Serge Gainsbourg and the indie rock of British brooder Morrissey.