I spent a lot of time with Ed Sheeran for Acoustic Guitar magazine's 2014 cover package on him. I was the editor at the time, and my crew and I met the young pop superstar in a cavernous room backstage at the SAP Center in San Jose, California. It was early on the day that he was to perform for 8,000 screaming teens, and we were there to tape a segment of our online interview and performance series, Acoustic Guitar Sessions. Sheeran and I talked about his custom Martin guitars, and he did a stirring performance of his then-new song "Thinking Out Loud," which you can watch below. This package begins with my editor's note for the December 2014 issue, followed by my feature story and two sidebars, one on producer Rick Rubin and the other on Martin Guitars' chief product officer, Fred Greene. Plenty of music snobs criticize Sheeran for making frothy pop music, but the Sheeran I met that day was a perfect gentleman who loves music and guitars, has a knack for a great pop melody, and likes to make people happy. Ain't nothing wrong with that.
Editor's Note: Pop Goes the Acoustic
It was hard not to imagine a young Van Morrison when I sat down with Ed Sheeran during his appearance on our online video series Acoustic Guitar Sessions and watched him play and sing the soulful "Thinking Out Loud," from his latest album, X. His eyes tightly shut and bright ginger hair all in a perfect mess, Sheeran plucked out a percussive riff on a little 00-size Martin and delivered a series of very Van-like lines, such as, "When my hair's all but gone and my memory fades, and the crowds don't remember my name. / When my hands don't play the strings the same way, I know you will still love me the same. / 'Cause honey, your soul could never grow old, it's evergreen."
He could have been singing, "I can hear her heartbeat for a thousand miles, and the heavens open every time she smiles," from Morrison's "Crazy Love," or "And I will never, ever, ever, ever grow so old again," from "Sweet Thing."
Not that Ed Sheeran is the second coming of Van Morrison. Far from it. Sheeran is very much himself—a full-on, 21st -century pop star who draws equally from contemporary R&B, '90s hip- hop, and '70s acoustic folk and soul. Rather than being a retro singer-songwriter selling oldies to his parents' generation, what Sheeran's massive success shows is the endurance of the acoustic guitar in popular music—not just in the singer-songwriter or country-bluegrass realms, but also in the pure, unadulterated, teen-loving pop world. Watching Sheeran play an intimate performance for AG Sessions and then, just hours later, witnessing him mesmerize an arena full of young pop fans was an eye-opening experience. You can read what makes Sheeran such an important and compelling contemporary pop star in this issue's cover story.
What Ed Sheeran's massive success shows is the endurance of the acoustic guitar in popular music.
From the earliest days of recorded popular culture, young stars have used the power and simplicity of acoustic guitars to change the way people experience music. Elvis' famed Gibson J-200 was nearly as iconic as his quivering lip. Dylan fans loved his 1930s Gibson Nick Lucas Special so much that some of them had temper tantrums when he strapped on an electric. One young singer-songwriter from Dylan's era, the late Nick Drake, should have been a pop star, but the record industry at the time didn't know how to market his brooding, acoustic-based songs. It took another quarter-century, when VW used one of Drake's songs in a TV ad, for popular culture to catch up with his tortured genius. In this issue, AG contributor Derk Richardson brings Drake's story to the present.
The beauty of the acoustic guitar is its flexibility. You can play music of any genre on an acoustic—blues, folk, country, bluegrass, jazz, rock, mainstream pop. But it's important to know what kind of acoustic guitar works best for what you want to achieve. Most players realize at some point that one guitar is not enough. If you're thinking of expanding your acoustic-guitar arsenal, AG contributor Adam Perlmutter has put together a handy guide to buying your next model, whether you're upgrading to higher-quality woods or looking for a new style of guitar, such as a 12-string, a resonator, an archtop, a tiny parlor, or a big jumbo. Learn about all those types and more in our special section on buying your next guitar.
The acoustic guitar has survived lots of threats since the electric guitar drove its way into the jazz of the 1930s. And yet folks kept picking and strumming—through the swirling psychedelia of the late '60s, the bloated pop-metal and loud-fast punk of the '70s and '80s, the distorted grunge and hip-hop of the '90s, and the electronic dance music that's all but killed off old-style rock in the early decades of the current century. Then along comes another Ed Sheeran with just an acoustic guitar and a few good ideas, and—voila!—the acoustic is back at the top of the charts yet again. — Mark Kemp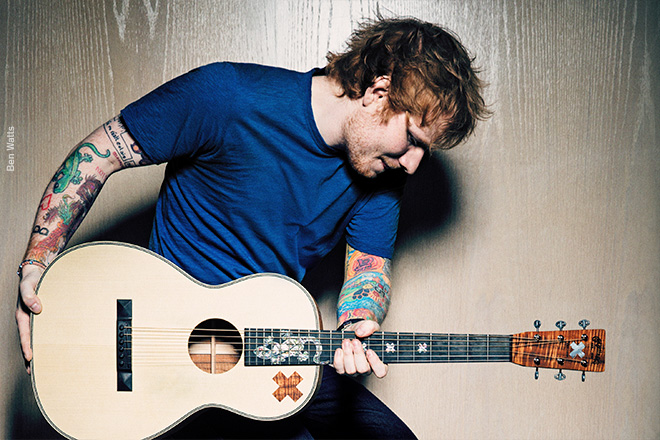 WAYFARING STRANGER NO MORE
In less than five years, pop singer-songwriter ED SHEERAN has become a household name — and he's taken the acoustic guitar to places it hasn't seen since the rise of the Everlys
By Mark Kemp, Acoustic Guitar, December 2014
WHEN THE LIGHTS go down and a lone silhouette appears onstage under four towering LED screens inside the gargantuan SAP Center in San Jose, California, the place erupts into deafening screams. Ed Sheeran, who walked away from the MTV Video Music Awards in Los Angeles the week before with a Moon Man statue for Best Male Video, launches into the sweet sorrow of "I'm a Mess," from his new album X. Nearly every one of the 8,000 mostly young, mostly female fans mouths the words to the song, as if they, too, have suffered the relationship turmoil it describes.
For about two hours, 23-year-old Sheeran— with just one 00-size custom Martin guitar, a Little Martin, a couple of mics, and a loop station—positively commands the arena, performing a smart mix of gentle acoustic ballads and deeply percussive, high-energy, acoustic-based pop and soul. About five songs into his set—between the rap-based "Take it Back" and the sweet acoustic-pop of "One"—the red-headed singer and guitarist, looking like a young Van Morrison in jeans and a blue plaid shirt over a black tee, smiles bashfully and confesses to the audience in a charming British purr, "I'm still quite surprised that so many people are interested."
Sheeran should be surprised. Just four years ago, he was still releasing EPs independently through the DIY website Tunecore, hoping people would like his songs enough to click "purchase." Each set sold better than the next, and by January 2011, he had gained critical mass when his fifth attempt, No. 5 Collaborations Project, shot to No. 2 on iTunes and sold more than 7,000 copies without a whisper of major-label promotion. It led to a feeding frenzy that resulted in Sheeran's signing to Asylum/Atlantic Records and the release of his debut, +, in September. The album topped charts from England, Ireland, and Scotland to Australia and New Zealand, reaching No. 5 in the United States, and spawning six singles, including "The A Team," which hit No. 16 on the Billboard Hot 100. Sheeran was suddenly a hot commodity, writing songs for the British boy band One Direction, performing with Elton John, and touring as the opening act for Taylor Swift's 2013 Red Tour. When X came out last June, it debuted at No. 1 on Billboard and spent a remarkable eight weeks at the top of the charts in Sheeran's native England.
What's surprising, though, isn't so much that an acoustic guitar-playing singer-songwriter has become such a huge success in an age of heavily digitized pop. After all, acoustic guitars have been on the rise across the pop spectrum since Damien Rice, Jason Mraz, Jack Johnson, and India Arie arrived on the music scene in the early 2000s, followed by the even bigger success of Swift, who brought her acoustic-based pop to an ever-widening country audience. The really surprising thing about Sheeran is that his acoustic music is skewing even younger, galvanizing a huge swathe of the same teen-pop audience that follows boy bands, and that he's doing it all by himself—no costumes, no choreography, no big props, and no slick electronic band behind him. In San Jose, Sheeran maintains a sizzling electric vibe throughout his show by employing big, fat loops of luscious picking, strumming, and thumping on his tiny Martin—big enough to captivate thousands of young multi-taskers who are also checking their phones, snapping selfies, and posting to social media.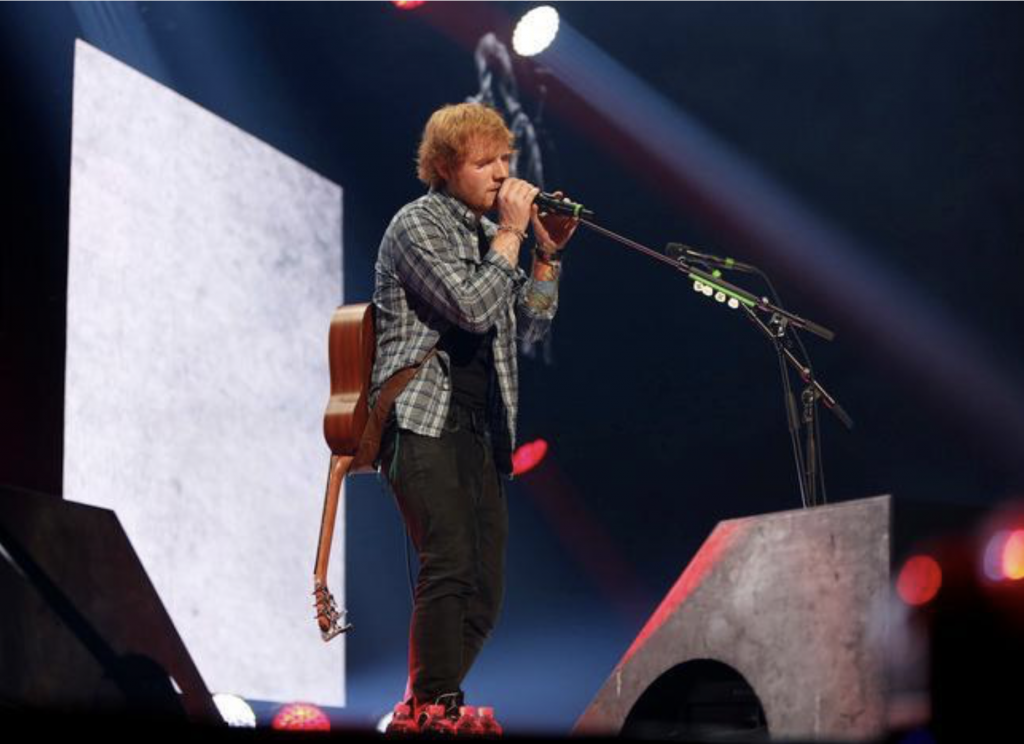 "It's amazing how much noise a ginger-haired boy with an acoustic guitar can make," says Rick Rubin, who helped produce X along with five others, including the ubiquitous hip-hop beatmaster Pharrell Williams. "He is explosive!"
The collaboration with Rubin made sense for an acoustic guitarist whose songs run from spare fingerpicked ballads to beats-heavy pop and rap. After all, Rubin is the bearded Zen guru-like L.A. producer behind numerous modern-music classics ranging from golden-age hip-hop essentials like Run-DMC's Raising Hell and the Beastie Boys' License to Ill to such landmark acoustic- based projects as the late Johnny Cash's solo-acoustic comeback album American Music, Tom Petty's Wildflowers, Donovan's Sutras, and the Avett Brothers' I and Love and You.
"Ed was willing to work day and night, singing and playing over and over again to get what we were both looking for," Rubin says. "We recorded a lot in a short period of time, and he always delivered. He was one of the most prepared artists I've come across."
"It's amazing how much noise a ginger-haired boy with an acoustic guitar can make." — Rick Rubin
FIVE HOURS BEFORE Sheeran is scheduled to take the stage at the SAP Center, he saunters into the arena's backstage loading area, decked out in colorful soccer attire, all flushed face and sweaty strands of red hair stuck to his forehead. He and his road manager, Mark Friend, have just arrived from some much-needed exercise, and they're now headed to the arena's locker room for a shower and change of clothes.
But Sheeran notices a group of giddy young girls who've gathered at the gate leading into the loading dock, hoping to catch a glimpse of their idol. He turns, walks over to them, and lets them snap a few pics, presumably for immediate posting to Facebook and Twitter. Later, a fresh-faced Sheeran emerges from his shower and arrives in the arena's private Rinkside Room with his custom Martin 00-28VS, a beautiful little guitar with figured koa back and sides, and the telltale gecko pearl inlay that matches one of his many tattoos. He's here to do a performance and interview for Acoustic Guitar's online video series, AG Sessions.
After nailing a stripped-down, note-perfect version of "Thinking Out Loud"—the third single and next-to-last track on the new album—I note that the song has a Van Morrison-like vibe. Sheeran's smile turns to a grin. "That's exactly what I wanted to capture," he says. "I feel like everyone channels Jack Johnson, everyone channels Prince, everyone channels the Beatles, and there's not really anyone in popular culture now that has gone and channeled a bit of Van."
"Thinking Out Loud" began life as a simple riff, Sheeran says. "Sometimes when I write something like that, I'll write the melody with the guitar. That one started off with me just going"—he demonstrates by playing the song's recurring riff on his Martin—"which is very Van-like." He smiles again, and his cheeks turn a slightly deeper shade of pink. "From there," he adds, "I thought I would just be a bit more obvious with it."
SHEERAN HAS LONG incorporated elements of songs he heard as a child when he and his family took regular five-hour car rides from their home in northern England down to London. His mom and dad, John Sheeran and Imogen Lock, ran a London art gallery, and his dad, in particular, loves music of all kinds, from classic rock to the electronic dance music of Skrillex. "The driving music would be Moondance or the album Van did with the Chieftains, Irish Heartbeat," Sheeran says. "But also the Beatles' Anthology, and Madman across the Water by Elton John, and, like, Stevie Wonder."
The budding music fan was just beginning grade school when his family moved to the tiny village of Framlingham, in Suffolk, an area Sheeran describes as "middle-of-nowhere farmerville, with lots of Land Rovers and sheep." Within a few years, his growing fascination with music would come in direct contrast to his waning interest in school. Late one night in 2002, Sheeran, then 11, switched on the TV and heard a voice and guitar that would change his life. It was the video for the wistful acoustic ballad "Cannonball," by Damien Rice.
"I remember writing down the name and being like, 'I have to get that!' and then going to Woolworth the next day and buying it," Sheeran says. "And I remember sitting by my window and playing the album all the way through, then skipping back, playing it again, skipping back, playing it again—the whole day."
Like lots of budding guitarists, he learned to play on a nylon-string he got for cheap at a pawn shop. But when he decided he wanted to be a songwriter like Rice, Sheeran graduated to a fiberglass-back Dean, playing just enough chords to begin putting his words to music. He got gigs at local venues, where he eventually hooked up with a guy whose parents ran an unorthodox high school that happened to have a recording studio in it. There, at 14, he cut some of his earliest songs, like the haunting "Misery," from his first EP The Orange Room, which he self-released in 2005.
Within a year, Sheeran had gotten a little Martin Backpacker and was ready to leave Thomas Mills High School, jump a train, and busk his way across England. His mom was against letting her 15-year-old hit the road alone, but his dad encouraged him. "Actually, it was his idea," Sheeran says. "I think it was him just trying to kick my ass in gear, because I wasn't doing well at school. His way of doing that was to say, 'Oh, so you want to be a musician? Well, go and fucking do it.' So I just kind of called his bluff on it."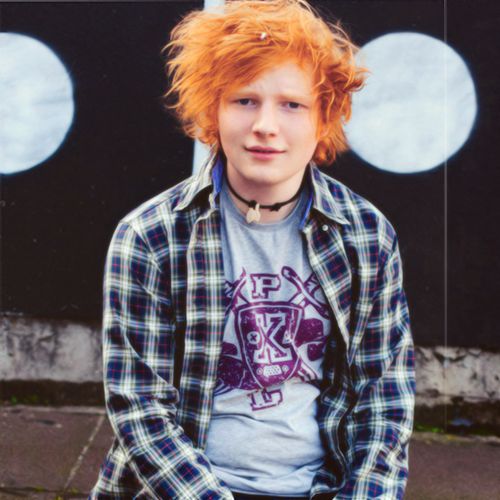 By age 15, Sheeran had gotten a little Martin Backpacker guitar and was ready to leave Thomas Mills High School, jump a train, and busk his way across England.
In 2008, Sheeran moved to London and began his steady climb, playing an astonishing 312 gigs the following year, signing with Elton John's Rocket management, and releasing the first in his stream of digital-download EPs. But he was still getting shunned by the major record labels, and he was frustrated. In 2010, he booked a plane to Los Angeles, where he played a gig at Jamie Foxx's open-mic night and then appeared on his Sirius radio show the Foxxhole. The actor was so taken by Sheeran's music that he invited the young singer to his home.
"I had gone out to L.A. at a point where nothing seemed to be going right, and within a month I was at a Hollywood A-list actor's house because he liked my music! I was like, if I can do this in L.A., surely I can do it in England," Sheeran says, shaking his head and laughing.
Within a year, the singer-guitarist returned with a renewed vigor, and No. 5 Collaborations Project hit pay dirt. Asylum/Atlantic signed Sheeran and released his debut CD, which sold more than 100,000 copies in England its first week out. He was suddenly thrust into the limelight, performing "The A Team" on Later . . . with Jools Holland, and getting attention for writing the song "Moments" for One Direction's debut album.
Sheeran hasn't rested since. He now writes whenever and wherever he gets the chance—which often means finding the showers at big venues like the SAP Center. "They're huge in these arenas, and anything you sing in the showers sounds awesome," he says. "You can just find an idea and sing it and it will sound better in the shower than it would elsewhere."
He laughs, realizing he's just stated the obvious. "This is the first time I've actually had the opportunity to write," Sheeran continues. "I didn't write one song for six months, and I've written four in the last three days."
RIGHT NOW, SHEERAN'S life may be a hurricane of arena shows, collaborations with rappers and country-pop stars, and thousands of screaming teens, but at the end of the day, he just likes to write songs, play guitar, and marvel at his beautiful instruments—like the LX1E Ed Sheeran signature model that Martin released in 2013. (The guitar maker built an extensive yearlong marketing campaign around Sheeran, and proceeds from sales of the limited-edition model went to East Anglia Children's Hospices.) And then there's his pride and joy—his custom 00-28VS Martin with the cool gecko inlay.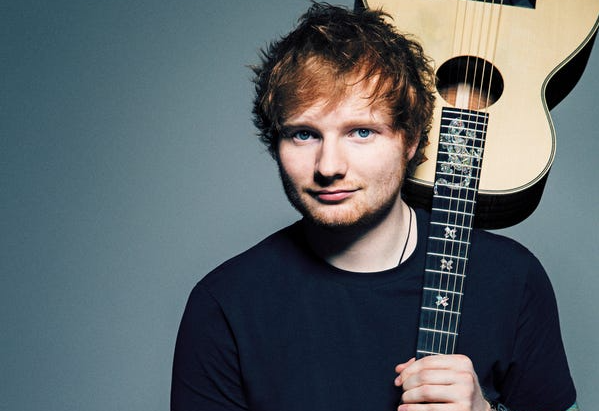 "We had a great conversation over the phone about what kind of aesthetic Ed was trying to achieve," Fred Greene, Martin's chief product officer, says of the 00. "He wanted beautiful wood, but not too much bling. It was all about quality. He knew he wanted a gecko on the fingerboard and the multiply sign [X] on the front of the guitar. We drew up some graphics and traded emails until we got the look he was visualizing in his head."
Sheeran embraces the instrument as if it's his child. He loves all kinds of guitars, he says— so much so that he still owns his old Dean with the fiberglass back, which he keeps back home in Framlingham. "I got hangers all around my kitchen with guitars on them," he says, with a grin and gleam befitting the most serious sufferer of Guitar Acquisition Syndrome (GAS).
"I own a lot of guitars—a lot of guitars," Sheeran confesses. "My favorite other guitar is a Christmas present from Gary Lightbody of Snow Patrol." It's a Lowden—the brand he'd coveted since he saw his idol Damien Rice playing one. "I remember going into shops and asking for Lowdens, and they'd be like, 'Oh, they stopped making them,'" he says. "And then I remember saying this to Gary when I was on tour with them. About four months ago, he got out this small case and was like, 'This is a Christmas present for you—a bit late.' He'd got in touch with George Lowden, who's his mate, and they made me a Wee Lowden, just a little one-off. That's my main writing guitar. It's a beautiful guitar and just . . . it's awesome."
Almost as important to Sheeran as his guitars is the quality of his electronics. A huge part of his sound is the blend of loops and beats he creates. He learned to make them using a Boss RC-20XL, which worked fine for small venues, but couldn't carry his music when he began playing arenas. "It had a tendency to compress the loop as more overdubs were added," Sheeran's soundman, Trevor Dawkins, says. "And that resulted in a very squeezed and thin-sounding loop. It became quite obvious to us that the sound quality of the RC-20 wasn't up to it."
Dawkins called on everybody he could think of, looking for equipment Sheeran could play through in massive caverns like the SAP Center. He finally found a solution: the Chewie Monsta MK1. Now, when Sheeran stomps on his loop pedal and begins layering guitar lines and tapping and thumping his instrument to create a big kick-drum effect for songs like "You Need Me, I Don't Need You"—the mesmerizing track from his first album that he plays for a full 15 minutes during his encore in San Jose—you feel it in your chest.
Performances such as this one—together with the cover versions of songs Sheeran does, like his rendition of the folk-bluegrass standard "Wayfaring Stranger"—are what inspired Rick Rubin to offer his services. "I went to see Ed live and saw that he was in a unique position," Rubin says. "His audience is very young and he played a Nina Simone cover. The fact that he was exposing 13-year-olds to such deep, spiritual music impressed me."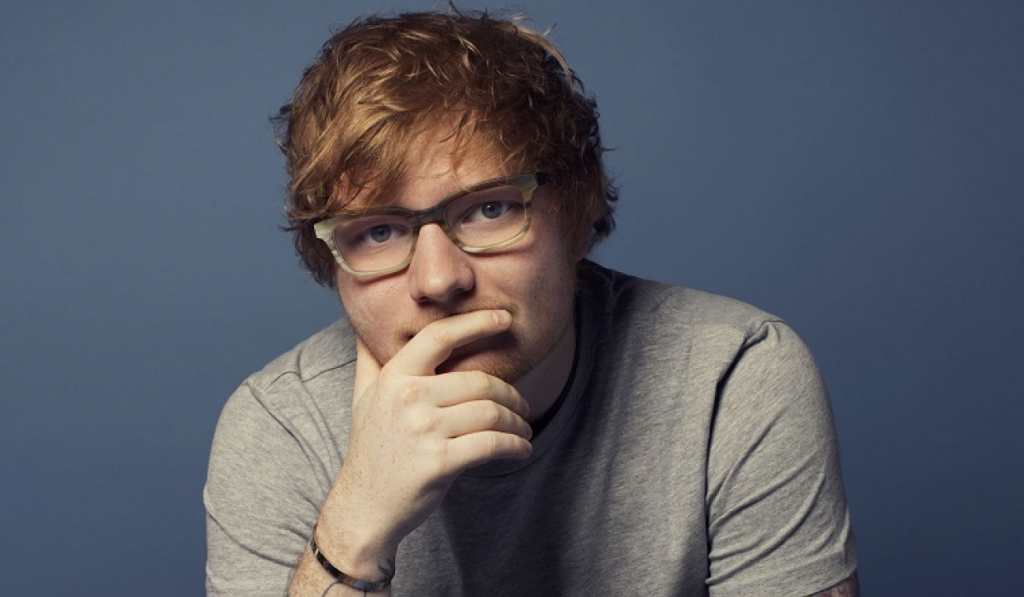 At one point in our interview, I ask Sheeran which kind of music he feels closest to—his purely acoustic songs or the ones that incorporate loops and beats? He looks up with a furrowed brow. "At gigs like this?" he asks, after a judicious pause. Then he answers: "The songs with the beats and the big thumping sounds—that's where my soul is here.
"But I played a gig in Dublin the other day where I just turned up in a pub and did some songs without amplification, and the ones with beats just wouldn't work in that kind of situation," he quickly adds. "So it depends what scenario you're in."
Sheeran pauses and smiles. It's a big 23-year-old smile. "To be honest, I do prefer this," he says, and waves a hand toward the arena area. "The excitement of it!"
Then he smiles again—a much mellower smile. "But I think in ten or 15 years time, I'll relish the purely acoustic ones."
@ Stringletter Media, 2014
How to Create a Deft Acoustic Jam: Rick Rubin Talks About Ed Sheeran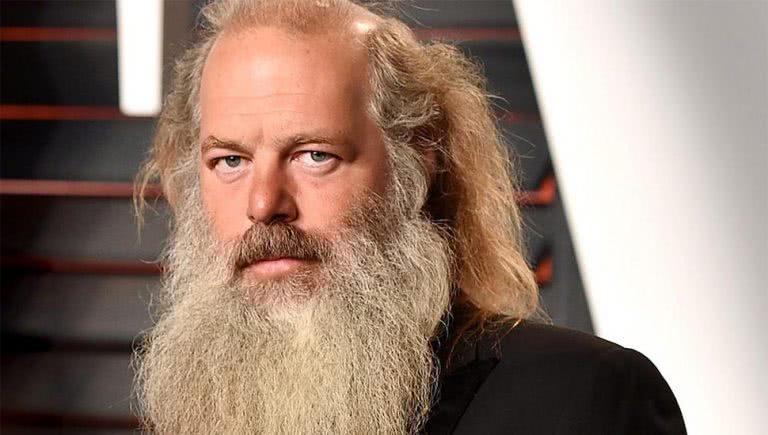 Mark Kemp: You are choosy about the artists you produce. In the roots realm, you've worked with Johnny Cash, Tom Petty, the Avett Brothers. What qualities did you see and hear in Ed Sheeran that turned your head?
Rick Rubin: He's a great singer and songwriter. He's an incredible one-man band. Using his loop peddle, he creates entire record-quality performances by live-overdubbing over himself. The song "Blood Stream" on the new album is virtually a live take with some added percussion. All of his guitars, drums, vocals and backing vocals are live, on the fly, including the choir singing at the end. He has great internal rhythm, and when he plays solo, it really shows that off.
MK: For the purposes of Acoustic Guitar magazine, it's Ed's guitar playing that turns heads—what he does with the guitar, using it as a percussion instrument, strumming hard, looping it, fingerpicking it. That works on a grand scale during his performances. How do you harness all that in a recording session?
RR: For many songs, we recorded as if it were a live-in-the-studio album.
MK: A number of producers were involved with the new album— from Pharrell Williams, who puts his own song- writing stamp on everything he does, to you, who sort of distills the essence of what the artists you work with do best. How do you think your style impacted the overall musical arc on the album?
RR: You are correct. Stylistically, I try to bring out the essence of the artist. It's less a collaboration. If I put my stamp on it, it would make it less theirs.
How to Make a Martin: Fred Greene Discusses Ed Sheeran's Guitars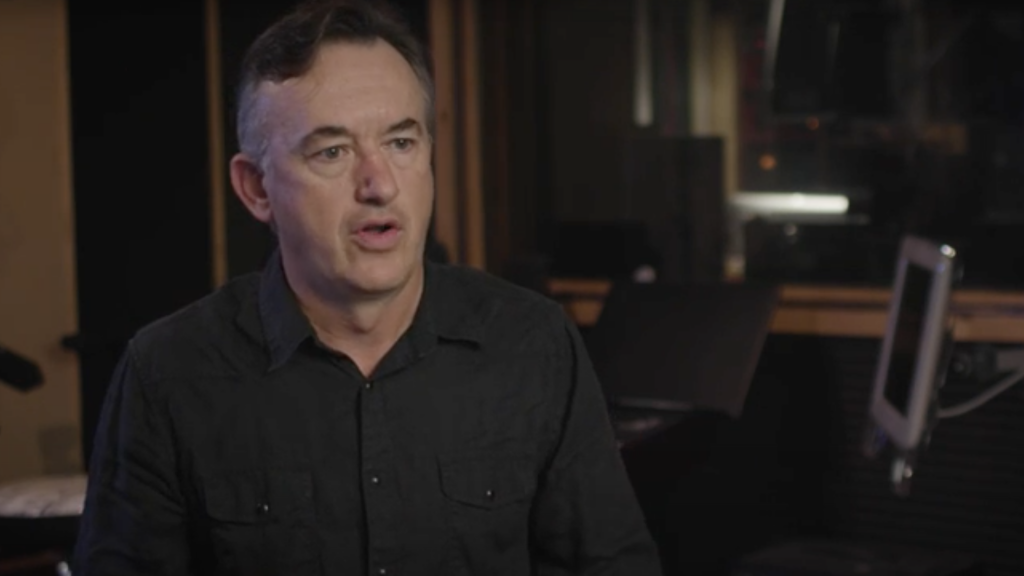 Mark Kemp: You're the head of product management at Martin Guitars, and you've worked with Ed Sheeran on the making of his instruments. What was the process like when you and he chose the materials for his custom Martin 00-28VS?
Fred Greene: Ed admitted he wasn't a wood expert, so I asked him what kind of sounds he wanted to hear from the guitar and then I gave him suggestions based on my experience. He was very open and trusting during the whole process. I can see why other musical artists love collaborating with Ed.
MK: I know he wanted the gecko on the fingerboard and the X logo on the front of the guitar. Did you make recommendations to him that he'd not thought about?
FG: Sure. Things like a pyramid bridge, the use of Engelmann Spruce on the top, hide-glue construction. Technical guitar stuff.
MK: Were there certain things you had to do to accommodate his heavily percussive style? I mean, he gives his guitars a real beating!
FG: We were definitely conscious of his aggressive style, but we also wanted to make sure we didn't build the guitar like a tank. We wanted an instrument that was both solid and yet capable of delicacy. I think we achieved that.
MK: What about the Ed Sheeran signature LX1E Little Martin— how did that process differ from signature models you've done for other artists? Were there certain specifically Ed Sheeran-type factors you wanted to consider?
FG: This is the first LX signature model we have ever done. So in that respect, it is unlike any other. Since Ed uses a basically stock LX, there were no specific Ed factors to consider.