Ever had a YouTube rabbit-hole experience? Sure you have. I had one tonight that warmed the icy punk-rock part of my heart.
You know the kind of rabbit-hole experience I'm talking about — those time-wasting trips into the matrix that almost always begin on Facebook or Twitter. Someone posts a video of an artist or band you like or once liked. You go check it out. Then you check out a related video from a hundred years ago. Then you remember how much you liked the artist from a hundred years ago, so you just keep digging and exploring until… it's two days later, you're hungry, you haven't done a damn thing the entire weekend, and if you don't stop now, you're going to be late for work on Monday morning.
That's kind of where I am now, after taking a trip down Stiff Records Way earlier this evening. A Facebook friend had posted a photo of a flier for a Wreckless Eric show that happened last night at The Homemade Aeroplane, Eric's home club in upstate New York. It sent me digging — deeper and deeper, past the Smoking Caterpillar, the Cheshire Cat, the Mad Hatter, the March Hair, the Dormouse, the Queen of Hearts.
Wreckless Eric, for those who don't remember (or never heard of him), was part of a late-'70s punk/new wave crowd that included pub-rock vets Graham Parker, Ian Dury, Nick Lowe, Dave Edmunds, an angry young Elvis Costello, art-rocker Lene Lovich, pre-teenpop new wave hearthrob Rachel Sweet, etc., etc.. They all recorded for the very hip Stiff Records label, whose motto was, "If It Ain't Stiff, It Ain't Worth a Fuck."
Eric had a semi-hit with a whiny but wonderful power-pop song called "(I'd Go the) Whole Wide World," but he put out plenty of other good songs, too — now mostly (and sadly) forgotten — like "Veronica," "Reconnez Cherie," and "Walking on the Surface of the Moon." He continued making music after he left Stiff, coming back with strong material in the late '80s and early '90s on the indie labels New Rose Records (Le Beat Group Electrique) and Sympathy for the Record Industry (The Donovan of Trash), but as a third wave of power pop by the likes of the Posies and Teenage Fanclub gave way to Nirvana and Pearl Jam, his music served a smaller and smaller audience of power-pop diehards. And "Whole Wide World" would be the song he'd be forever connected to.
[youtube width="640″ height="480″]http://youtu.be/DSjwl8lHEVE[/youtube]
I noticed that a guy named Eric Goulden had been tagged in the photo of the flier from last night's show and correctly assumed Goulden was Wreckless. So, I went to his Facebook page. He's older, a little fatter, and a little grayer, of course — we all are — but he still has that endearing whine.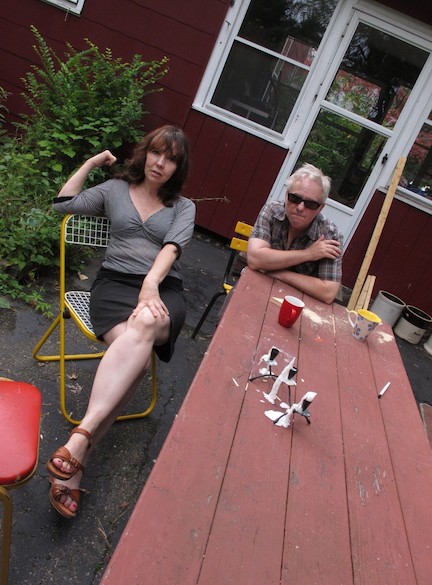 Apparently, I haven't been keeping up with old-school new wavers, because it looked like he's been collaborating for several years with another of my faves from not quite as far back — post-punk singer/songwriter Amy Rigby, she of numerous great songs ("The Summer of My Wasted Youth," "Cynically Yours," "Girls Got It Bad"); greater song titles ("Dancing with Joey Ramone," "Are We Ever Gonna Have Sex Again?"); and even greater album titles (Diary of a Mod Housewife). Actually, I have not kept up at all: As it turns out, Wreckless Eric and Amy Rigby not only are collaborators, but they are an item.
OK, all of this is getting very complicated, unless you know the characters. So, let's cut to the chase. After watching several old Wreckless Eric videos and a few Amy Rigbys, I pressed on and found a fairly recent (actually, it's five years old) Eric & Amy club performance (below), in which Eric, in his marble-mouthed British anti-enunciation, tells how he and Amy met: She was playing in a London pub and covering "Whole Wide World." Fortuitously, it was the club where he had first played the song. More fortuitously, he was in the crowd and wound up on stage with Amy, admonishing her for playing it wrong, and… well, he tells it so much better than I. Check it out:
[youtube width="640″ height="480″]http://youtu.be/SncvMas6qF0[/youtube]