In 2012, within the span of two months, North Carolina lost two of its most famous and beloved musical voices. Doc Watson and Earl Scruggs were friends, musical innovators, and positive influences on young people during a time in the South in which we desperately needed positive influences. I wrote this eulogy to these two titans of folk music shortly after their deaths.
A Tribute to Two North Carolina Legends
By Mark Kemp, Creative Loafing, May 30, 2012
A friend had converted the old movie theater in downtown Randleman into a concert space and he was bringing Doc Watson to town. I was a teenager living down the road in Asheboro and thrilled to be seeing the North Carolina folk legend perform live at the newly christened Old Liberty Music Hall.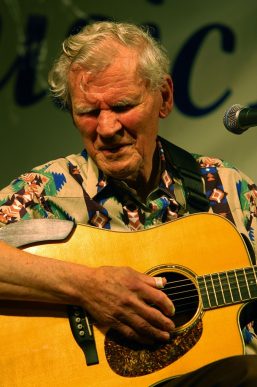 Like most rock heads in the mid-1970s, who only recently had been reintroduced to the country and folk music of the Southeast, I'd first heard Watson on a compilation of country and bluegrass jam sessions put together by a contemporary hippie act of the time, The Nitty Gritty Dirt Band. Called Will the Circle Be Unbroken, it was one of those albums, like the O Brother Where Art Thou? soundtrack of 2000, that dropped seeds everywhere, causing American folk and bluegrass to spread like the kudzu that blankets the sides of North Carolina highways. In the mid-'70s it became fashionable to trade in your electric Fender Stratocaster guitar for an acoustic Martin D-28, and your Black Sabbath albums for Elementary! Doctor Watson.
Watson, whose popularity on college campuses had been steadily rising since the smaller, more elite folk revival of the early '60s, was one of the music's more beloved Johnny Appleseeds. His warm voice and deceptively simple and casual flat-picking on songs like Jimmy Driftwood's "Tennessee Stud" sent high-school wannabe folkies the world over into their bedrooms for hours of practicing every lick and nuance, just as they'd done with the electric blues only a few years earlier.
Doc Watson died Tuesday at Wake Forest Baptist Hospital Medical Center in Winston-Salem after a fall last week at his home in the Blue Ridge Mountain community of Deep Gap. He was 89. The genial singer and guitar picker had been in critical condition throughout the week and underwent surgery for his injuries last Thursday. Watson's death comes almost exactly two months after the death of his friend and fellow North Carolina folk-music legend, banjo player Earl Scruggs, whose "Foggy Mountain Breakdown" was one of bluegrass music's defining instrumentals. For fans of folk and country, Scruggs' death at 88 and Watson's at 89 represent another end-of-an-era moment in contemporary American music history. I personally am having a hard time imagining a world without Earl Scruggs and Doc Watson in it.
That's because I raised myself on their music. It permeated the rural and small-town South of my childhood. It played in tiny curb markets and at big bluegrass festivals. It was the soundtrack to day trips into the Blue Ridge Mountains. It put a geographical stamp on movies and TV shows of the time. It had made its way into the rock of the period; you could hear it in the Allman Brothers' biggest hit, "Ramblin' Man," in Lynyrd Skynyrd's "Mississippi Kid" and on Emmylou Harris' updated cover versions of countless classics by the Louvin' Brothers, Hank Williams and Dolly Parton.
Not only that, but hillbilly music, as it was called, was in my blood. Years before I was born, my two aunts — Evelyn and Carolyn, the Carlton Sisters — had been regular performers on the Grand Ole Opry's weekly radio shows. When my Nashville-raised mom heard me listening to Doc Watson on the Will the Circle Be Unbroken album in my bedroom in the mid-'70s, she was shocked. I normally played the Rolling Stones or Alice Cooper, but now folk and bluegrass were all the rage.
"Why are you playing that hillbilly music?" she asked. "You know I had to listen to that stuff every Saturday night growing up."
Mom had distanced herself from the music of her childhood; she was embarrassed of the word "hillbilly." To her, it was a slur, like "linthead" or "redneck"; it was a class distinction, a cultural negative. She wanted to see herself as having overcome that past. She liked the Beatles, Tom Jones and Burt Bacharach. But when pressed, she'd regale me with stories of the family's Sunday afternoon picnics with the other Opry cast members: Roy Acuff, Little Jimmy Dickens, the Carters.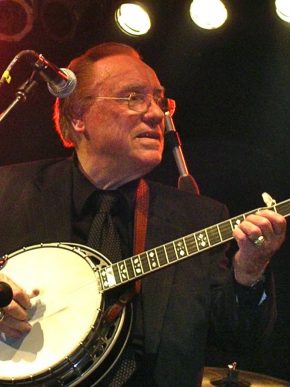 As a budding music journalist, I began to connect the dots and saw that, for all of us growing up in the South of the post-civil rights era, this music's roots were deep and interconnected. My mom grew up with the Opry before her family moved on to North Carolina. Earl Scruggs and Doc Watson grew up in North Carolina and traveled to the Opry to perform. The lens was opening up, at least for me. That small-town Southern world was becoming part of a larger web that connected all of us, every human being on the planet. The music of Watson, Scruggs and other regional artists provided a roadmap out into the wilds. And that music remained present, always, throughout my childhood and into my adulthood. It was there when I was living in New York City in the late '80s and went to the Bottom Line to see Doc perform to adoring northern folk-music fans. It was there when I traveled back down South to attend Merlefest with my dad in the '00s. It remained there until March 28, when one little sliver loosened itself and fell away. Then yesterday, when another sliver fell away.
Doc Watson and Earl Scruggs were towering figures in American music. They broke barriers — musical, generational, class, race. Scruggs brought the banjo out of its hillbilly ghetto. Watson and his son, Merle, played gigs with their blue-collar African-American folk-music counterparts like Mississippi John Hurt, and Doc made finger-picking and flat-picking staples of the country-folk sound that informed more mainstream country music. As part of the early-'60s folk revival, these two men helped bridge the gap separating the segregated South from the rest of the nation and world. They were among our ambassadors; they showed the rest of the nation and world that hillbilly was not necessarily synonymous with racist, that racism was another beast altogether, never inextricably tied to class, culture or geography.
Not that Doc or Earl ever talked about that stuff. They just played their music with their friends and let the chips fall where they may. And I am forever grateful to both of them for helping bring me through a difficult period of Southern history, through their music and, as the Rev. Dr. Martin Luther King Jr. would say, the content of their character.
Oh, and about that friend who opened the Old Liberty Music Hall in Randleman in the mid-'70s? His name is Cliff Miller, and he formed a sound engineering company called SE Systems and worked with Doc and Merle Watson consistently through the years, doing the sound for Merlefest until the very end. What comes around surely does go around.