I wrote this live review of the premiere of Chris Stamey's orchestrated performance of Big Star's Third album for my 2010 re-launch of Option magazine as a digital-only music outlet. Sadly, the Option website didn't last much longer than a year, but in that time, we were able to recreate the eclectic feel of the original print Option, for which I had served as editor in the early- to mid-'90s. In the brief time that the magazine appeared online, we brought back a few veteran Option writers including myself, Neil Strauss, and Jason Cohen, as well as a few other notable writers such as Stanley Booth, Holly Gleason, John Schacht, Al Maginnes, Ron Wynn, Corbie Hill, and Deedee (Ms. DD) Mignonne. Not to mention lots of great writing that was sadly lost to digital outer space when we let the domain name slip away — something I will forever regret. I'm currently in the process of trying to retrieve some of that writing from the Internet Archive Wayback machine. For now, here's that Big Star Third performance review.
Members of R.E.M., the dB's, and others recreate Big Star's classic third album on stage — with an orchestra
By Mark Kemp, Option, December, 2010
In the early 1970s, another kind of southern rock appeared from that rich musical Deep South vortex where Tennessee shares borders with Mississippi and Alabama, but this sound had little to do with the Allman Brothers, Lynyrd Skynyrd or any of the other bastard white children of Otis Redding, Elmore James and Jerry Lee Lewis.
Big Star drew from British pop — the Beatles, the Kinks, the Move. Led by former teen blue-eyed soul singer Alex Chilton of the Box Tops, Big Star was virtually unknown during its heyday, but in later years became one of the key links to post-punk and indie-pop. The group's imprint is all over the sound of artists ranging from the dB's, R.E.M., and the Replacements to Teenage Fanclub and the Breeders to such current indie-rock bands as the Love Language and even mainstream pop-punk acts like Weezer.
On Thursday and Friday, December 9 and 10, a who's who of southern indie-pop bands paid tribute to Big Star's most influential work at Cat's Cradle in Carrboro, North Carolina. Billed as "The Fully Orchestrated Live Premiere of Big Star's Third," the core musicians included Mike Mills of R.E.M., Chris Stamey and Will Rigby of the dB's, Mitch Easter of Let's Active, and original Big Star drummer Jody Stephens. Fleshed out with strings and brass courtesy of the North Carolina Symphony — and conducted by Ari Picker of the orchestral-pop band Lost in the Trees — the performances were dress rehearsals for later shows and material for an upcoming documentary, Nothing Can Hurt Me: The Big Star Story.
Recorded in 1974, Big Star's third album, also known as Sister Lovers, has always been an enigma — it was not officially released until 1993, and the band never performed it live as it was intended, as a fully orchestrated work. To attempt such a feat more than a quarter-century later was quite an undertaking, and the Thursday show — which, for the most part, was a success — had its share of opening-night glitches. Surrounded by big red balloons and a backdrop of blue sky and clouds, musical director Stamey seemed on edge during the performance, stopping and restarting at least two songs and nervously looking around at the guest singers and conductor Picker to make sure everything held together.
For his part, Picker achieved the remarkable, seamlessly integrating lush string arrangements into the roar of guitars. And several of the guest singers — in particular, Django Haskins of the Old Ceremony on "Nature Boy" and "Holocaust," Stu McLamb of the Love Language on "Strike It, Noel," Mills on "Jesus Christ" — delivered awe-inspiring performances. Equally sublime were the musical textures and vocal harmonies added to the shuffling "O Dana" and the deep, dark, psychedelic-tinged "Holocaust." Even some of the weaker moments were brilliant misses. The Rosebuds' Ivan Howard and Kelly Crisp's delivery of the Velvet Underground song "Femme Fatale" — which Big Star covered on Third — was shaky and tentative, but interestingly quirky.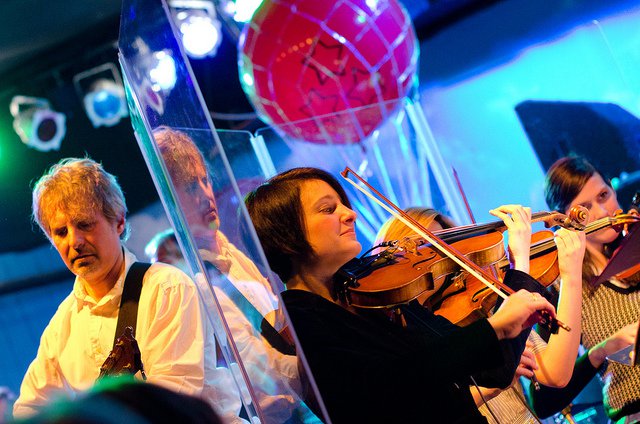 Of course, interestingly quirky is part of the charm of Big Star's Third. The album was a departure from the crisp power-pop sound of the band's first two discs, #1 Record and Radio City. Recorded as the band was breaking up, Third is a fastidiously arranged but loosely performed set of stark, sometimes tuneful, often shambling songs that barely hangs together, yet, in the end, somehow hangs together perfectly. It's as if Chilton was deliberately sabotaging his muse, deconstructing every pop element he had put into his previous works — long before the idea of "deconstruction" made its way into popular music. Nowhere was this quirky, discombobulating element more obvious than on "Downs," a glorious train wreck of avant-pop sloppiness that the brothers of Megafaun — Brad and Phil Cook — performed with crazed, devil-may-care abandon while, behind them, the Rosebuds' Howard inscrutably bounced a basketball.
An extended encore found the musicians and singers taking turns on a few Big Star-related songs that are not on Third — "September Gurls" (from Radio City), "Give Me Another Chance" (from #1 Record), and "You and Your Sister" and "I Am the Cosmos" (from the late Big Star member Chris Bell's solo album). In the end, the most memorable moment came early on in the performance from the sole representative of Big Star present: Stephens, singing his own sweet, melancholic love song "For You."
@Mark Kemp, Option magazine, 2010; photos by Abby Nardo; video by Chris Beacham