In 1996, seven years after I wrote my first profile of the late Vic Chesnutt for Option magazine, I reconnected with the singer-songwriter for this Rolling Stone feature. That year, a who's who of contemporary rockers and pop stars, including Madonna, recorded cover versions of several of Vic's songs for a compilation album aimed at raising awareness of the Sweet Relief Musicians Fund, which provides financial assistance to musicians facing illness, disability, or age-related problems. It was the second in a series of albums put out by the organization, which had been set up in 1993 initially to help singer-songwriter Victoria Williams after she was diagnosed with multiple sclerosis. For the story, I flew from New York City down to Athens, Georgia, to meet with Vic and his wife, Tina. During our first day of interviews, we sat and chatted in the couple's living room, and then, later in the evening, retired to their screened-in front porch, where we smoked cigarettes and watched lightning crack against the sky and fireflies flicker in a vacant lot across the street. The following day, Vic and Tina rode with me down to Zebulon, the small town in rural Pike County where Vic grew up. Thirteen years later, on Christmas Day, Chesnutt died from a drug overdose, leaving his prodigious catalog of some of the most idiosyncratic and literary songs of our times.
Vic Chesnutt joins his rock & roll heroes in the spotlight
By Mark Kemp, Rolling Stone, September 9, 1996
WHEN VIC CHESNUTT HEARD that Madonna would be singing one of his songs on the Sweet Relief II benefit compilation, he wasn't so much elated as he was dubious. "I thought, 'No way!'" the 31-year-old singer-songwriter says, scrunching up his bony shoulders like a little boy and smiling mischievously. "That won't happen." Chesnutt, a two-day shadow on his face, leans forward in his ragged wheelchair and reaches for another Camel Light. He's parked in the living room of his Athens, Georgia, home on a stormy summer afternoon, wearing baggy beige pants, a coffee-stained long-sleeved T-shirt, and a baseball cap emblazoned with "Eastern Airlines" — the company for which his father worked for 20 years as a baggage handler until deregulation left him jobless in the early '80s. "It's weird," Chesnutt continues in his thick Georgia drawl. "I don't know how people are gonna respond to this. I mean, Madonna? Doing one of my songs?"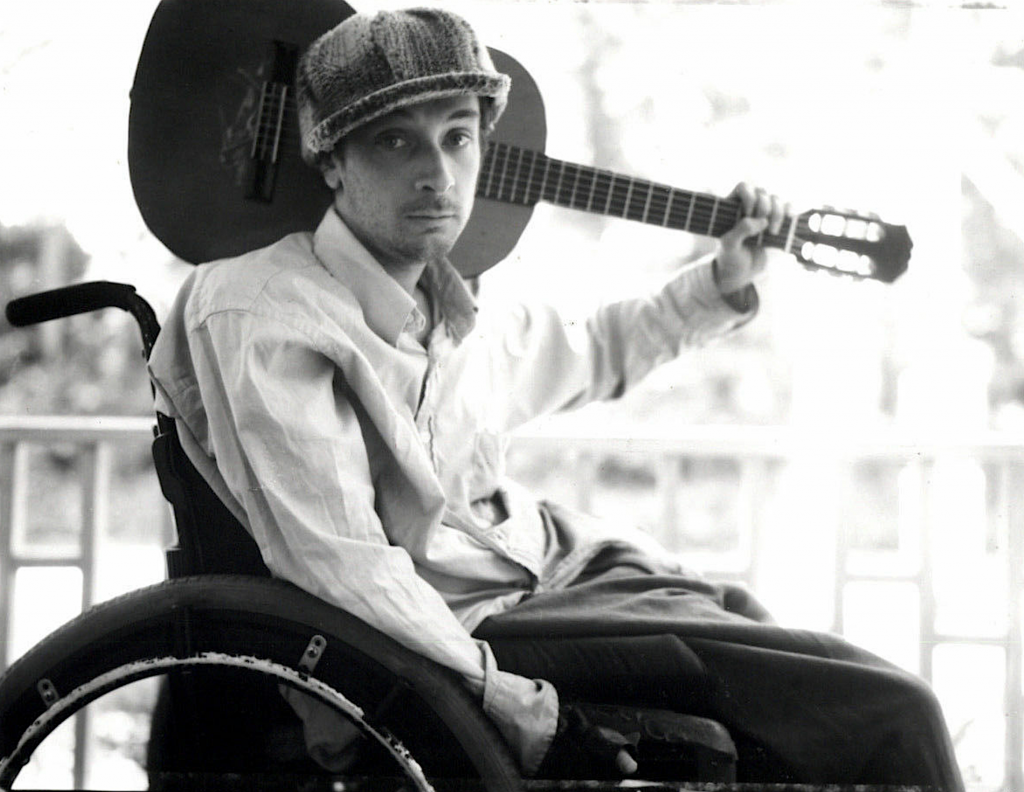 The Material Girl is not the only name with marquee value on Sweet Relief II, which is subtitled Gravity of the Situation: The Songs of Vic Chesnutt. A laundry list of big-name modern-rock acts, including R.E.M, Hootie and the Blowfish, Smashing Pumpkins, Garbage, and the Sweet Relief organization's original beneficiary, Victoria Williams, also appear on the album, interpreting such idiosyncratic Chesnutt songs as "Sponge," "Gravity of the Situation," "Sad Peter Pan," "Kick My Ass," and "God Is Good."
Sweet Relief was founded in 1993 to help raise money for the medical bills Williams had accumulated after being diagnosed with multiple sclerosis; as a musician, she had no health benefits. In the three years since, the organization has set up a fund for other uninsured musicians, and though Chesnutt is not in need of financial assistance, he understands the trauma of a sudden tragedy: In 1983, a car crash left him partially paralyzed from the neck down. "It's an important cause," Chesnutt says, "and I'm honored they chose my songs for this project and that these great, great people are singin' em."
Madonna duets with her brother-in-law, the folk singer Joe Henry, on a version of Chesnutt's "Guilty by Association," a moody song about the price one pays for living in the shadows of a famous person. Chesnutt knows a lot about that. Eight years ago, his buddy Michael Stipe dragged him away from a regular Tuesday night gig at the 40 Watt Club, in Athens, to record Chesnutt's debut, Little, a demo-quality document of the singer's eccentric, highly personal, and very Southern story-songs performed over simple acoustic-guitar accompaniment. But three albums later, the sweet yet surly songwriter still spends too much of his time answering the question: "What's Michael like?" Though each of Chesnutt's three records on the tiny indie label Texas Hotel — West of Rome, Drunk and last year's Is the Actor Happy? — has been championed by critics and revered by some of the biggest names in rock & roll, the songwriter still remains largely unknown.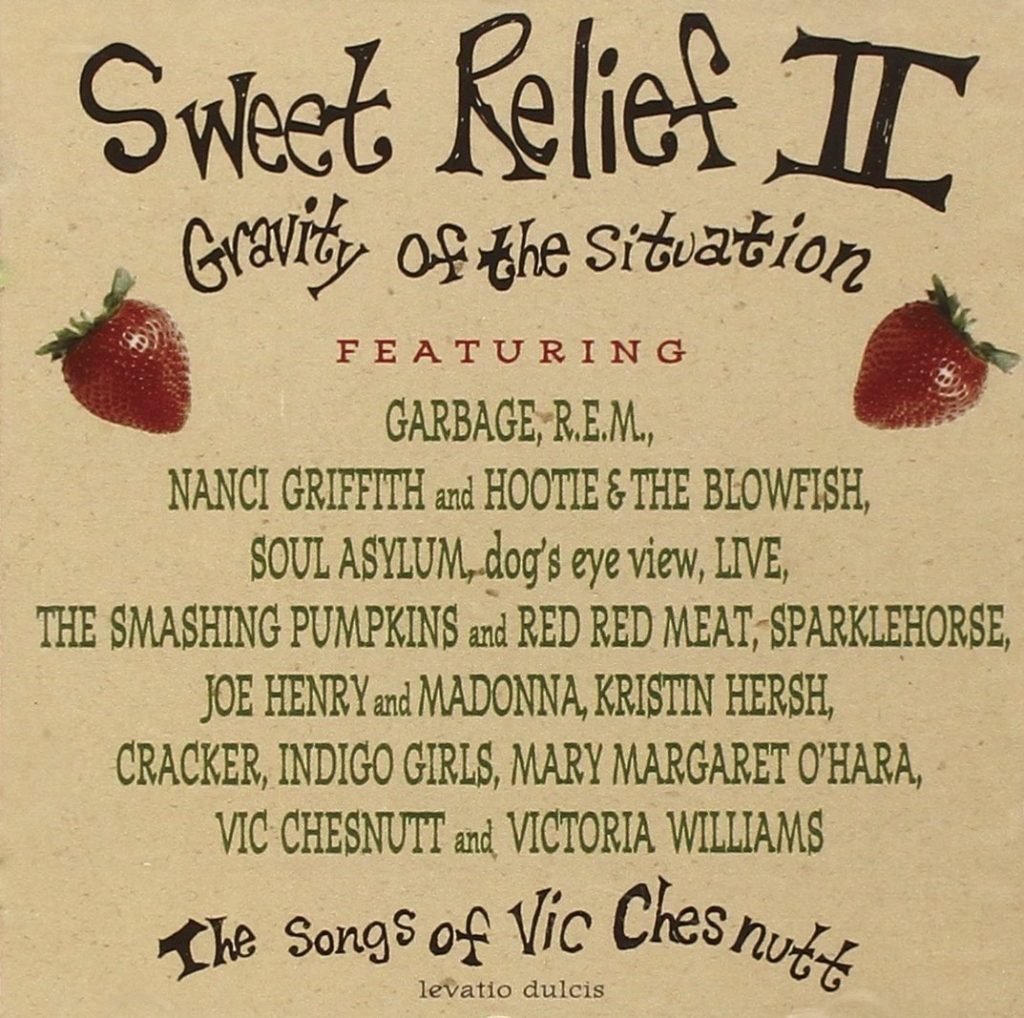 Sweet Relief II should change that. "I didn't know what to expect on this record," Chesnutt says. "I thought there might be a major cringe factor, but nothing on it really makes me cringe. And some of 'em I really love." Like Mary Margaret O'Hara's arty rendition of "Florida" (a state that Chesnutt refers to in the song as "the redneck Riviera") or Kristin Hersh's personalized take on the rich lyrical details of "Panic Pure," which includes the line, "My earliest memory is of holding a sparkler high up to the darkest sky…/I shook it with an urgency that I never, ever will be able to repeat."
A wheelchair ramp in front of Chesnutt's small, violet-paneled home, which is just five minutes from the University of Georgia campus, leads to a screened-in porch where he and his wife, Tina, sit at night, smoking cigarettes and watching fireflies flicker like Christmas lights in a vacant lot across the road. Inside the house, paintings by folk artists such as the Rev. Howard Finster and Jill Carnes share wall space with a few pieces by Vic and Tina. A cluster of family photographs — including one old black-and-white snapshot of Chesnutt's guitar-playing grandfather performing with a country-swing band at a rural Moose lodge — sits on the mantel next to the living-room window. Outside, Chesnutt's faded black Dodge touring van is parked at the curb, the word "sophisticated" crudely spray-painted across its side and a bumper sticker on the back that reads, "I'M JUST RAISIN' HELL ON MY WAY TO HEAVEN."
The little morality tales of Chesnutt, whose parents were born-again Christians, detail the trials and tribulations of growing up in the rural South. He conveys them with odd phrasing and vocal quirks, putting accents on the wrong syllables, stretching out words like at-ti-tude and ree–moved and turning one-syllable words like can't, you, is, and I into two. "My songs are very personal in a way," says Chesnutt, whose rambling, stream-of-Southernness conversational style veers from one thought to the next like an endless William Faulkner sentence. "It seems to me that it would be hard for someone else to sing 'em, even the ones that aren't about my day-to-day life, even if they're those kinda songs that come out of my imagination — y'know, like fictional amalgamations of the world around me. Sometimes it just seems like it'd be hard for somebody else to figure." He smiles. "But these people managed to do it. There's some great stuff on that record." If it had been up to Chesnutt, he'd have chosen a few other artists to sing on the album, such as his Georgia friends Jack Logan, Smoke and the Dashboard Saviors, as well as Giant Sand, Lambchop, and Bob Mould. "But this record is not for me," he insists. "It's for something much bigger. And that's my only concern."
Maybe so. But now that Chesnutt has signed with Capitol Records and is working on his first album for the label, due out in November, the exposure that bands like R.E.M. and Hootie and the Blowfish will bring to his songs — which can go from total joy to utter despair, often in the space of one line — may be just what it takes for his music to earn the kind of record sales that he's long deserved. "I never used to think I had any big place in the music business," Chesnutt says, scratching the back of his neck with his feeble fingers. "And I'm not the kind of person who goes around chasin' stuff like that. It's embarrassing." Still, when his contract with Texas Hotel came up for renewal last year, Chesnutt told the label that he needed to move on. "It was crushing," he says, "but I had to do it. I just had to come to grips with the fact that a lot of people besides indie rockers like my music. I would be a fool to fight it. It was hard, though. It was like moving out of the house for the first time. I wanted my parents there."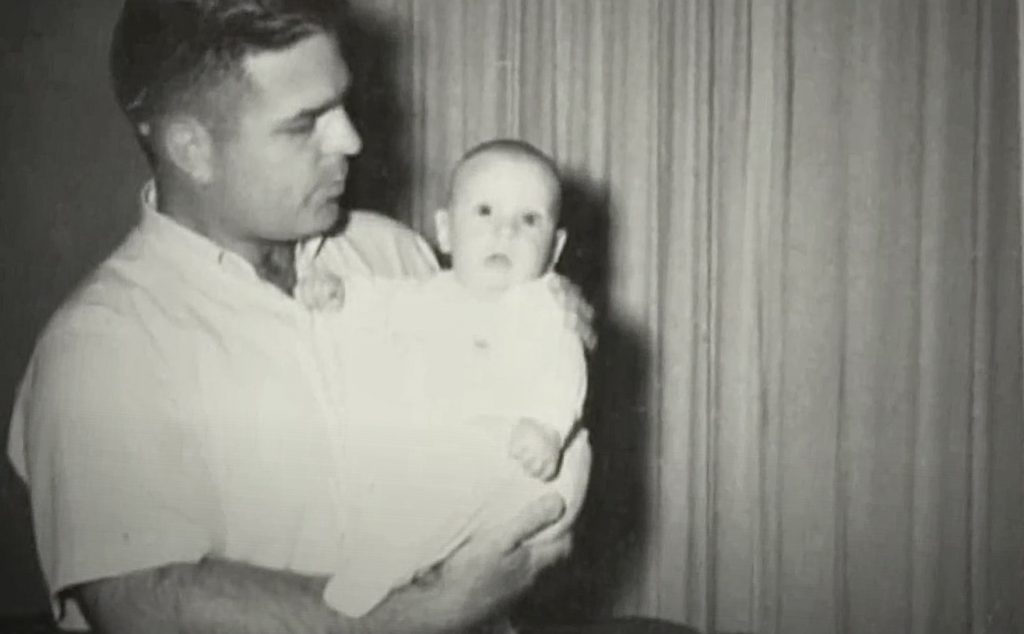 It's been two years since Chesnutt's mama died and about seven since his daddy passed away, both from cancer. Their absence has had a deep effect on the songwriter, who often reminisces about his childhood growing up in Zebulon, one of those blink-and-you'll-miss-it towns that dot the rolling hills of central Georgia like pepper on scrambled eggs. The day after my first visit with Vic and Tina, the couple decide to drive the 120-mile journey back to Zebulon for a little resolution; other than taking care of business after his mother died, Chesnutt hasn't been back to his hometown since.
"Don't make me go in there," Chesnutt pleads, sitting in the back seat of my rental car on a small strip of road between the century-old Pike County courthouse and a row of buildings that contain the local newspaper and a beauty shop called Hair by Di. Chesnutt's mother used to work at the salon, and as he stares into its window, he shudders at his most recent memories of the place. "It would be too traumatic," he says, his voice softening. "Diane, the woman who owns it, is really great. But I can't see her. It would hurt too much." Later, in the parking lot of the Zebulon Dairy Queen, Chesnutt talks about how hard it was watching both parents fade away within such a short time. "They call it Cancerland," he says of the town. "I don't know whatcaused 'em to get it, but it seems pretty weird, don't ya think?"
James and Miriam Chesnutt adopted Vic in Jacksonville, Florida, in 1965, and moved him and his baby sister to Georgia five years later. James, who loaded airplanes, and Miriam, a clerk for the immigration department, both worked in Atlanta and made the 50-mile trek there daily while Chesnutt's granny watched the kids. He spent much of his childhood hunting and fishing in the woods around the family's modest ranch-style home, which was nestled into a hill next to a small pond down a winding dirt road outside of town. "I spent a lot of time by myself," Chesnutt says with a shrug as we drive by the house. "I didn't care — I had my dogs."
At elementary school, Chesnutt was ridiculed by his fellow students and constantly got into fistfights. "I was a fat little kid," he says. I didn't have but one friend for years." He preferred life at home, where he would listen to the country music his parents played on the radio; he especially liked it when his grandfather came over with his guitar. "When I was a tiny, little baby, he'd open that guitar case, man, and I'd be crawling my ass over there to watch him play it," Chesnutt remembers. At 16, he got his own guitar, and his grandfather taught him a few chords. But by then, his life had been saved by rock & roll. "I'd started being good, and I wasn't fat anymore," he says. "So I wanted to listen to the rock music all the good redneck kids who beat me up were listening to. I'd buy 8-tracks of Styx and Kiss, and shit like that."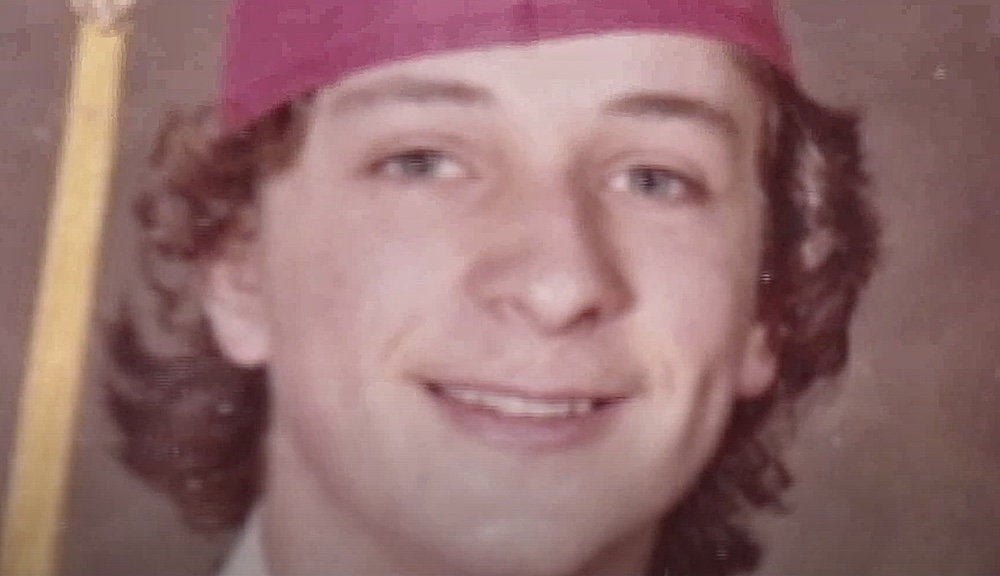 By his senior year at Pike County High, Chesnutt was known as the class clown and had become so popular among the students that he was voted class president and landed the role of the Tin Man in the school's production of The Wizard of Oz. Regardless, Chesnutt still hated everything about school except for band class and its teacher. "It was just stupid," he recalls. "Everybody there was just stupid. The stoner crowd was rednecks, and I fucking hated them. They were dumbasses, and they were racists. They were sick."
Chesnutt got a lot of thinking done while getting stoned and riding around in his '68 Buick Le Sabre. He'd drive for miles down the dirt roads and through the old peach groves and kudzu-covered woodland; those drives have inspired songs like "Bug," on West of Rome, with its line about "a front porch filled with greasy, greasy grannies." "That line comes from an old saying around here," Chesnutt explains. "It's what kids say to be mean to each other: "Your greasy granny!' It's like, "Yo mama!' But I use it as a term of endearment. It came from me driving down these country roads and looking onto front porches and seeing all these greasy, greasy grannies sitting out there in the hot sun, wearing the same thing they'd slept in, sweatin' like crazy — just sitting out there being greasy. I love 'em. I love 'em the most. I miss my greasy granny." In fact, it was Chesnutt's granny who inspired the song's refrain, "When the bug hits/That's the time to scratch it," a comment she'd made to him about acting immediately on his creative impulses.
When he wasn't cruising around the countryside or tromping through the woods, Chesnutt plowed fields and worked in a cotton mill for spending money. "A lot of the imagination that comes out in my songs is centered here," he says of Zebulon and its population of 1,400. But he was often left feeling depressed by what he would see around town. One time, he and a friend stumbled upon a relic from the South's unpleasant recent history. "We came to this little country store and went back to the bathrooms, and they still had a sign on one of 'em that said 'COLOREDS.' I mean, this was the '70s! So we came back later that night with sledgehammers and tore that bathroom to pieces."
To pursue his growing artistic urges, which he couldn't share with his Pike County peers, Chesnutt started taking classes at Gordon Junior College, in the nearby "metropolis" of Barnesville (pop. 5,432), after graduating from high school in 1982. There, only 15 miles from his hometown, Chesnutt formed a band called the La-Di-Da's with a group of likeminded non-redneck friends who had just discovered punk rock. "Man, I thought those guys were so sophisticated," he says. "And I felt like a hick. The only thing I knew about culture was what I'd seen on PBS and heard on Leonard Cohen records."
A year later, Chesnutt was driving back to Zebulon one night from a series of parties in nearby Griffin, stone drunk, and lost control of his car. He swerved into a small ditch in front of a house, and the car flipped over. Chesnutt says the crash wasn't particularly bloody; he just hit the wrong way, and it broke his neck. "It really doesn't bother me to pass by here," he says as we round the curve where the accident happened. "I mean, it doesn't make me feel sad or anything. I've been by here a million times since 1983."
Chesnutt spent a year in rehabilitation and then slowly relearned how to play guitar, strumming the instrument with a pick that he attached to an old glove. Two years later, he moved to Athens, where he began studying English, continued drinking heavily and started playing his new folkier songs at bars frequented by people like Michael Stipe. His regular Tuesday night shows at the 40 Watt attracted an ever-expanding cult of college students and locals who never knew whether Chesnutt would be in a good mood and put on a coherent show or be drunk and berate both the crowd and himself. Today, Chesnutt winces at his earlier stage behavior. "I'd get fucked up, and I was pretty self-indulgent back then," he says.
As self-indulgent as he was onstage, Chesnutt hates it when people see him simply as a guy who writes sad songs because he's handicapped. "It's like, 'How can I react to that?'" he says. "I guess it's ludicrous for me to think that people would understand it if I said, 'No, it's just my nature.' I've always had to deal with depression. I've always doubted myself, doubted my beliefs, second-guessed my decisions — and it paralyzes me." He glances down at his torpid legs and smiles: "Excuse the pun."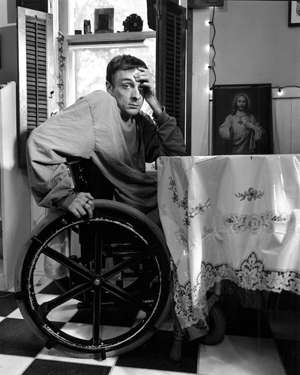 "The whole thing about me being crippled or whatever, it's an ugly thing for people to have to deal with. I understand the curiosity, but I don't always know what to say. Yeah, it's a little harder. But it's either sit in a closet or get out there and do something."
Not that Chesnutt blames people for wanting to know what effect his handicap has on his songwriting. "The whole thing about me being crippled or whatever, it's an ugly thing for people to have to deal with," he says. "I understand the curiosity, but I don't always know what to say. Yeah, it's a little harder. But it's either sit in a closet or get out there and do something." Chesnutt gets equally annoyed with handicapped activists who make what he feels are unrealistic demands. "I don't pretend to think that the world should change to adapt to me," he says. "I've always felt that I have to adapt to the world. Long before I was in a wheelchair, I had to learn how to fit in. Sure, it sucks that sometimes I can't take a shit when I need to take a shit. It drives me fucking crazy. But I don't think every small business should have to spend its last $40,000 on making me a 'handi-crapper.' I'll probably infuriate people for saying that, but it's the way I feel The world is not perfect for everybody, and it never will be."
It's about 10 p.m., and the Chesnutts are back in Athens, hanging out at the corner of College Avenue and Clayton Street — a block from the edge of the University of Georgia campus and two blocks in the opposite direction from the old, yellow-brick Athens City Hall. In the building next to the Chesnutts is the legendary Wuxtry Records, where Michael Stipe and Pete Buck first met and started talking about forming R.E.M. A row of newspaper boxes sits below a cluster of trees whose branches mushroom above them like giant green umbrellas. On the opposite corner is a row of restaurants and coffee shops, including Planet Smoothie and the Cookies and Co. Cafe.
It's a hopping night in Athens. As lanky students with alterna-hairdos saunter down the avenue like comic-strip characters, two guys with acoustic guitars serenade them with folk songs. Earlier in the day, a guy waving an American flag had stood a block away, at the corner of College and Front streets, stopping pedestrians and barking some political ideology at them. Chesnutt used to sit at a card table at that very same spot behind a sign that read, "NO GOD Exists," shouting at people about the morality of atheism. "People were barking their philosophies of life on that corner long before I came around," Chesnutt says, rubbing his hands together with a deranged smile, "and I guess people will be barking 'em there long after I'm gone." His eyes wander down the street, to the campus and then up to the stars. "It's weird," he says plaintively. "I don't feel at home down here anymore."
It didn't used to be that way. Shortly after he arrived in Athens in 1985, Chesnutt became an infamous downtown fixture. While recovering from the accident, he had read voraciously, developing a love of modern poetry. "I moved here and promptly became a notorious drunk," he says with a quiet laugh. "I didn't do very good in school. I was too busy meeting people and talking to people about what was really important to me. For somebody like me, coming here from the boonies in the mid-'80s, it was like Paris in the '20s. All the writers and musicians and artists…" He trails off. "I just love the creative process, and I love talking to people about it."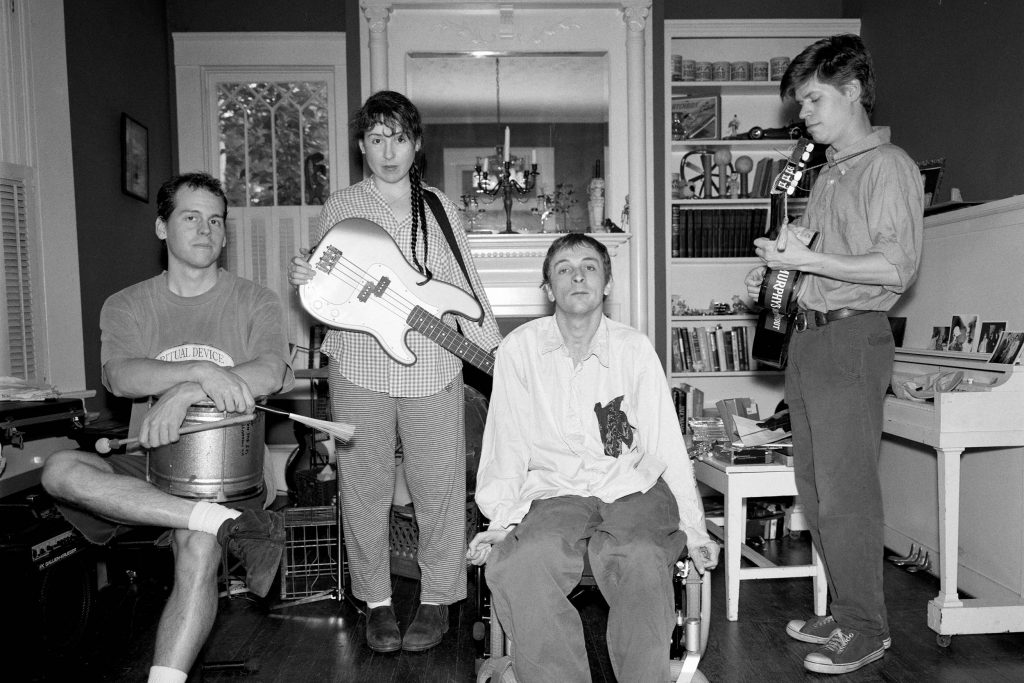 Chesnutt began reinventing himself in his songs, mythologizing the people he'd hated during his childhood — like "Danny Carlisle," a character from a song on his first album. "Danny Carlisle was based on this kid I beat up once — actually, he's based on a combination of characters," Chesnutt says. "I was sitting on my porch in Athens one day, tripping on acid and thinking about this guy. At the time, I was hanging out with these activist-type people, obsessing over left-wing politics. So when I wrote, 'Danny Carlisle don't care about the Contras,' it's like I was wishing that I was Danny Carlisle, who didn't have to deal with the stuff I was dealing with. I was horny and shit, and I was just wishing that I would just shut the fuck up about it and be like Danny Carlisle." He pauses, then recites a line from the song: "He'd rather dream than fuck."
But somewhere between Chesnutt's youthful, impassioned sermons on atheism and the poetic images of pianos and onion soup in his more recent work, his dreams have become grounded in reality. "I'm not sure enough about anything to sing about politics or religion anymore," he says. "I'm too easily swayed by other people. Anyway, I don't have those kinds of obsessions anymore. Now I obsess about singing and traveling and what to put on my next record. I think I've grown up a lot."
Marrying Tina may have had something to do with that. A round-faced woman with a sweet, shy smile, Tina had been playing in a country-punk band at the 40 Watt when Chesnutt met her there around 1989. A year later, Tina was playing bass in Vic's band, and the two married at a truck stop while on the road. These days, Tina says, the couple rarely go out at night; instead, they sit on their porch and talk and watch lightning bugs. "We probably should get out more," she admits. "Sometimes we'll get ready but then never manage to get out the door."
Besides, Chesnutt is more focused on his work than ever. Aside from the solo records he's done, he has toured with another one of his heroes, former Husker Du frontman Bob Mould, and recorded an album for Capricorn Records, Brute, with another Athens band, Widespread Panic. And though Chesnutt hopes his upcoming Capitol album will incorporate both the minimalism of his debut and the professionalism of Is the Actor Happy?, Chesnutt says he probably won't be spouting any more shock lyrics like, "I'm not a victim, I'm an atheist," from 'Speed Racer,' one of his better-known songs from Little. Nowadays, he's too busy being in charge and thinking about how good it feels to hear his rock & roll heroes reinterpret his little stories.
Chesnutt runs a hand across his face and grins like a jack-o'-lantern. "You know, I don't care what anybody says; I don't think my songs are all that depressing," he muses. "There's a lot of humor in my little stories. I'm not saying they're easy to listen to, but I like to think that when people hear my music, it pulls them in both directions at once — like life does."
© Mark Kemp, 1996
Watch Scott Stuckey's unfinished documentary on Chesnutt, What Doesn't Kill Me.