I'm a little late with my picks for the 2014 Rock And Roll Hall of Fame. Sue me. I had to think about it. Have some coffee. Go for a swim. Take a trip to San Francisco and Vegas. Get a job. Pack the bags.
Now, I'm ready. (As if the voters have been anxiously awaiting my opinions anyway. There was a time when I was a voter myself. No longer. My picks didn't usually get in anyway.)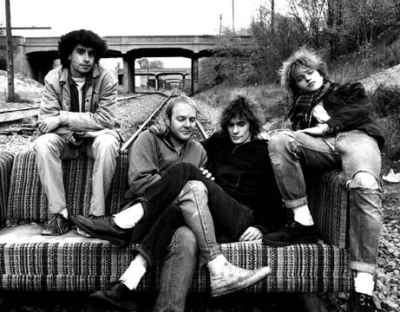 Seriously, though, I've given this more thought than I should, considering I'm not the biggest fan of the idea of a "Rock And Roll Hall of Fame." Let's forget for a moment the acts that have never even been nominated: Big Mama Thornton(!!), Arthur Alexander, Joan Baez, Phil Ochs, Big Star, Roxy Music, Joy Division, Bjork, Massive Attack, the Pixies, Steve Earle, Sonic Youth, etc., etc. These and scores of other oversights make the nomination of cartoon act KISS this year seem pretty silly. But that's the way the Rock Hall rolls.
I had a hard time not choosing Nirvana and N.W.A, but I don't think those two are quite ready for induction this year, though they definitely will be at a later date. It  was also hard to not pick the Zombies, mainly because I love Odessey and Oracle so much. But I felt it important to look at the bigger picture: Who, among this particular group of nominees, is deserving this year? How do we keep a diversity of styles and eras when assessing the history of this malleable thing we call rock & roll? (By the way, I'm acutely aware that the final 2014 inductees list will look nothing like this.)
So, here we go:
1) Link Wray: Duh. He invented the power chord.
[youtube width="640″ height="360″]http://youtu.be/ucTg6rZJCu4[/youtube]
2) Paul Butterfield Blues Band: Butterfield, Mike Bloomfield, Elvin Bishop et al. made it safe for young white guys and young black guys to play Chicago-style blues together without shame. (The shame, of course, is that they're being nominated before Son House.) The Butterfield Blues Band went on to change Bob Dylan's life and music when they all plugged in at the Newport Folk Festival, freaking out the acoustic purists. That's rock & roll.
[youtube width="640″ height="360″]http://youtu.be/aPpKU80trdw[/youtube]
3) The Meters: Should be inducted if only for their sampled contributions to early hip-hop, but there's plenty more good reasons, namely: 1) Art Neville, 2) George Porter, Jr., 3) Leo Nocentelli, 4) Ziggy Modeliste. They were the house band for Allen Toussaint, they brought New Orleans funk to much larger audiences and, via the Wild Tchoupitoulas project, they spawned the Neville Brothers.
[youtube width="640″ height="360″]http://youtu.be/8mggZfD2GMA[/youtube]
4) Chic: It's frankly a sin that voters continually pass over Bernard Edwards and Nile Rodgers' hugely influential outfit, and we can chalk that up to the age-old rockist prejudice against disco. But come on: Aren't we over the old "rock & roll is guitar-based music made by white guys influenced by black guys" myth by now? Rock & roll is much wider and deeper than that. It's a freaked-out state of mind, and Chic c'est le freak.
[youtube width="640″ height="360″]http://youtu.be/4KUL9-eNXzQ[/youtube]
5) The Replacements: If it weren't for the 'Mats, Nirvana wouldn't have been around to be on the list of nominees in the first place. Not only were the Replacements rock & roll incarnate, the band had one of the finest songwriters of my generation: Paul Westerberg. If they don't get in and Nirvana does, life is not fair. Of course, life is not fair.
[youtube width="640″ height="360″]http://youtu.be/AUFWnbz2siM[/youtube]