In my 2004 book Dixie Lullaby: A Story of Music, Race, and New Beginnings in a New South, I wrote about a confrontational encounter I once had with Chris Robinson of the Black Crowes backstage at the Greek Theatre in Los Angeles. I mentioned how defensive the singer became when I brought up his band's retro sound and what Patterson Hood of the Drive-By Truckers would later term "The Southern Thing." Then I went on to explain that, in reality, "Chris Robinson didn't have anything to be defensive about … I was playing the role of the smart, probing music journalist, but deep down I knew where he was coming from. Though I questioned his honesty, I wasn't being completely honest with myself. I felt indignant and misunderstood about my southern heritage, too, and not nearly as cocksure of my role as the editor of a well-respected alternative-music magazine [Option] as I hoped others would believe. In the early '90s, I was torn between the underground music scene I had entrenched myself in and the mainstream rock & roll that still moved me as much as it did when I first heard the Rolling Stones as a child. I was in denial about it, though, and was conveniently putting all of my fears and insecurities on Chris Robinson's band." This story, published in LA Weekly in 1992, chronicles that encounter.
Mad Dogs and Southern Men
By Mark Kemp, L.A. Weekly, November 19, 1992
"The point is that, like Richard Hell says, rock 'n' roll is an arena in which you re-create yourself, and all this blathering about authenticity is just a bunch of crap." — Lester Bangs, 1979
CHRIS ROBINSON is feeling defensive. It's the second night of the Black Crowes' three-night gig at the Greek Theatre, and Robinson is sitting backstage nervously tapping his foot. He could probably use a good meal; he's so scrawny that it seems at any moment the cushions in his chair might swallow his toothpick frame whole. Wearing a pair of patchwork maroon, blue and black velvet, hip-hugging bell-bottoms with a matching vest, Robinson could have just walked out of a dusty old Mad Dogs and Englishmen poster.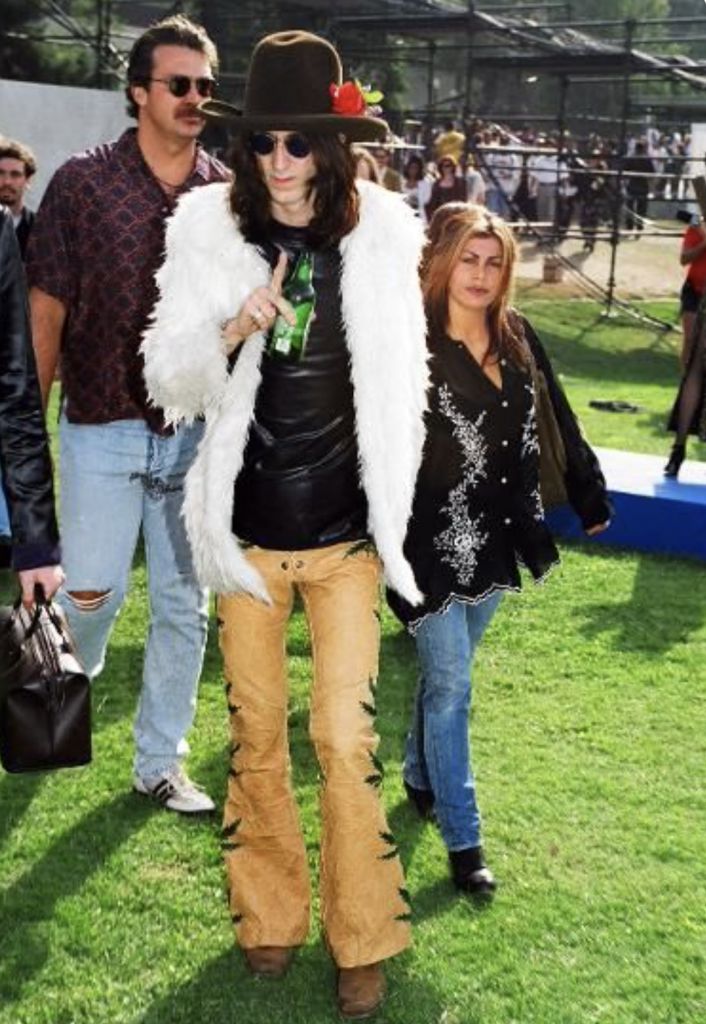 "Yeah, but, like, so what?" he blurts out. It's not the first time he's said that in the past 10 minutes. When Robinson doesn't like a particular question — which is often — he gazes down at the floor, his gaunt face and bug eyes disappearing behind an early-period Rod Stewart mop of greasy brown hair. When he feels more secure about his words, he strokes his scraggly new goatee or waves his hands around for emphasis. When I used the "R" word (you know, "retro"), he first gazed down at the floor. Now, he's waving his hands. "Look, we just wanna be the baddest band who gets up there and lays it down every night," he says emphatically. "I mean, like, this is our thing, man, and this is the way we do it, and this is what we're saying, and this is the music that we play, OK?" He's shifting into overdrive now. "All those other things are just so much at the ends of the threads of, like, this tapestry that we're trying to make, you know?" (Hmmm.) "So, like, what's the point? Isn't all that other stuff just boring and cliché by now?" He drawls out the word "boring" like Johnny Rotten with a Southern accent.
The "boring and cliché stuff" is the line of questioning Robinson's faced since his band released its Def American debut, Shake Your Money Maker, in 1990. In an era defined by techno, hip-hop and grungy post-punk rock, the Black Crowes' blend of '70s boogie and Southern soul is an anachronism. Older rock fans sneer at them for being so arrogant that they would copy the Stones, Faces and Humble Pie; younger, hipper folk dismiss them as the epitome of uncool. Yet somehow, 5 million copies of Shake Your Money Maker managed to jump off the world's record racks. And the group's latest album, The Southern Harmony and Musical Companion, debuted at No. 1, shipped platinum, and has now reached double-platinum status. For an arrogant, uncool band, the Black Crowes are doing OK.
Of course, none of this would mean beans if they didn't make legitimately good music. However retro they might sound, "Jealous Again," "She Talks to Angels" and "Remedy" are all fine songs, and even the cover of Otis Redding's "Hard To Handle" is competent. Yet it is their craft of seduction that makes the Black Crowes problematic. They have re-created the rock star in all of his flashy '70s trappings, without the ironic wink of Teenage Fanclub or the giddy, deconstructionist spirit of My Life with the Thrill Kill Kult. The Black Crowes violate one of the primary rules of the post-punk era: that any grandiose persona must include some degree of self-aware cynicism. The Crowes take their stardom so seriously that a thinking listener might mistake their shtick for deadpan; that is, the lucky listener who hasn't been lured into the cliché, only to leave dissatisfied.
Chris Robinson acts like it's the stupidest thing in the world for anyone to ponder such nonsense. "So fucking what?" he barks. "I've never wanted to be calculated. I've never wanted to paint myself to be a certain cool thing so people would go like, Ooooo. I could give a shit about all that stuff."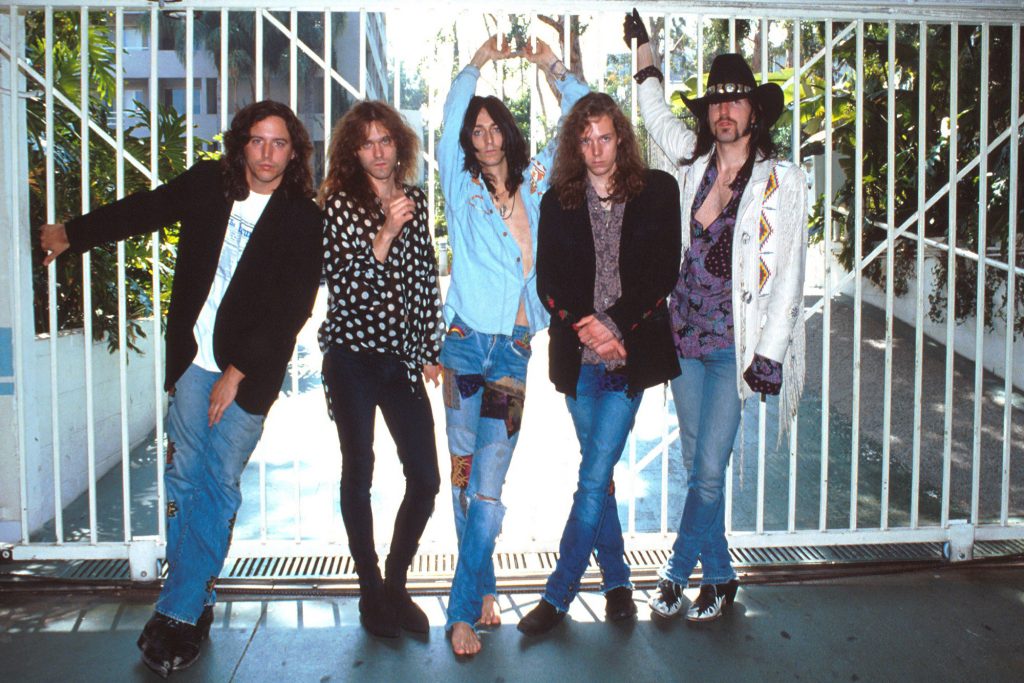 The Black Crowes' own example doesn't bear that out. After a brief fling in the mid-'80s as Mr. Crowe's Garden, a so-called alternative band from Georgia that rode the coattails of R.E.M., Robinson and his guitarist brother Rich retreated to the womb of rock & roll's earlier, simpler days; back to the days when sex was relatively safe, when white folks could still call Black folks their brothers and sisters, and when teenage girls still had a blind, burning faith in the power of sexual healing by a mop-top rock star. (This radical stylistic change, incidentally, came on the recommendation of Def American executive George Drakoulias, the kind of advice Chris Robinson is wont to say "don't mean shit to us.") Since then, the Crowes have created a playground for themselves and their fans, where there's no place for riot grrrls, for sad and haunting records like Automatic for the People, or for a self-professed "Negative Creep" and his former "Teenage Whore" to hold up a mirror for society to look into and see all of its ugliness. When Robinson sings, "Wake me when the day breaks/Show me how the sun shines/Tell me about your heartaches" on "Thorn in My Pride," after a gospel-influenced rock & roll organ swell gives way to chunky Keith Richards riffs, you don't have to worry about getting laid off or about racial unrest in the nation's cities. In the Black Crowes' world, the most pressing social issue is hemp legalization, women still talk to angels, and jealousy is the hardest thing to handle.
In Camille Paglia terms, the Crowes' retro-strut is a godsend; in Naomi Wolf terms, it's likely a conspiracy; in Susan Faludi terms, it represents a backlash. In 12-step terms, it is nothing less than denial. That the Black Crowes share with Nirvana and Ice Cube a psychic space among the pop audience says more about the confusion of that audience than about the fragmentation of pop into genres. In fact, one could call the Black Crowes' success a sign of our times, in which case they are not the throwbacks they appear to be, because present conditions motivate their evasion, the same problems that press all of us nearly a decade into the age of AIDS. It's just that where Ministry confronts the pain of living in the '90s over a backdrop of samples and screeches, and Nirvana screams out behind a noisy wall of post-punk grunge, the Black Crowes pretend the world hasn't changed in two decades, as if punk rock and drum machines never happened.
If Chris Robinson weren't so defensive, if he would only claim the right to reinvent himself, then the anachronisms wouldn't matter. But instead, he lashes out. Robinson chastises Kurt Cobain for fearing his own success; to him, Cobain is "chickenshit," his wails and anti-rock star stance just a party-line pose. "He's not helping the guys in his band and he's not helping the people who dig his band," Robinson says, adding, with a completely straight face, that Cobain is merely "hiding behind a fucking thin disguise so the record company can come in and do whatever they want to do."
Robinson's bravado is as ephemeral as a cocaine high. For the time he is onstage, it works. At the Greek Theater, when he rips into "Jealous Again," he sings the song with the soulful intensity of a Steve Marriott; when he flaps his skinny body about his microphone stand during "Hard to Handle," he looks like a young Mick jagger. When he raps to his audience, he seems sure of himself, and the crowd hangs onto his words: "This next song is for you people who aren't acting too cool to enjoy yourselves." But offstage, when he comes down, the frustration and defensiveness return. "This country is a huge, you know, like, big… uh… fear," he says, tapping his foot on the floor a mile a minute. "Americans are sooo scared. You would think that after a while they would just cool out or something, but they don't, because everyone is so, you know…" He trails off, laughing.
NOWHERE COULD the Black Crowes' brand of escapism have been more evident than in Hollywood last month. A party in the group's honor at Yamashiro boasted the largest gathering of non-metal longhairs since Humble Pie split up, and the largest gathering of young, attractive Asian women, probably, since the release party for Sucking in the Seventies. Def American laid out a lavish spread and free booze as if the recession never happened. Marijuana was the perfume du jour, and I overheard one partygoer telling a friend, "I just did something grody; I did a couple of lines in the bathroom." Bellbottoms, sideburns, open-button shirts were the fashions of choice, and there wasn't a backward baseball cap, "Silence = Death" T-shirt, Jive or P.E. insignia within miles. The sound system blasted stuff like Lynyrd Skynyrd.
"In the whole sort of process of everything," Robinson says, "why would you think I would sit down here and, like, talk about the Faces and the Rolling Stones, man? There's millions of people in the United States who buy Black Crowes records who know this isn't the 1970s" — he drawls out the word "know" forever — "and who know that they like Exile on Main Street and that they like Lester Flatt and Earl Scruggs just like I do. You know what I mean?" (Hmmm.)
On the subject of other, more contemporary music, Robinson becomes delusional. R.E.M. guitarist Pete Buck "only wishes he could play as well as the guitar players in mv band," he says. To Robinson, the American D.I.Y. indie scene of the early '80s was no different from bloated '70s rock. "All those people did the same thing that any other bands ever did. They went out on the road and fucked everyone and did tons of drugs and all that, right?" The point of D.I.Y. was for bands to take control of their own careers; I bring up the subject to press Robinson about his own direction. Finally, he starts making sense: "The thing about us is that we have no problem being who we are. We don't feel guilty about it. I have no problem knowing what I can do with my voice, or knowing that someone like my brother, who writes the songs and arranges the music, is talented. I have no problem with making good music and knowing it."
Authenticity shouldn't be an issue, but the nagging denial is. You can only buy into it for so long before you bottom out. Shake Your Money Maker was tasty, The Southern Harmony and Musical Companion was merely filling. And after all the soap bubbles have popped and the huge backdrop poster of Mad Dogs-era Leon Russell rolls up at the end of the Crowes' Greek Theatre performances, the gunshots are still cracking over in South-Central.
So what's next? Robinson gives a clue: He says diehard punk rockers probably consider the Black Crowes "bourgeois elitist pigs." Then he adds, "But punk rock was just a fashion, right?"
© Mark Kemp, 1992