In 2017, I heard through the grapevine that one of the progenitors of punk rock lived a quiet, upper-middle-class life by a fancy golf course near Charlotte, North Carolina. I couldn't wait to talk to him. Rob Lind is a founding member of The Sonics — the 1960s Pacific Northwest garage band that foresaw punk by more than a decade in ferocious songs like "The Witch" and "Psycho." I was the editor of Charlotte's then-alternative newsweekly Creative Loafing, and this was the perfect alt-weekly story. Lind, who still tours with The Sonics, truly lives a double life: By night, he rocks out like madman in punk clubs around the world; by day, he plays golf with oblivious friends in the banking industry. You can't make this shit up!
"The Witch" craft of saxophonist Rob Lind
By Mark Kemp, Creative Loafing, May 17, 2017
When mild-mannered Rob Lind isn't on the links at Birkdale Golf Club with his wife Suzanne, or on his boat with his son Robbie during the Peninsula Yacht Club's annual poker run at Lake Norman, the Huntersville resident is onstage with his legendary band The Sonics, wailing away on a saxophone. In the decade since the Seattle-born band resurfaced, Lind has played to tens of thousands of garage-rock fans across the United States and Europe who go to see The Sonics bash out such proto-punk classics as "Psycho," "Strychnine" and "The Witch."
Jack White once described The Sonics — the 1960s Pacific Northwest regional rock 'n' roll band that three decades later would have a profound impact on the White Stripes — as "animalistic screams signifying the base thoughts of mid-'60s bored teens." White called The Sonics "harder than The Kinks, and punk long before punk," adding, "Life becomes better after buying a Sonics record."
"I hate The Sonics," said the late Kurt Cobain when Nirvana was confronted with comparisons to their grungy Seattle forebears whose raw, untamed, mid-'60s singles remain essential nuggets of pre-punk wild abandon. But Cobain then walked back his insult, admitting, "They got the most amazing drum sound I've ever heard . . . It sounds like he's hitting harder than anyone I've ever known."
Meanwhile, as those two rock stars of the '90s and 2000s were commenting on The Sonics' rich musical legacy, Rob Lind was living a quiet life in the Charlotte suburbs, working as a pilot for Piedmont Airlines. He was blissfully unaware that the band he formed at 15 years old with four high school buddies in the working-class town of Tacoma, Washington, had left such a powerful stamp on rock.
"I was totally naïve to it," Lind says. "People later asked me, 'Do you know that Iggy and the Stooges did one of your songs?' No. 'Did you know all these other guys covered your songs?' No. It took me a while to figure out how much of an influence we had."
Lind, now 70, is sitting with me at a table outside the Creative Loafing office on a sunny weekday afternoon, dressed like my dad in a black button-down collar shirt and jeans. The next day he will jet off to Paris where the reformed Sonics will do a three-week run in Europe and then return to the U.S. for dates that include Atlanta, Nashville, Seattle and New York. The Sonics also will play at the Neighborhood Theatre on Friday, May 19, for their first ever Charlotte gig. Lind is a little worried that no one will show up.
"I've always wanted to play in Charlotte," he says. "But our business manager, who's based in San Francisco, said, 'Are you sure?' He handles the group Mudhoney, and we're all good friends with those guys, and he said, 'Mudhoney didn't draw very well down there. What makes you think you will?'"
I assure Lind that Charlotte has plenty of scruffy punk bands and fans who are acutely aware of The Sonics' legacy; Even if the band doesn't completely pack the Neighborhood Theatre — and it probably will — lots of folks will show up. "Well, I hope so," he says. "Are you gonna be there?" Yes. "Oh, good!"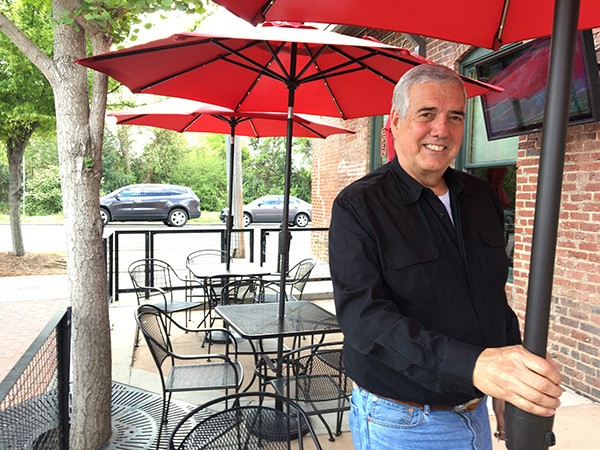 PUNK ROCK. IT'S ROOTED in insecurity and low self-esteem. Without those key ingredients, there would be no punk rock. The Sonics began their journey with one major self-esteem hit. It was 1964, and 17-year-old Lind and his friends had just driven the 40-mile trek north from Tacoma to Seattle to record their first single, "The Witch."
"You have to understand, Tacoma is nothing like Seattle," Lind says. "It's a blue-collar waterfront city, and Seattle is the big, urbane city with skyscrapers — it's like the difference between Rock Hill [a small town just below the North Carolina/South Carolina border] and Charlotte."
The Sonics — sons of lumberyard and plywood factory workers — took the elevator in one of those big Seattle buildings up to the generic-named Audio Recording Studio. It was as though they'd arrived in Emerald City. "There it was: glass control room, serious-looking guys sitting there staring at us," Lind remembers. He and the other four teenaged musicians were nervous. "So we get out our instruments and tune up, and then this voice comes out of the control room: 'Here it is, The Sonics, 'The Witch' — take one!'"
They froze. Terrified. Bobby Bennett, the drummer, counted off the song, but he did it at twice the speed they had intended. Lind laughs at the memory. "So instead of [counts slowly], da, da, da, da, da, it was [rapidly], dadadadada. We just rushed the crap out of it," Lind says.
When the boys got back to their parents' homes in Tacoma, they moped. "We were heartbroken," Lind remembers. "We were like, 'Oh god, we just totally blew it. We're screwed. This is awful.'"
A funny thing happened, though. The kids in the Pacific Northwest who heard "The Witch" on the radio liked its loud, fast, bone-crunching sound, and the song became a regional hit. The Sonics returned to the studio to record a few more wild rockers: "Psycho," "Strychnine," and a hard-rocking version of Richard Berry's doo-wop classic "Have Love, Will Travel." When the British Invasion reached America, The Sonics wound up opening for The Kinks during that U.K. band's promotional tour for their first two proto-hard-rock hits, "You Really Got Me" and "All Day and All of the Night."
But The Sonics' ride didn't last long. By 1967, when the Beatles released Sgt. Pepper's Lonely Hearts Club Band, a new era of rock had dawned. Raw and fast no longer ruled. Rock bands were doing more complicated things in the studio: dropping acid and bringing in acoustic guitars, harpsichord, and Mellotrons.
The Sonics called it a day.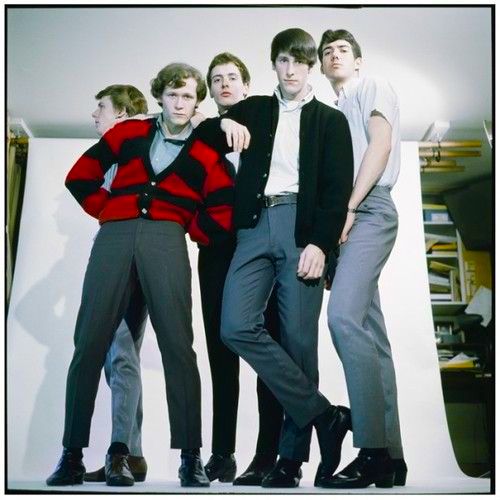 "The Vietnam War was going on and I'd just graduated from the University of Washington and immediately got drafted," Lind remembers. "I was on my way, and I already had my pilot's license, so I thought, 'Well, if I have to go to Vietnam, I'm going to fly something.'"
Lind signed on as a Navy fighter pilot. Keyboardist and lead screamer Gerry Roslie opened an asphalt business. Guitarist Larry Parypa became a fraud investigator for an insurance company. And drummer Bob Bennett moved to Hawaii and sold Cadillacs and Buicks. As the years flew by, rock became bigger, more complicated, more sprawling. None of the members of The Sonics were aware by the late 1970s that another new breed of rockers — bands like The Ramones and Sex Pistols, who'd grown weary of the bloated corporate rock of circus acts like Styx and Rush — had gotten their hands on those old Sonics records.
Lind had no clue that when he and his fellow Sonics fucked up that day in the studio back in 1964 — turning what was intended to be a ponderous song, "The Witch," into a loud-fast bone-cruncher — they'd basically invented punk.
And they wouldn't know it for another 30 years.
WHILE LIND WAS ENJOYING his retirement in the Charlotte area in the early 2000s, teeing off at Birkdale, hanging out on Lake Norman, flying the occasional celebrity for a company called Net Jets, his Sonics songs had long been popping up on garage-rock compilations. "Psycho" was a regular on the personal playlists of bands like The Fuzztones, The Lyres, and The Vipers, who launched a full-on garage-rock revival in the 1980s and an annual garage-rock festival called Cavestomp. Bands like Mudhoney, The Mummies and The Trashwomen, who took the garage aesthetic into the '90s. And bands like The White Stripes, The Strokes and The Hives, who brought that raw sound into the new millennium and to a new level of mainstream acceptance.
After much urging from promoters who'd approached Lind and his former band mates to reunite for the 2007 Cavestomp festival, he, Roslie and Parypa finally agreed. They were shocked anyone cared, but began rehearsing with friends from two other '60s-era Pacific Northwest garage bands — drummer Ricky Lynn Johnson of the Fabulous Wailers and bassist Don Wilhelm of the Daily Flash — as replacements for original Sonics drummer Bennett and Parypa's bassist brother Andy. Lind says he had not listened closely to much popular music since The Sonics broke up, but he liked what he heard from gritty contemporary bands like The Hives.
"The timing of this worked perfectly for us," Lind says, "because we quit playing rock 'n' roll in '67 and then didn't start back again until we started rehearsing in 2005. We missed the light shows and psychedelic stuff, we missed the disco thing, we missed the hair bands and the Spandex and the giant white tennis shoes, and we weren't in bars playing covers of 'Eye of the Tiger.' So when we started playing out again in 2007, we were right back to where we were in '67, which was the music we liked and the music we knew."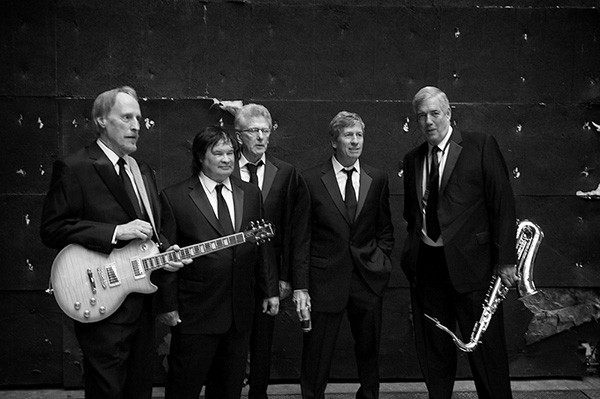 Lind was still doing the occasional job flying celebrities like Julia Roberts and Shaquille O'Neal for Net Jets when word got around the music industry that The Sonics were getting back together. On one flight, he was assigned to fly a particularly special passenger. He would go pick up Bruce Springsteen and his wife Patti Scialfa at the Grammys in Los Angeles and fly them back to Florida.
"I knew that Bruce and the E Street band had recently done a show in Seattle, and it got back to me that he had said, 'Now we're going to do a song by The Sonics, and I'm not talking about the basketball team.' And they did 'Have Love, Will Travel.' So now I'm flying Bruce and Patti, and after a couple of hours I had to get out of the cockpit and go use the restroom. Bruce was sitting next to the lavatory door, and when I came out, I said, 'Could I have a second to chat with you?'"
Lind laughs. "Now, we're not supposed to do that," he says. "We're not supposed to talk to the celebrities that we fly. But I did anyway.
"I said, 'You did something really nice for me and some friends of mine, and I wanted to thank you for it.'
"And Bruce said, 'Oh? What was that?'
"I said, 'Well, I'm Rob Lind, the sax player of The Sonics and. . .' That was as far as I got. His eyes got big and he said, 'Holy shit! What are you doing here? Sit down. Let's talk music.'
"We talked for about a half an hour, and he was one of the nicest showbiz personalities I've ever met. He took my phone number and said, 'I heard you guys are getting back in action. There's going to be a lot of opportunities."
Since their reunion, The Sonics have played more places, in more years, than they ever did in their mid-'60s prime. They've performed with The Hives in Stockholm; did a concert with Ray Davies of The Kinks in London; and had Pearl Jam's Eddie Vedder onstage to sing with them at a record shop in Seattle. They've performed at festivals in Oslo, Norway, and Barcelona, Spain, attracting tens of thousands of fans who knew and sang along to every word of "Psycho" and "Strychnine." Their songs have appeared in films and TV ads. And in 2015, The Sonics released their first album of new material since the 1960s, This is The Sonics. It reached No. 21 on Billboard's Heetseekers chart and was named one of the best albums of the year by Rolling Stone.
"It's been a lot of fun," Lind says. "We played the Fillmore in San Francisco and sold it out, and now we're going to close a show at the Seattle Center. That's going to be particularly nice since it's the band's home base."
The other two original members, Roslie and Parypa, recently dropped out of the touring band, but they will continue to record new Sonics material with Lind. And Lind stands by the garage-cred of their replacements.
As for Lind, he has no plans to quit. "I told someone the other day that if it ever stopped being fun, I'd stay home and spend more time on Lake Norman or spend more time on the golf course," he says. "But walking out on stage and playing that first song and watching the crowd erupt — there's nothing like that. That's just total fun for me."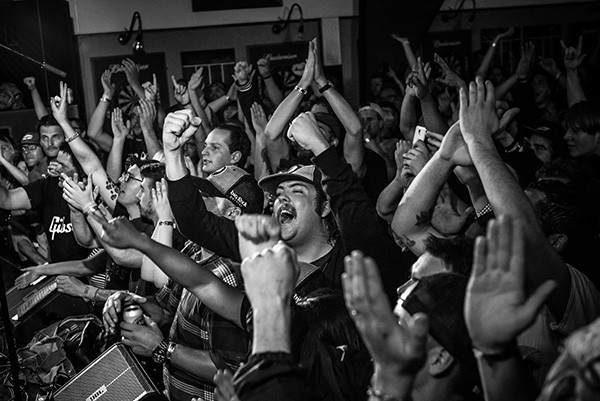 LIND LEANS BACK in his chair and laughs when I ask if his neighbors in Huntersville know what he does when he's not hanging out at Lake Norman. "They have no idea," he says. "And it's not because I'm trying to be all Greta Garbo and want to be left alone; it's just because The Sonics aren't played on the radio here and no one would know who we are."
His wife Suzanne still works in the airline industry, and when the two are out on the town, people sometimes ask, "Now that you're retired and Suzanne's flying, Rob, what do you do?" Lind laughs again. "My stock answer is: 'Suzanne does all the flying around here and I'm charge of vehicle maintenance and lawn care.'"
Suzanne Lind's reply when her husband isn't around is a little different. "When she meets people in Charlotte nowadays and they ask her what her husband does, she'll say, 'Oh, he's a rock 'n' roll musician.' She doesn't say I'm a retired airbus captain; she says I'm a rock 'n' roll musician. And generally what she gets back is, 'Oh, does he play at Midtown Sundries?' 'Uh, no, not exactly.'" He laughs harder this time. "We get that all the time."
Even Lind's 30-year-old son Robbie, a Charlotte stock broker, didn't know about his dad's storied garage-rock past before The Sonics reformed. "When he was growing up, he was aware that I was a fighter pilot and that was his big thing," Lind says. "He'd draw pictures of airplanes and stuff. But he got interested in the band after we started playing again and he started reading about the 'legendary' stuff. He's been real proud of me ever since. He's all over our Facebook page, which is full of propaganda. And he's my first mate — he's my boat dude."
As for the poker run that the Peninsula Yacht Club holds on Lake Norman every June 17, Lind won't be making it this year. "I always look forward to that," he says. "I just love it. I get my son and one of my old flying buddies and we go out there and spend all day on the lake just having the best time." He looks down, slightly disappointed. "But I won't be able to do it this year," he says, and then smiles again, "because this June 17 I'll be in Mexico City with The Sonics."
If any of the Linds' suburban neighbors happen to make their way to the Neighborhood Theater this week, they'll likely be in for a shock. Lind says "garage rock" is a misnomer for The Sonics; he sees what they do more in terms of the raw and bratty hard rock AC/DC is known for than the more reverent blues-rock hybrid that the White Stripes played.
"Our whole deal — and I mean this in a nice way — is to come out onstage and punch you in the mouth," Lind says.
Even if nobody comes to see the show?
"It doesn't make any difference to me," Lind says with a laugh. "Whether we play for 10 people or 10,000, we're going to do the same thing. We're going to come off the stage, soaking wet, drinking bottled water. Because that's what we do."
He gets serious again, but the self-doubt seems to have faded.
"I'm hopeful that we're going to get a decent crowd in Charlotte, but I'm not sure of it. Charlotte's kind of fickle about live music," Lind says.
"But whether we do or don't, I'm real proud of The Sonics," Lind adds. "I love what we're doing. And that's what keeps me doing it."