Viva la southern rock en español
By Mark Kemp, Novello Press, April, 2008
ON A HOT summer day in 2005, Juan Miguel Marin stood on the front steps of the Film Foundry in Charlotte, North Carolina, smiling radiantly and shaking people's hands as they filed in the doors. His band, La Rúa, was about to premiere its first video, a narrative clip for the group's regional single, "El Chanchito," which translates in Spanish as "The Piggybank." La Rúa, a five-piece rock band made up of young Venezuelans and Ecuadorians, made history that day. In their music — and in the video for "El Chanchito," in particular — Juan Miguel and his friends documented the evolving story of the new New South.
"El Chanchito" is high-energy rock en español — rock 'n' roll sung in Spanish — in which Juan Miguel sings of a young Latin American immigrant named Samuel, who works multiple jobs to save money for his girlfriend Marta to come across the border and be with him in the United States. Samuel isn't a grape-picker in California or a ranchero in Texas — he washes dishes in a Southern greasy spoon, loads trucks at a warehouse and sweats on construction jobs in North Carolina's fastest-growing metropolis. The images in La Rúa's video are quintessentially Southern: hot rural roads, rich green grass and trees, deep red dirt, dusty construction sites and a gritty pool-hall parking lot filled with people in jeans and T-shirts, dancing and singing.
These are images of the South in which I grew up during the 1970s — beautiful, simple, soulful — but the people in the frames look very different from the young people of my generation. They're not just black or white; they're multiple shades in between. And they don't speak just English; most of them also speak Spanish. In historically Hispanic-heavy areas of the US, such as New York City or Miami, Texas or the West Coast, these images wouldn't seem particularly new or noteworthy. But for those of us who grew up in the black-and-white South, the Latinization of this region is nothing short of amazing. Our old Andy Griffith main drags and Sanford & Son junkyards are transforming into a colorful mosaic of new languages, new cuisines, new visual arts and, perhaps most exciting of all, new styles of music. When a pickup truck rumbles up next to your car at a stoplight in today's South, it's not necessarily Bubba at the wheel with a rifle rack and hunting dogs behind him, rocking to Lynyrd Skynyrd or swaying to the sweet country moan of Randy Travis. It may be José and a handful of his buddies, blasting the latest album by Mexican rockers Maná or norteño kings Los Tigres del Norte.
DURING THE 1990s, the South experienced an unprecedented Hispanic population explosion. In the Carolinas, the number of Spanish-speaking residents more than tripled. In 1990, North Carolina's Hispanic population was 76,726. By 2004, it had reached 600,913. In South Carolina during the '90s, the Hispanic population increased from 30,551 to 96,178.
The growing presence of Latino culture has changed the landscape of the Carolinas dramatically, rendering the racial dynamics of the Old South much more complicated than in earlier times. These days, some blue-collar African-Americans complain as loudly of Latinos taking jobs as some blue-collar whites did of blacks in the post-Civil Rights years. And just as the Civil Rights era led to the blend of country, blues and gospel that were the raw ingredients of rock 'n' roll, the Latinization of the South is reconfiguring the recipe once again. It's doing so not just by bringing immigration issues into the Spanish lyrics of rock songs like La Rúa's 'El Chanchito', but also by blending the various rhythms of traditional Latin musical styles into the soundtrack of our daily lives. On the streets, at outdoor festivals and in nightclubs across the Carolinas, you can hear Mexican-related genres such as mariachi, tejano, norteño and musica ranchera, as well as Caribbean and Central and South American styles like bachata, cumbia, merengue and vallenato.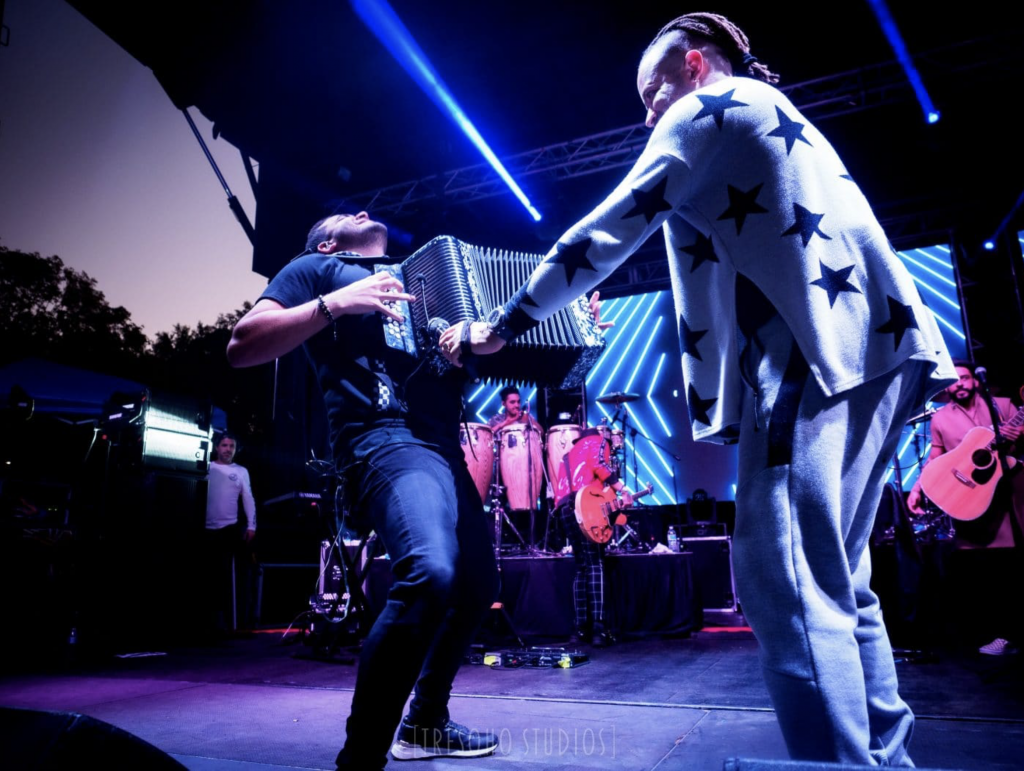 In the past, in Southern California, Texas and New York City, the blending of Latin musical styles with American styles led to genres like Chicano rock, conjunto and salsa. "It might take a few generations for the same thing to happen here," says David Garcia, an ethnomusicologist at the University of North Carolina in Chapel Hill. "Based on these past examples in other parts of the country, more than likely something is going to happen."
Indeed, in the past five years, bands performing rock en español in the Carolinas have begun to cross over to Anglo and African-American audiences, particularly in Charlotte, says Tony Arreaza, the former La Rúa guitarist who now plays in the electronic-rock band Eva Fina. "Charlotte is a real hot spot for the whole rock en español movement in the South," says Arreaza, who also heads up Carlotan Rock, an annual festival of rock en español that's brought international acts like the Venezuelan dance-rock band Los Amigos Invisibles. The festival also features regional Latin rock acts such as the Charlotte-based ska band Bakalao Stars, punk rockers Dorian Gris, the Fort Mill, SC-based reggaetón artist Buay Calito and the mainstream rock band Baco, from Winston-Salem. Carlotan Rock Productions also promotes big rock concerts throughout the year and is responsible for bringing to the Carolinas such internationally known artists as the critically acclaimed Mexican experimental rock band Café Tacuba and Spanish rock en español pioneers Hombres G. "These bands now see Charlotte as a must-stop city on their tours," says Arreaza.
Latino festivals in the Triad and Triangle areas of North Carolina, and in cities like Charlotte and Charleston often feature performances by homegrown acts that specialize in more traditional Latin styles. Some of the notable trad-Latin acts are Charanga Carolina, a UNC-sponsored student ensemble in Chapel Hill that performs Cuban and salsa music; Son de Cuba, a Charlotte-based family band that plays a mix of son and salsa; Durham's Samecumba, which blends salsa with merengue and cumbia; Leydy Bonilla, a Dominican singer based in Charlotte who sings pop merengue and bachata; Charleston-based singer Leah Suarez, who sprinkles Spanish and Portuguese into her eclectic playlist of Latin jazz styles; and Los Viajeros, a Mexican mariachi band from Greensboro.
IN 2006, A SIX-piece Raleigh band whose members sport cowboy hats and boots, jeans and well-pressed button-down shirts went into a recording studio to lay down a love song to the city they call home. From their well-scrubbed look to their good manners and love of this part of the South, you'd think the guys were just another area country band with a patriotic streak. "Beneath your blessed sky, my life changed/Now I can live as I had come to dream," they sing. The words could have been written by the Wilmington-born Southern rocker Charlie Daniels, except that Fred Huerta wrote them in Spanish and sings them over the familiar oom-pah beat of norteño, the country music of northern Mexico. His band, Rey Norteño, consists of the genre's typical lineup: accordions, guitars, drums and the six-string bass known as a bajo sexto.
"Raleigh, Norte Carolina, te llevo en mi corazon," they sing a cappella, their r's rolling beautifully on the first two words, before the accordions and drums kick in. In English, the words translate as, "Raleigh, North Carolina, you are in my heart." Later in the song, the lyrics lament having to leave the town temporarily: "Raleigh, I know that I owe you a lot … and I know that when I can, I'll be back." Where the song differs from other music this area has produced is the longing Huerta expresses in another line for his other home, thousands of miles away. It's the classic immigrant's dilemma, and Rey Norteño expresses it with utter respect and integrity: "How can I forget you (Raleigh) when I've poured my sweat into your land, working for my people, who wait for me in my nation."
As songs like 'El Chanchito' and 'Raleigh' insinuate themselves into the cultural fabric of the Carolinas, all of the area's music eventually will be influenced by it – from country and rock to blues, R&B and hip-hop – just as all music was affected by the intermingling of the predominantly African-American and white styles of the '40s and '50s – blues, gospel, country and bluegrass. That mix, which led to rock 'n' roll, happened when young whites and young blacks began crossing the racial divide after hearing each other's music on regional radio stations. Today, young whites and blacks can hear norteño and other Latin styles across the AM radio spectrum, as well as the myriad of Web radio stations and TV channels such as Univision. Those young white, black and Latino musicians curious about each others' musical styles are sure to begin experimenting together, blending it all into a new kind of Southern popular music.
Garcia points to Orquesta garDel, a nine-piece salsa group, directed by former students of his who are not just Latino but also Anglo and African-American. The non-Latino members, he says, "have adopted Latin music just as the Allman Brothers did with African-American blues in the late 1960s. So even though a new genre of music hasn't happened organically yet, more than likely something will. This is a continuing story."
Essay published in music anthology: Wicker, Ann, ed., Making Notes: Music of the Carolinas. Charlotte, NC: Novello Festival Press, April 2008. ISBN: 0615159699
© Mark Kemp, 2008