I was driving the hilly streets of San Francisco when my cell phone buzzed. The raspy drawl on the other end flowed slowly, like warm, slightly crystallized honey. "Hey Mark? It's Billy Joe. We got a flat tire, man, I don't think we're gonna make it in time."
We'd scheduled the great Texas singer-songwriter Billy Joe Shaver for an appearance on Acoustic Guitar magazine's online performance series, "Acoustic Guitar Sessions," and he'd been calling me all day with updates on his ill-fated trek to the Bay Area. By this point, things didn't look good.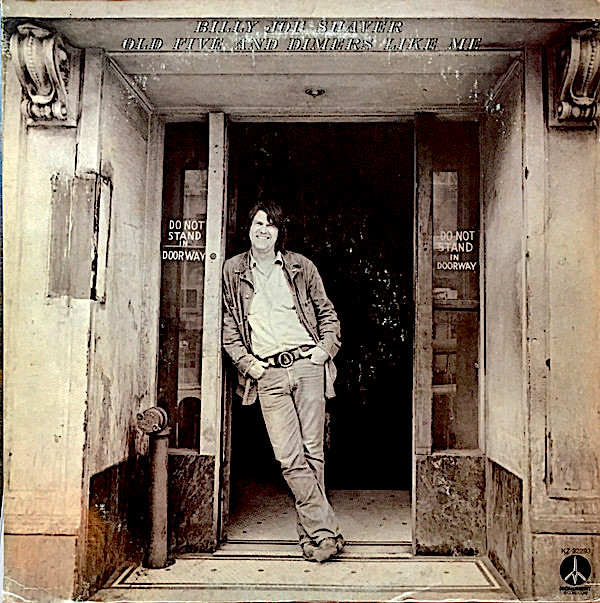 I was pretty devastated, because the prospect of sitting down with Shaver and talking about his music and guitars had been exciting for me. After all, so many of Shaver's songs, mostly covered by other artists, mostly by the late Waylon Jennings — "Honky Tonk Heroes," "Willy the Wandering Gypsy and Me," "Old Five and Dimers Like Me," "Ain't No God in Mexico," "I Been to Georgia on a Fast Train," "I'm Just an Old Chunk of Coal," and on and on — had been an important part of my teen years. In later years, I'd hear his songs covered by many other fringe (and not-so-fringe) country artists that music writers were calling "outlaws" — from Cash to Kristofferson to Commander Cody and His Lost Planet Airmen. And then, of course, I eventually bought Shaver's own classic 1973 debut album, Old Five and Dimers Like Me (pictured above).
"No problem, Billy Joe," I told him. "It's been a tough trip. We'll get you in here next time."
There was no next time. I was soon gone from Acoustic Guitar, and Billy Joe, who'd lost his mother, his wife, and his son in the span of a year several years earlier, just kept on writing great old country songs — one of his last being "Hard to Be an Outlaw," in 2014 — until he died Wednesday at 81 in Waco, Texas. I'd seen him perform countless times, mostly during my tenure as editor of Option magazine in the early 1990s, when we'd go to the annual South by Southwest Music Conference in Austin every year. Back then, SXSW was a fairly small affair, mostly a family reunion of sorts among music journalists and artists. I saw Shaver play solo, with his band that featured his guitar-wiz son Eddy, and in small clubs and larger venues alongside artists with bigger names.
Shaver was never famous, but his songs were, and he was probably the best country songwriter who ever lived. I sure wish he hadn't had that flat tire back in 2015. For "Acoustic Guitar Sessions," I'd gotten the opportunity to sit down on a stool next to numerous favorite artists, chat with them, and have them play their songs inches away from me — Richard Thompson, Valerie June, Jorma Kaukonen, Ani DiFranco, Alejandro Escovedo, David Crosby, Seth Avett… the list goes on. But not Billy Joe Shaver. And never will it be.
Adios, amigo. Don't catch a nail on your way to meet Jesus.

Watch Billy Joe perform "Willy the Wandering Gypsy and Me" on Live from Austin City Limits, August 14, 1984.

Watch Waylon Jennings perform "Honky Tonk Heroes" on Live from Austin City Limits, also in 1984.