In 1991 I had the great honor of getting to meet and interview the Pakistani music legend Nusrat Fateh Ali Khan, the world's greatest singer of qawwali, a devotional vocal style associated with the mystical Islamic practice of Sufism. That story ran in Option, the magazine I edited at the time. Sadly, in 1997, I was tasked with penning his obituary for Rolling Stone. His warm and healing spirit had left this realm after only 48 years here.
Star of Pakistan dead at 48
By Mark Kemp, Rolling Stone, Sept. 4, 1997
NUSRAT FATEH Ali Khan, the Pakistani singer whose warm, soaring, multioctave voice entranced audiences around the world and broke down language and cultural barriers, died of heart failure Aug. 16, in London. He was 48. At 350 pounds, Khan had long suffered from health problems related to his weight. The singer had traveled to London the week of Aug. 11 to meet with his record label and to seek medical attention at Cromwell Hospital, where he died.
In the mid-'80s, Khan introduced Westerners to qawwali, the devotional vocal music of the mystical Sufi sect of Islam. By the time of his death, he had amassed an international following that included such pop stars as Peter Gabriel, Eddie Vedder, Joan Osborne and the late Jeff Buckley. Khan was considered by many to be the world's greatest singer; in his native Pakistan, he was reverently referred to as Shahen-Shah-e-Qawwali, which translates as "the brightest star in qawwali."
In performance, Khan, who would sit cross-legged at the center of his backing singers, harmonium players and percussionists, was a prodigious presence, both physically and spiritually. As he sang, he would lift his hands, palms upward, higher with each reach of his voice, and curl his fingers into visual representations of the music's snaky twists and turns. His acrobatic voice was at times gruff and edgy; at other times, it soared gracefully over the hypnotic, droning music until it reached undulating, white-hot peaks that transported listeners to another realm. During these climaxes of songs that often lasted more than a half-hour, Khan's most devoted fans became so enraptured that they danced to the stage, in a state of bliss, and tossed money at the singer's feet in a traditional Pakistani gesture of respect.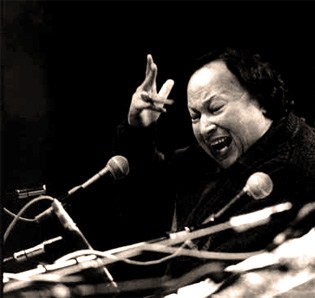 "As he sang, he would lift his hands, palms upward, higher with each reach of his voice, and curl his fingers into visual representations of the music's snaky twists and turns."
Khan's music was introduced to Western audiences by Gabriel, who invited the singer to perform at England's annual World of Music, Arts and Dance Festival (WOMAD), in 1985. Three years later, Khan sang on Gabriel's soundtrack to Martin Scorsese's The Last Temptation of Christ. "I have never heard so much spirit in a voice," Gabriel said in a prepared statement released two days after Khan's death. "My two main singing inspirations, Nusrat and Otis Redding, have been the supreme examples of how far and deep a voice can go in finding, touching and moving the soul."
After the Scorsese soundtrack collaboration, Khan, who had released more than 100 recordings in his native country, was signed to Gabriel's Real World label. Khan's first album for the company, Shaken-Shah, released in 1989, was a collection of six traditional songs lasting an average of 11 minutes each. His second, 1990's Mustt Mustt, produced by the guitarist and electronics composer Michael Brook, featured trimmed-down versions of Khan's compositions and even a dance remix of the title song done by the British trip-hop collective Massive Attack.
Khan went on to record four other albums for Real World: the more traditional Shahbaaz, Devotional and Love Songs, The Last Prophet and another collaboration with Brook, Night Song. Last month, Caroline Records released a compilation of Khan's music, The Supreme Collection, Vol. 1, which includes liner notes by Buckley.
Watch Nusrat Fateh Ali Khan perform "Mustt Mustt" at WOMAD in 1992:
For a musician so deeply rooted in tradition, Khan was surprisingly open to experimenting with contemporary technology and Western styles in order to get his music to larger audiences. Although he sang in his native Urdu, Khan wanted his music to communicate in a way that transcended language. "All music is beautiful," he told me, through an interpreter, in a 1991 interview for Option magazine, "so there is no differentiating between qawwali music and Western music, in terms of one being good and the other being bad." Khan likened his music to a bridge "that brings different cultures, different religions and people of different ethnic groups to the same central point."
Not surprisingly, Khan's soundtrack work brought him the most attention among Westerners. In 1994, his voice was layered by Trent Reznor into the score for Oliver Stone's Natural Born Killers. Perhaps the most touching of Khan's soundtrack contributions were his gorgeous duets with Vedder on two songs, "The Face of Love" and "The Long Road," for the score of Tim Robbins' 1996 film, Dead Man Walking. Robbins' brother, David, produced and wrote much of the material for that score and recalls Khan's power: "He had a spirituality that just laid you out as humble as could be."
Nusrat Fateh Ali Khan was born into a musical family on Oct. 13, 1948, in the city of Lyallpur (now Faisalabad), in Pakistan's Punjab province. His qawwali-singing father, Ustad Fateh Ali Khan, wanted Nusrat to become a doctor, but the boy was so enamored with his family's six-centuries-old musical legacy that he chose to continue it. After studying with his father, Khan made his debut performance, in 1964 — sadly, it was at his father's funeral. By 1966, Khan had joined his family's "party" (the term used for qawwali ensembles). He took over as leader of the party when his uncle Mubarak Ali Khan died, in 1971.
Khan went on to become the most famous and esteemed singer in Pakistan, his celebrity mirroring Madonna's among Westerners. After appearing at Gabriel's WOMAD Festival, Khan began performing regularly in the United States, and his audiences swelled with each tour. Last year, he sold out Radio City Music Hall, in New York; Symphony Hall, in Boston; and the Pyramid at CalState, in Long Beach, Calif.
"One thing I can tell you for sure," says David Robbins, "is I know where Nusrat Fateh Ali Khan is now. When we were working on Dead Man Walking, I would say that he was already some where between us and heaven."
© Mark Kemp, 1997