In 1997, I was invited to a small birthday party for David Bowie at the English restaurant Tea & Sympathy in downtown Manhattan. At the time, I was the music editor of Rolling Stone, and only a handful of other people — close friends and industry people — were in attendance. Even Bowie's wife, Iman, was absent, having jetted off earlier in the day, although she left behind a spectacular birthday cake that he showed off as everyone sang "Happy Birthday" to him. Bowie and I sat at a small table for an interview, and he talked of what it felt like for Ziggy Stardust to be finally entering middle age proper. The night before, I had gone to Madison Square Garden and watched a cast of rockers — from Lou Reed to the Cure's Robert Smith to the Pixies' Frank Black and Foo Fighters' Dave Grohl — reinterpret his songs, with Bowie singing along with them. The following is my report on that 50th birthday extravaganza in New York City all those years ago.
A cast of modern rockers helps David Bowie celebrate his birthday
By Mark Kemp, Rolling Stone, March 6, 1997
DAVID BOWIE just turned 50, and he's making no apologies. "It's my birthday — it's my party," he says, smiling in that dapper way of his. Bowie is having his tea and eating his cake, too, at a tiny cafe in New York's Greenwich Village. It's the day after his sold-out birthday bash at Madison Square Garden, and I've just asked Bowie why he didn't invite more of his old pals — Mick Jagger, say, or Ian Hunter or Iggy Pop — to join him onstage for the festivities. After all, apart from an appearance by Lou Reed, the star-studded event looked more like modern rock on parade: Billy Corgan of the Smashing Pumpkins, Foo Fighters, Sonic Youth, Frank Black and the Cure's Robert Smith — all were trotted out to sing duets with Bowie on old songs as well as selections from his new album, Earthling.
"I just didn't want the thing to be heavily dotted with people who would cause it to become a nostalgia trip," Bowie says, brushing invisible lint off his immaculate black turtleneck sweater. He looks positively regal. His hair is bright orange again, the color it was during his Ziggy Stardust days, and his face is milky white with nary a line in sight (OK, maybe a few around the eyes and mouth). "Being me," he continues, "I probably moved a bit stubbornly in the other direction."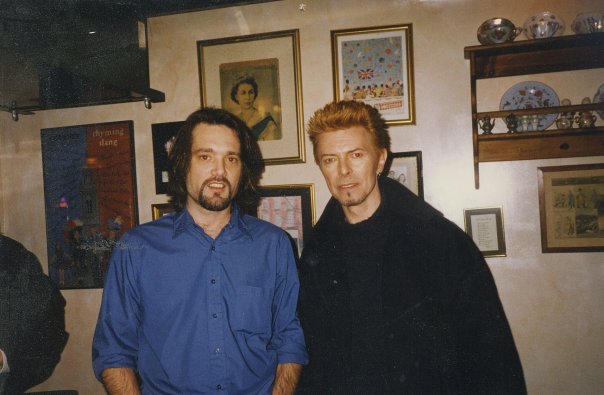 Stubbornness is not a foreign concept to Bowie, whose self-will ran riot during the Jan. 9 celebration (his actual birthday was the day before). Who else but Bowie would use such an occasion to introduce his latest persona (an apocalyptic cross between Ziggy and the Thin White Duke) and to promote his new album (which marries Bowie's familiar dramatic melodies to the speed and intensity of techno's latest offshoot, drum and bass)? "I must have been out of my mind to try and do this thing," he says.
Backstage at the Garden on the day of the show, you could measure the status of the stars by the trail of handlers behind them. Frank Black stood alone next to a wall, drinking beer from a plastic cup. Four people followed Thurston Moore and Kim Gordon of Sonic Youth as they traversed the hallways with their daughter, Coco. When Billy Corgan slouched in wearing a floor-length coat and an orange and white beanie, about eight handlers surrounded him. And when Bowie made his grand entrance, a virtual army — including a full television crew — formed a wall around him. There were nonperforming guests as well: Beck, Moby, artist Julian Schnabel and Bowie's wife, the model Iman.
Standing beside the entrance to the arena, Foo Fighter Dave Grohl was soaking it all in. "I always promised myself that I wouldn't be on a stage playing rock music when I'm 50," said Grohl. "But when I see David Bowie so happy and alive, and still so creative, I'm like, 'I don't want to stop.'"
For his part, Corgan was flattered that he was invited to play on the classic Bowie songs "Jean Genie" and "All the Young Dudes." "He's such an amazing singer — I can't sing like that," Corgan said of Bowie, adding, "On the one hand, he's celebrating his body of work tonight, but he's also saying, 'Look, I'm still here. This isn't an oldies act.'"
Well, not entirely. With its equal mix of old and new material, Bowie's two-hour performance was as big and theatrical as one would expect of such a consummate '70s-era rock star. A 40-by-60-foot backdrop projected giant black-and-white video images of Bowie dancing with a beautiful blonde; tiny puppets with moving faces, designed by the artist Tony Ousler, scowled and twitched from various spots about the stage; and robot-like cameras zoomed in and out like futuristic dinosaurs, capturing every angle for a March 8 pay-per-view special.
Not that Bowie takes it all so seriously. "I've grown out of the dark, foreboding aspect of performance and more into just the irony of perverseness," Bowie says. "For me, a lot of it is just funny." He points to younger artists like Marilyn Manson who have gleefully shucked all earnestness in favor of vintage Bowie spectacle. "I don't know how Marilyn thinks about what he's doing, but [in the early '70s] I used to get so hostile about the idea of integrity. I was like, 'Fuck it — artifice is the thing for me.' I guess the same feeling is evolving again."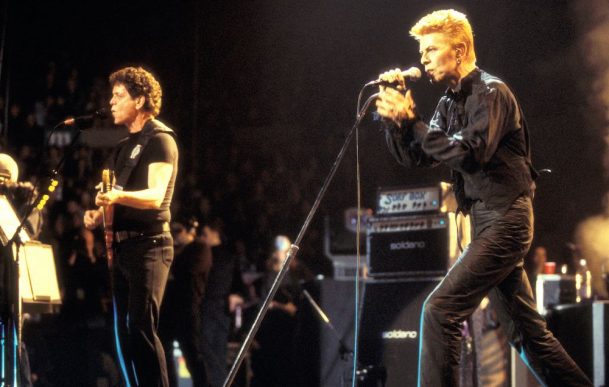 Bowie hit the Garden stage in an all-black outfit, crooning his new single, "Little Wonder," with his band — guitarist Reeves Gabrels, keyboardist Mike Garson, bassist Gail Ann Dorsey and drummer Zachary Alford. The show didn't really kick into gear, though, until Foo Fighters helped take the groove of Bowie's new "Seven Years in Tibet" into the stratosphere. Robert Smith joined the birthday boy for a stunning acoustic duet on the downcast "Quicksand," from 1971's Hunky Dory. But the high point of the performance came when Lou Reed traded verses with Bowie on the flamboyant "Queen Bitch," the Velvet Underground classics "Waiting for the Man" and "White Light/White Heat," and Reed's own "Dirty Boulevard." After a two-song encore with Corgan — for which Bowie donned a frilly Ziggy-period coat — the show ended with a guilty pleasure: Standing alone with an acoustic guitar, behind a huge translucent scrim, Bowie blasted into the ether on "Space Oddity."
That song wasn't the show's only moment of dramatic overkill. During "The Voyeur of Utter Destruction (as Beauty)," from 1995's Outside, Bowie's face was projected onto a giant cocoon-like structure above the stage, making him look like a cross between Joan Crawford and the Wizard of Oz. And he gave embarrassing, melodramatic readings of "Heroes" and "Moonage Daydream." But, hey, it was his birthday — his party.
Bowie has ample reason to celebrate. In the mid-'80s, he says, he felt "sunk" and "musically threatened"; now, as he passes the half-century mark, Bowie is philosophical about that period. "It really pushed me into making decisions about why — or if — I wanted to continue as a musician," he says. "I came out of it really knowing how I wanted to spend the rest of my years as a creative force. It was a real freeing experience."
© Mark Kemp, 1997
Watch Bowie and Reed perform a few numbers at the 1997 birthday bash: