In 2004, I wrote a book called Dixie Lullaby: A Story of Music, Race, and New Beginnings in a New South, in which I devoted many pages to Asheboro, North Carolina, the small mill town where I grew up in the 1960s and '70s. I wrote of the desegregation of schools during my elementary years, and the confusion us kids experienced having been raised on the faulty ideas of race we heard from adults in town, some of them members of our own families. I wrote of how, for some of us, music served as a salve, bringing black and white kids together, helping us to better understand each other. About a year ago, I moved back to my hometown after four decades in larger cities around the country. And on Saturday, November 16, in Asheboro, my girlfriend and I — one of us black, the other white — attended opening night of Leaving Eden, a powerful story of race and power in a small Southern mill town by North Carolina playwright Mike Wiley, based on a mill ballad by North Carolina songwriter Laurelyn Dossett (and made famous by North Carolina singer and multi-instrumentalist Rhiannon Giddens of the Carolina Chocolate Drops). Jacinda and I watched the play at the Sunset Theater downtown, where, in 1964, when I was 4 years old, a black woman had been told to leave during sit-ins there and at the nearby Hop's Bar-B-Que restaurant. Experiencing this hard-hitting account of the incessant maltreatment of black and brown bodies — in a theater that was once segregated; in a conservative, Republican-controlled town where African Americans continue to stare down microaggressions and Latinos told they don't belong; in the era of the most bigoted American president of my lifetime — was a stark reminder that the story I told with such hope 15 years ago in Dixie Lullaby is far, far from over. If anything, it stopped dead in its tracks in 2016. I needed to put my thoughts on Leaving Eden into words.
"The human body is sacred." — Walt Whitman
A pivotal scene in Leaving Eden comes about three-quarters of the way into the play. Two groups of men — one white, the other black — are frozen in time in a town called Marah in the year 1933. A white man, Jacob Lynn, holds a bullwhip in his right hand as his brother, Thomas, looks on; a young black man, Moses Lightfoot, is strapped to the ground. The characters are as still as ice sculptures, except for the narrator, a griot ghost named Selah, who wears a flowing white dress and headwrap. Selah gently removes the whip from Jacob's hand just as he's raised it. And then she walks gracefully to stage left, holds it up for the audience to see, and explains, in step-by-step detail, the manner in which this ancient plantation weapon inflicts extraordinary damage on a human body.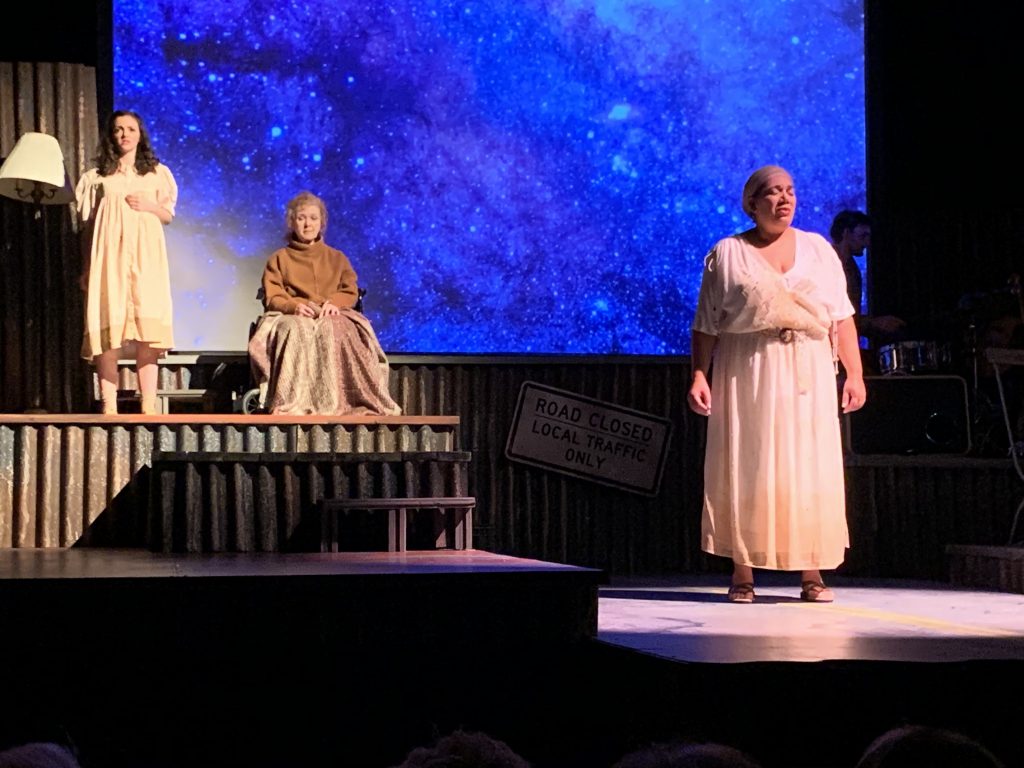 "The handle of a whip was attached to a thick leather braid; the braid itself tapers," Selah says, running her hand down to the weapon's narrow tip and dangling it for the audience to see. "And that's where you find a wee bit of string, no wider than a snake's tongue." She turns the weapon around and grasps the other end. "When the Lynn brothers flicked the handle," she continues, "the energy from that action rippled down the whip, growing faster as it grew lighter. By the time that energy reached the end of the whip, the coil was moving at 780 miles an hour, faster than the speed of sound. It was at that moment that it slammed into Moses Lightfoot's flesh." Selah speaks these horrific words in a cool, matter-of-fact tone: gently, slowly, deliberately. And the mixed but predominantly white audience packed inside Sunset Theater in downtown Asheboro — a mill town not much different from Marah — is riveted.
Leaving Eden, performed by local community theater group RhinoLeap Productions and directed by Wiley himself, employs dual timelines: 1933, when lynchings of black Americans were not unusual in this part of the South, and 2016, the year presidential candidate Donald Trump began his clarion calls for violence against Latino immigrants, and small-town politicians responded to his dog whistles with promises to make their communities "great again." Indeed, when the villain town councilman in Leaving Eden's contemporary timeline hears an ad on the radio at one point early on in the play, he tells a fellow town leader, "You hear that? Now that's a sales pitch: 'Make America Great Again.'" The emotional weight of watching the brutality unfold in Leaving Eden's fictional mill town of Marah, North Carolina — as it's being performed in a very real mill town in North Carolina, to descendants of early 20th century North Carolina mill owners and mill workers — is overwhelming. The guilt is palpable; the debt unpayable.
"There is nothing uniquely evil in these destroyers or even in this moment," the social critic Ta-Nehisi Coates wrote in a letter to his baby boy published in the Atlantic Monthly in 2015, and adapted from his book of the same year, Between the World and Me. Coates was relaying an ancient truth about white people in America: "The destroyers are merely men enforcing the whims of our country, correctly interpreting its heritage and legacy. This legacy aspires to the shackling of black bodies. It is hard to face this. But all of our phrasing — race relations, racial chasm, racial justice, racial profiling, white privilege, even white supremacy — serves to obscure that racism is a visceral experience, that it dislodges brains, blocks airways, rips muscle, extracts organs, cracks bones, breaks teeth."
"The destroyers are merely men enforcing the whims of our country, correctly interpreting its heritage and legacy. This legacy aspires to the shackling of black bodies." — Ta-Nehisi Coates
In that horrific scene from Leaving Eden, we hear the crack of Jacob's whip followed by an agonizing scream: "Ripping away the skin, the fatty tissue, the muscles and the blood vessels that fed 'em," Selah narrates. We hear another crack and another scream, and she continues: "For the townspeople of Marah, watching Moses brutalized was torture itself that night. You see, they could all now visualize the brutality being inflicted on their own black bodies."
In his 2016 letter, Coates provides his child with a warning: "You must never look away from this. You must always remember that the sociology, the history, the economics, the graphs, the charts, the regressions all land, with great violence, upon the body." Coates then poses a question: "What should be our aim beyond meager survival of constant, generational, ongoing battery and assault? I have asked this question all my life. I have sought the answer through my reading and writings, through the music of my youth, through arguments with your grandfather, with your mother. I have searched for answers in nationalist myth, in classrooms, out on the streets, and on other continents. The question is unanswerable, which is not to say futile. The greatest reward of this constant interrogation, of confrontation with the brutality of my country, is that it has freed me from ghosts and myths."
Ghosts and myths
The South is a special place in America. Generations change, but characters and policy don't. Leaving Eden's contemporary timeline centers on the memories of a 101-year-old white woman in hospice, who struggles to recall the dark details of her childhood — a childhood that plays out in the 1930s timeline. "Tragic what I done," Ms. Maggie repeats throughout the play, from a chair at the left of the stage. When she was a girl, Maggie, the daughter of Thomas Lynn and the granddaughter of the owner of a plantation called Eden, had been impregnated by her black lover. Ms. Maggie's mixed daughter, long dead, bore a son, David, who, in the present day, serves as mayor of Marah. David attempts to reconcile the whims of his conservative fellow Marah city council member Roy White, a used-car salesman and bigot who has sponsored an ordinance to rid the town of so-called illegal immigrants. Roy is played by the same actor who plays the whip-wielding Jacob Lynn in 1933.
The narrative switches back and forth between 1933 and 2016, with mirror characters — the well-intentioned white ally, whose comments and actions have unintended consequences; the black political moderate, who tries to negotiate with racist white power brokers; the white villain, who will stop at nothing to ensure that races will not mix; and the guilt-ridden white woman, dogged by the choices she has made — eventually revealing their true selves. As Selah recounts the plot, we learn that Marah had been built by freedmen before white folks brought in a textile mill in the 1930s and a meat-processing plant in the 2010s. And each era introduces a power struggle by white men desperate to maintain control.
Leaving Eden tells the story of countless small towns across the South since the days of slavery.
Leaving Eden tells the story of countless small towns across the South since the days of slavery. It's a story of labor exploitation in the 1920s and '30s, as mill owners pretended to take care of workers while simultaneously pitting poor black and white workers against each other. It's a story of racist, anti-immigrant activists today, who exploit Latino labor while simultaneously pitting them against poor black and white workers. It's a story of the potentially devastating effects of white liberals, whose simplistic words and actions in support of their own selfish, guilt-motivated agendas often ignore the actual needs of the very black and brown people those liberals ostensibly support — black and brown people who are forced, on a daily basis, to navigate a more complicated world than most white people could possibly comprehend. "He knows I'm just joking," a sympathetic white character explains of a comment he's made to an immigrant, to which an African American preacher replies, "I think that's the problem."
Leaving Eden is a story of the relentless brutality of a rigid power structure that has been the foundation of our country from Day One. The story of our Native-killing settlers, our slave-owning founding fathers, our treasonous Confederate rebels and their Dixiecrat descendants who blocked doors of state institutions in the name of "segregation now, segregation tomorrow, segregation forever." It's the story of the Southern Strategy, the Religious Right, and the Tea Party movement of the early 2000s. And it is the story of the 2016 election of a president who, on the very day that I write this, is about to face the consequences of his corruption and lies. It's a story that's been told time and time again and will continue to be told for as long as we are hoodwinked into deifying a flawed economic system and corrupt power structure. It is a story that cannot and should not be forgotten or ignored.
"The erased and the forgotten" — ensemble chant
A bit about the performance: What makes this particular production of Leaving Eden work so well is the remarkable team behind the Asheboro play. Not only does Wiley direct it himself, but singer-songwriter Dossett oversees the music (performing alongside Scott Manring, who plays multiple stringed instruments, and drummer Daniel Faust), and Kelly Maxner created the ensemble's gloriously percussive choreography. What's more, the multitalented Greensboro-based actor and educator Lalenja Harrington, the older sister of Rhiannon Giddens, plays the part of griot Selah as if it were written specifically for her. And the mix of local RhinoLeap actors — Peggy George Kilburn as older Ms. Maggie; Phil Shore providing comic relief as bumbling Doc Langford and Gabriel; Jim Langer as a shell-shocked Vietnam vet, and others — blends seamlessly with top-shelf talent from Winston-Salem (Nadiyah Dorsey, Nic Brown, Chandler Bryant, and Matias de la Flor), Raleigh (Phillip Bernard Smith and Moses T. Alexander Greene), Durham (Carl Martin), Greensboro (Lindsay Vernon), Los Angeles (Gabi Mayorga), and New York City (Nathaniel Claridad, in an amazing performance as the wisecracking Taj). Making it all look and sound like both a 1930s and current-day small town: scene designer David Griffie, costume designer Bailey Powell, artistic director Jeremy Skidmore, musician and sound designer Mark Dillon, and many other unsung players. Oh, and Asheboro itself — it couldn't have been a more appropriate setting in the political climate we face today.
___________________________________________________
Watch the Carolina Chocolate Drops perform "Leaving Eden"

Click here for a discussion among Mike Wiley, singer-songwriter Laurelyn Dossett, and original Leaving Eden actors Sarita Ocón and Carlos Alcala on how a song became a play, and why Wiley sought help to bring authenticity to his Latinx characters.