WHEN I WAS laid off from my job as editor-in-chief of the North Carolina alt-weekly Creative Loafing Charlotte in 2013, my staff had just wrapped up an exciting and productive political season culminating in CL's coverage of the 2012 Democratic National Convention in our hometown. The layoff surprised me. It was the first time I had been canned after doing great work. In previous years, working hard and producing engaging journalism had led to promotions or better positions at other companies.
As it turns out, ad sales at Creative Loafing were still down after several years of post-recession slump, and the local publisher had thrown me under the bus in an attempt to prop up her bottom line. Within a short period, that local publisher was gone, too, and the CEO of the company that owned Creative Loafing at the time later apologized to me for approving a bad personnel decision. C'est la vie.
When a new Creative Loafing owner re-hired me in 2016 and then also laid me off less than two years later — three days after I'd led my team to five wins at the Association of Alternative Newsmedia awards gala in San Diego — I was much less surprised. This is simply the way many ailing alternative-media organizations do business today. And to be honest, for alt-weeklies hanging on by a thread, getting rid of an experienced editor-in-chief can seem like a viable way to keep the lights on.
But is it the right way? That depends on what you believe communities are looking for in their local alt-weeklies.
RIP Village Voice
My story is not unique. It's one of many sordid tales of casualties in the 21st century media world. On August 31, The Village Voice — the nation's first alt-weekly and the standard-bearer of alternative newsgathering and cutting-edge reporting and writing from the mid-1950s onward — announced it was "suspending" its editorial production.
"I bought The Village Voice to save it," Peter Barbey, the company's latest owner, told the Columbia Journalism Review last week. "This isn't exactly how I thought it was going to end up…"
The Voice had suffered greatly in recent years. Its journalism was not nearly the caliber it was during its heyday of the mid-1950s and '60s, when it won Pulitzers and documented the jazz and rock countercultures, and even through the '70s, '80s and '90s, covering the rise of the underground punk and hip-hop subcultures of those decades, in addition to news and political perspectives the New York Times and other dailies generally ignored. In 2017, the Voice stopped its print production and went online only. And now, for all intents and purposes, the Voice has been silenced.
After years of reading the Voice in my North Carolina high school and college libraries, I began writing for alt-weeklies in the early 1980s, when I was a daily newspaper reporter who penned a few pieces on the side for The Spectator in Raleigh. I continued contributing to alt-weeklies occasionally after I moved to New York City in the later '80s and then Los Angeles in the '90s, writing a few pieces for the Voice and the L.A. Weekly. During those periods, my full-time jobs included editing the L.A.-based alternative music and culture magazine Option, and then later serving as senior music editor at Rolling Stone and VP of music editorial at MTV Networks.
My first job as the editor-in-chief of an alt-weekly came in 2005, when Creative Loafing hired me away from my position as entertainment editor at The Charlotte Observer. Ad sales were still healthy back then, and we moved Creative Loafing into a big, colorful, MTV-like office space near Charlotte's downtown area. I left between 2006 and 2011, during which time the financial crisis of 2009 sent the Atlanta-based Creative Loafing mothership into bankruptcy. Adding to the damage done by the financial crisis was the fact that newspapers had not delved seriously or effectively into the digital space early on, and were having to play catch-up with rising new-media sites.
When Creative Loafing brought me back in 2011 to strategize coverage of the DNC, the company — which by then also had papers in Chicago, D.C., and Tampa, Florida — was under the control of its largest creditor, Atalaya Capital Management of New York City; within a year of my return, the Nashville-based SouthComm, Inc., bought part of Creative Loafing, Inc.'s assets, including CL Charlotte. Ad revenue had taken a big hit, but we soldiered on, producing solid content and still serving those parts of the Charlotte community that the Observer often ignored.
After a short stint as editor-in-chief of the San Francisco alternative media outlet SF Weekly in 2015, I returned to Charlotte and to Creative Loafing for a third time the following year. The company was under new ownership again — a little regional outfit that also owned an alt-weekly in Greensboro. Ad revenue and pages were down significantly by then, and the staff had been almost completely gutted. I immediately instituted a local-only coverage policy, and with negligible resources, my scrappy editorial team, including a handful of freelancers, continued to produce quality content focusing more than ever on the neighborhoods in Charlotte where exciting things happened that flew under the mainstream media radar. The team did such a good job that CL was awarded by both the NC Press Association and the AAN in 2017 and 2018, respectively.
That didn't register with the owner. A few months earlier, shortly after I received a raise for reinvigorating Creative Loafing again, I was forced to take a pay cut in order to remain in my position. It was a shocker. It felt like whiplash. But I hesitantly agreed – after all, I love Charlotte and felt an honest calling to lead a committed editorial team that produces great work. And that team kept plugging away, launching a local music podcast and covering the gamut of music and arts and news in Charlotte.
Then came July 31 of this year. The owner told me he could no longer afford me. It was time for me to pack up and go — once again.
To be sure, in the month since my departure, Creative Loafing's staff, now led by Ryan Pitkin, the talented news editor who worked under me, has continued to produce solid content. The most recent issue includes a fascinating Labor Day cover story on the history of labor organizing in North Carolina and the South, penned by new associate editor Courtney Mihocik. But I am not terribly optimistic about the future of Creative Loafing (or most other alt-weeklies) in a time when some of the nation's most legendary titles — the Boston Phoenix, the San Francisco Bay Guardian, the Philadelphia City Paper and now the Voice — have fallen by the wayside. It's going to take guts to maintain a consistent voice and bring quality journalism back to alternative weeklies.
A Hope Shot
Here's the thing: It can be done. In the post-recession years, cutting corners at alt-weeklies has been necessary. In the '80s and '90s, alt-weeklies were bringing in boatloads of revenue from their back-of-the-book sex and classified ads. Those are pretty much gone now, siphoned away by digital shopping outlets like Craigslist. A little belt-tightening was called for, along with the creation of new, innovative revenue streams. But some of the corporations that bought up many of the great alt-weeklies were more interested in big profits than good journalism, and their expectations weren't realistic.
What's more, some of the independent owners — like the one who bought Creative Loafing Charlotte — wound up cutting corners that were necessary to produce well-researched journalism, and readers became bored with fluffy stories that filled the spaces between ads. Some owners also gutted their ad sales staffs to the point that salespeople couldn't sell pages, and then expected editorial staffers to chip in and help sell ads. This has been confusing for younger journalists, readers and advertisers alike, and it has compromised editorial integrity.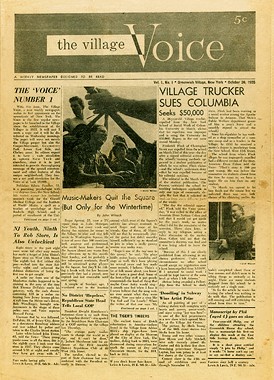 Ah, editorial integrity — it's a malleable concept today. In the contemporary media world, editors are more likely to agree to strategies such as sponsored content, which is not as terrible a thing as it was once thought to be. There are ways to present paid editorial content in a manner that doesn't confuse or turn off readers. But it is essential to know who those readers are and what they expect. There are certain revenue-generating projects — some podcasts, events, etc. — whereby editors can get involved in creative ways that don't require abandoning editorial standards. But those kinds of projects should involve good-faith discussions and debates among editorial and advertising departments in which each project is hashed out so that they don't damage the overall product being sold — that is, editorial integrity. That's the product great alt-weeklies sell.
Mark Ein, the smart new owner of the Washington City Paper, seems to understand the nuances of balancing content that advertisers like with the kind of hard-hitting journalism readers of alt-weeklies have come to expect. He focuses on the "gigantic opportunity" that events and live entertainment offer.
"If you look in our paper — you look at the Kennedy Center, the 9:30 Club, the Anthem — there is no single better way to see every show that's coming to town in those venues than picking up the back page of the City Paper," said Ein, who is the founder and CEO of the investment firm VentureHouse, on a recent episode of Recode Decode. "There's no digital equivalent. That's why they give us the money they do, because it actually does sell tickets."
Ein, who grew up in D.C. and understands the media landscape there, was inspired by Amazon CEO Jeff Bezos' innovative approach at The Washington Post. Ein listens to editors, takes them seriously and consults with former City Paper editorial alumni such as Ta-Nehisi Coates, Jake Tapper and Kara Swisher. Ein also employs enough staffers to get the job done. The City Paper has nine editors, including an editor-in-chief, managing editor, art director and editors for each department: news, arts, food, sports, etc. It also employs a director of sales, a sales and production coordinator and a team of five sales reps, among others. By contrast, when I left Creative Loafing, we had a total of two full-time editorial employees (editor-in-chief and news editor); two full-time sales employees (an ad manager and sales rep); an art director (who doubled as an ad designer) and an ad coordinator (who doubled as a writer). That was it.
To be fair, Charlotte is not Washington, D.C., but it is a major Southeastern hub and one of the fastest-growing cities in the United States, and it deserves a much stronger alternative media voice. Like many other cities around the country, Charlotte deserves an alt-weekly owner who takes pride in the local community, understands the nuances of that community, values journalism and is willing to be creative and take risks in generating new revenue streams. In short, locally focused alt-weeklies across the country should be led by people like Ein, who understand not just the value of a brand but also the great responsibility that brand has to deliver a quality product to local consumers of alternative media. The City Paper," Ein said on Recode Decode, is "an iconic paper, it's been around since 1981. It's an important part of the fabric of D.C. It has an incredible alumni network… We are the ones who will hold people's feet to the fire, especially local politicians."
The only future I see for alternative media outlets must involve a deep respect for journalists and journalism, a back-to-basics local approach to coverage, and continued innovation in generating revenue in new ways that don't compromise the very product they're selling. If companies and individuals who are buying alt-weeklies can't do this, then perhaps worker-owned alt-weeklies are the way to go.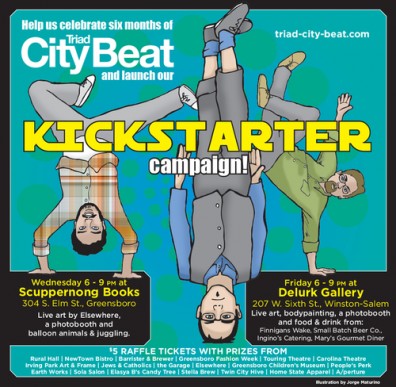 That's what Brian Clarey did in Greensboro, North Carolina. When he was laid off from his position at Yes! Weekly (run by the same small company that currently owns Creative Loafing in Charlotte), Clarey took his staff and started a new one, Triad City Beat.

"I wanted to make an honest little paper," Clarey explains. "One that doesn't fabricate circulation numbers or write fluff pieces about advertisers or kill stories that ruffle feathers — just a safe space for us to do great work and weather the storm that's been ravaging the business. We felt that if we had to do all of those [ethically questionable] things to survive in this business, then maybe we didn't want to be in this business."'
And Clarey is not the only canned editor who has done that. When the Knoxville, Tennessee, weekly magazine Metro Pulse gutted its staff, former employees found community partners and started The Knoxville Mercury, which sadly folded two years later. Other former alt-weekly employees have launched local websites and blogs that still exist and are widely read, including ex-Bay Guardian editor Tim Redmond, who launched 48Hills, and ex-Boston Phoenix staffer Michael Marotta, who launched the music-focused Vanyaland .
Many media observers argue that, for the most part, alt-weeklies are a relic of the past, replaced by local and national digital outlets that provide quick info bites on entertainment events and other things to do. But the one thing most local digital media outlets have not yet mastered is great local journalism that informs communities.
"National and international news sites, like Buzzfeed and the Intercept, have certainly begun investing aggressively in investigative journalism; but it's hard to think of many web-based outfits that replicate the deep focus on local news and politics that has been central to the mission of alt-weeklies," business reporter Vauhini Vara wrote in The New Yorker shortly after the closing of the San Francisco Bay Guardian.
Setting New Benchmarks
Linda Thomas Brooks, the CEO of the American magazine association MPA, says her industry needs to set new benchmarks for success, and her ideas about magazines could be expanded to include the alt-weekly industry. "I don't think going back to historical numbers and saying, 'When is that number going to be the same as it was 10 years ago?' — I don't think that's ever going to happen, right?," Brooks told Folio, the magazine for magazine publishing professionals, last month.
Brooks suggests that owners who are willing to experiment are the ones who will prevail. "I was really heartened by the Meredith and Time Inc. deal because I was glad to see those iconic, historic brands being bought by a company that knows how to successfully publish magazines. That's an acquired skill set," she said. "There were other investors and other kinds of companies that were interested, but some of those companies didn't have a basic knowledge or a history in publishing."
The bottom line, according to Brooks, is having a good product to experiment with. And that involves respect for journalists and journalism. "One of the things I think about every day is how we continue to support credible journalism," Brooks told Folio. "I think the media ecosystem has gotten to be a very strange place. Both marketers and consumers are really concerned with what voices they can trust, and where is it worth spending money.
"I think some of the most thoughtful pieces about not just the news, but what the news means, have come from magazines, Brooks said. "Time magazine has done unbelievable stuff. Recently, The New Yorker, New York mag, The Atlantic, just to stick with news and current events, they've not only been breaking news, they've dedicated enormous time and resources to long-term reporting to make sure that they're getting those stories right. That's an area where magazines have really had an advantage, and I think at the end of the year, when people look back at where the best information came from, our magazine brands are going to be way up at the top of that list."
Owners and potential owners of alt-weeklies could learn from Brooks' enthusiasm for the very kind of reporting that alt-weeklies should have been doing all along in communities across the U.S.
UPDATE 1: A month after I wrote this piece, the remaining members of Creative Loafing Charlotte were also laid off, and the title turned into an ad rag featuring press releases, free content cribbed from other sources, and other items generated to keep it afloat. Former CL editor Ryan Pitkin and the rest of the staff started a competing alt weekly called Queen City Nerve. Their attempt to keep an alt-weekly dialogue running in Charlotte has been admirable.
UPDATE 2: On December 22, 2020, The New York Times reported that The Village Voice has been bought and will be resurrected by Brian Calle, a controversial Orange County, California, publisher who once served as the Vice President of the right-wing Claremont Institute. Calle bought the L.A. Weekly a few years earlier, and if its fate foreshadows what will happen to The Village Voice, this is not good news.