I once saw misogyny under every rock. I was in my early thirties and Sonic Youth's Thurston Moore had offhandedly described a new movement of all-female punk bands — L7, Babes in Toyland, Bikini Kill — as "foxcore." I wrote a scathing editor's note for Option in response to it, suggesting he was being misogynistic.
Boy, was I wrong. Of all male musicians in the '90s, Thurston Moore was probably the least misogynistic of all. What I didn't see through my ultra-serious lens at the time was the good-natured playfulness in Moore's comment. He was championing the rise of powerful female musicians. I was looking for misogyny in all the wrong places. So, these days I'm a bit gun-shy about my initial knee-jerk reactions to what I perceive as misogynistic.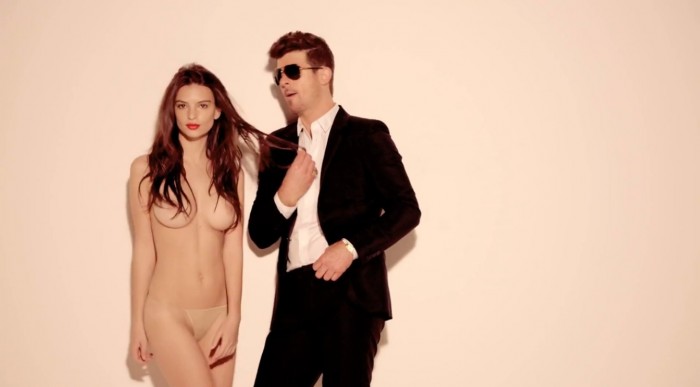 Which brings me to Robin Thicke's "Blurred Lines," a funky, tuneful bit of pop-soul that rides a cool Marvin Gaye sample and vaguely recalls Prince's "Kiss," although with lazier, less interesting lyrics. It comes with a new video, of course, that has Thicke, producer Pharrell Williams and rapper T.I. parading around with a cast of naked women, mock-injecting butt-enhancing drugs in their behinds and delivering lines like, "I know you want it." Naturally, it's lit up the Interwebs. It is "horrible, misogynist bullshit," screams Bertie Brandes at Vice. It's "kind of rapey," writes Tricia Romano at The Daily Beast. Elizabeth Plank of Salon asks, "Why are we arguing about whether a video that pretty much defines sexism is sexist or not?" (The best commentary, by far, though, is Mad Carousel's role-reversing parody.)
Thicke seems to be taking it all in stride, early on admitting the imagery was designed to be provocative. "We tried to do everything that was taboo: bestiality, drug injections, and everything that is completely derogatory towards women," the blue-eyed soul singer told GQ. "Because all three of us are happily married with children, we were like, 'We're the perfect guys to make fun of this.'"
His defense didn't go over too well. In suggesting the song was intentionally degrading, Thicke only stoked the fire.
The video's director, Diane Martel, has been more articulate in defending the clip. "I directed the girls to look into the camera," she told Grantland. "This is very intentional and they do it most of the time; they are in the power position. I don't think the video is sexist. The lyrics are ridiculous, the guys are silly as fuck.
"That said," Martel added, "I respect women who are watching out for negative images in pop culture and who find the nudity offensive. But I find [the video] meta and playful."
Playful, it is; meta is stretching it. There's no denying the objectification and double standards going on in the video: Thicke and the other fellas are fully clothed while the women are naked. What's more, Thicke boasts in the lyrics that he can "liberate" good girls, and T.I. goes so far as to rap, "I'll give you something big enough to tear your ass in two." Is this a commentary on sex roles, as Thicke has suggested? That's a stretch, too. Is it hardcore violent misogyny? I wouldn't go that far. To me, it's more in the vein of the kind of playful/sexy/creepy stuff we've heard throughout pop history, from early country and blues to Rod Stewart's "Da Ya Think I'm Sexy?" up to '80s hair metal. Of course the "Blurred Lines" video is sexist, but is it worthy of the ginormous controversy it's fueled?
We can find plenty of real misogyny — from  seemingly benign to extremely violent — in tons of other contemporary songs and videos, from John Mayer's condescending "Daughters" to Jay-Z's exploitive "Big Pimpin'" (though he later apologized for that), to songs by the Ying Yang Twins, Lil Jon, Akon, Eminem, the list goes on. Actually, any song that's ever referred to women as "bitches" is awfully degrading, although this seems to be OK to many people today, some self-proclaimed feminists included. I'm not dismissing the strong feelings I've seen expressed about "Blurred Lines" — I just think it's a little misdirected, overblown and not altogether honest. It projects a lot of bad behavior in popular culture on to one dude's current video.
So, why Robin Thicke's "Blurred Lines" and why now? I have an idea. The video features nudity, and no matter what perspective we come from in the English-language world — right or left, misogynist or feminist — we are still pretty prudish when it comes to nudity. Butts can bang together in mock intercourse on dance floors, but don't disrobe those butts or you'll feel the wrath of every fundamentalist and serious leftist political activist in the known universe. Same explosive controversy happened when Erykah Badu released "Window Seat," though the perspectives of the responses were markedly different.
It's tough to be a pop-music fan, particularly a feminist pop-music fan, as Ann Friedman so eloquently relates in her New York Magazine essay on the "Blurred Lines" controversy. "I want to like popular music. I want to participate in it," Friedman writes. "But paradoxically, in order to consume and enjoy it, I often have to disengage from lyrics or accompanying videos."
Discussion of Thicke's video is not unhealthy. We should always be discussing these issues. I'm just disappointed that we don't see this level of discussion and criticism of other misogynistic songs and videos. Instead, we often get too many apologists saying, "Oh, you're taking this too seriously." But it's a serious issue, and no artist should get a pass, even as we enjoy an offending artist's work.
I guess I still see misogyny under every rock.